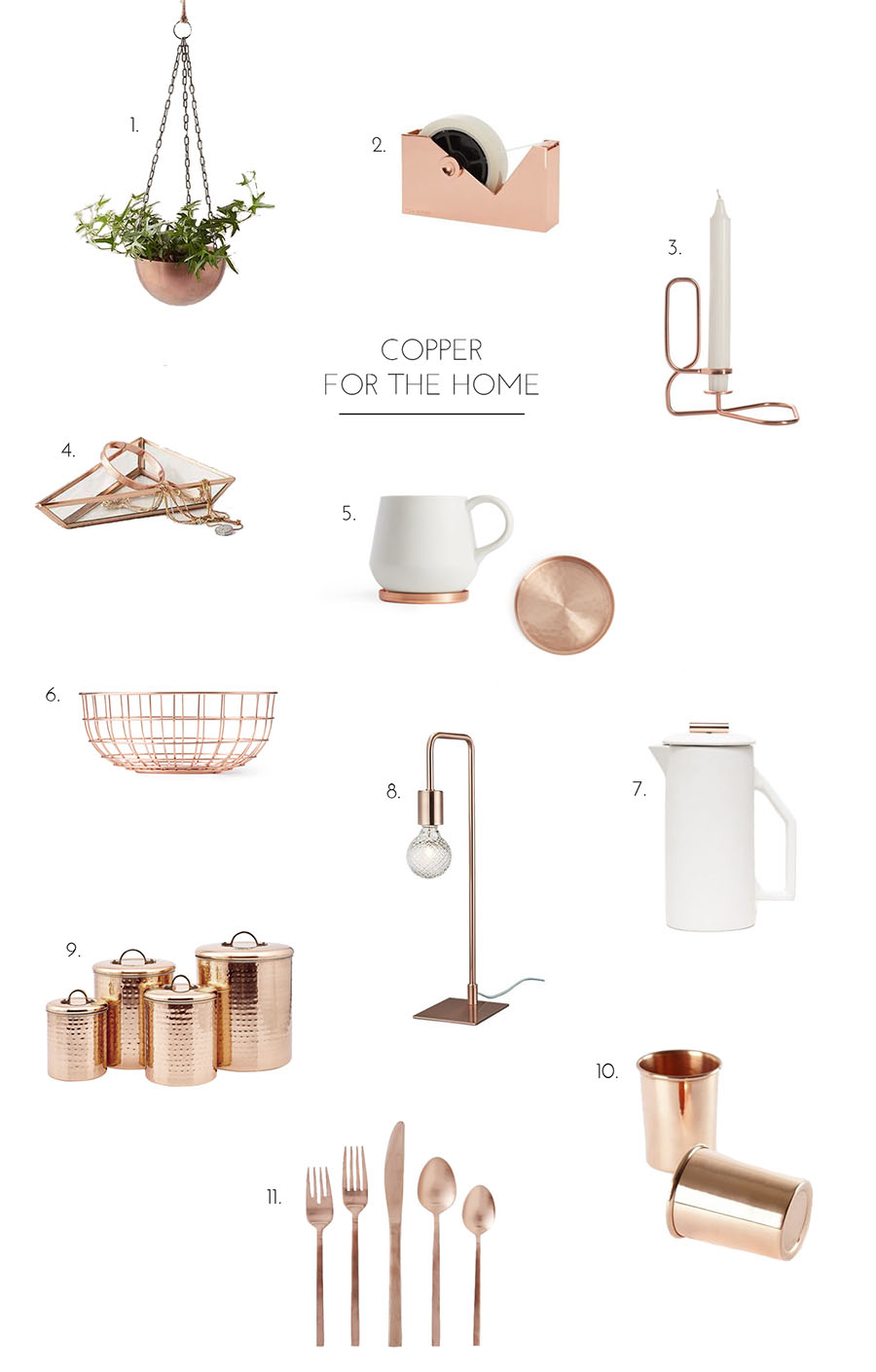 One thing I've learned from my love of metallics is to not overdo it.  There once was a time where if I had to pick a color option for anything, I'd always pick gold, but then when every single thing is gold it's oddly not so special anymore.  You know what I mean, right?
With copper being that thing I'm really into right now, I'm thinking about ways to bring it home in small touches, just little doses of shine that feel unique plus aren't a huge commitment if suddenly your metallics preferences change.  Really though, all metallics are welcome.
1. Hanging planter– Gorgeous and very affordable.
2. Tape dispenser– If I didn't already have one I loved, and if this one went on major discount (HA), I'd want this one.
3. Candle holder– Recently got this in black but spent a long time deciding between that and copper. I think I made the right choice, but I still love the copper.
4. Catch-all– For your trinkets or for your air plant to sit in.
5. Coasters– Maybe my favorite coasters ever. That soft hammered detail is a winner.
6. Wire bowl– What I'd love for my fruit bowl to look like.
7. French press– Prettiest one I've ever seen.
8. Lamp– An option I've been contemplating for the bedroom. We'll see!
9. Canisters– I dream of a kitchen with copper details. Pots, pans, everything. Oh yea, but not everything because we don't want to overdo it, right, I remember.
10. Cups– For drinking, pencil holding, or flower arranging.
11. Flatware– I'm currently coveting a matte black set, but these copper ones would be so pretty especially for fall.