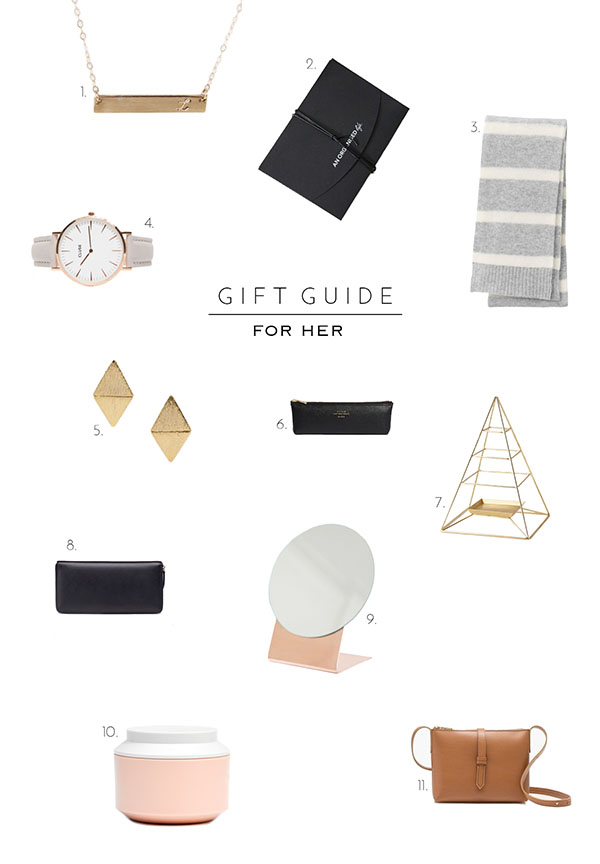 Alright guys, it's the first of the weekly gift guide series I'll be doing here to help inspire ideas for gift giving this season, and at the very least to enjoy browsing beautiful things, a favorite activity of mine (and everyone's, no?)  I'm also going to include products here and there that I can stand behind and recommend from personal use since I think that can be interesting to know, and simply fun to talk about.  Hopefully this will help you discover something new, or get you pumped about good design.  We're basically window shopping together.  YES!
For her, I'm thinking about the modern and minimalist ladies who love the classics:
1. Gold bar initial necklace– I wear this necklace almost everyday, sweat a lot in it, and sometimes forget to take it off. It still has the same gorgeous luster as it always did and hasn't tarnished at all. It's outstanding.
2. An Organised Life 2016 Diary– A planner for the minimalist, monochrome loving chick, and a plus that it already comes beautifully packaged like a gift.
3. Cashmere knit-striped scarf– Are scarves as gifts played out?  Not as long as they keep making pretty scarves, no.
4. Cluse watch– Rose gold and grey = killer color combo
5. Curved diamond studs– Simple gold studs.  Always.
6. Delfonics pen case– Sleek way to carry pens or makeup.
7. Pyramid jewelry stand– One of the prettiest jewelry holders I've seen.
8. Slim zip wallet– I'm calling this the most perfect slim leather wallet I've always wanted. Most likely will be my gift to myself this year (treat yo'self).
9. Copper table mirror– Would make a very pretty addition to any vanity table. It comes in brass, too!
10. Geo storage jars– Still have the vanity table on the brain, thinking this would be a cute way to hold things like q-tips and cotton balls.
11. Parker crossbody bag– Classic bag that I'd imagine most anyone would love, and it's 30% off right now so that's convenient!
Any favorites here?  Also, let me know who in your life is the hardest person to shop for.  I'm curious to see if we are all thinking the same people.