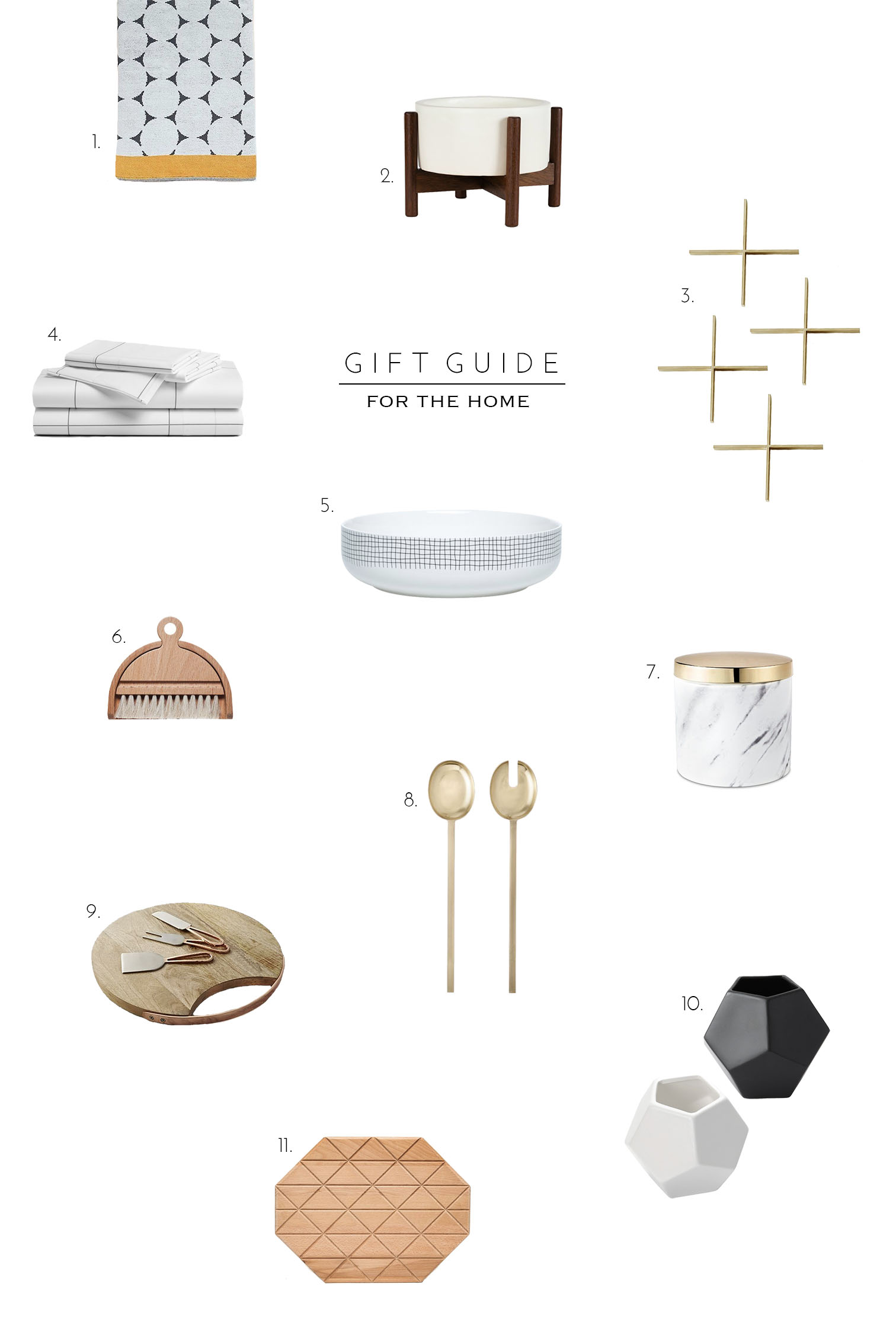 We've already reached my favorite gift category.  Gifting for the home can be tricky.  My general criteria is to not gift something that's a huge commitment or statement on decor, or to keep it to something functional and useful.  Got a few hostess gifts sprinkled in here and a few things that I personally love and would purchase all over again, keeping to simple and minimal designs that have a ton of potential to fit into any home.
1. Drye hand towel– Really pretty and unique hand towel designs, plus it comes in a tin can that makes it even more adorable for gift giving.
2. Modernica desk top planter– A seriously cute planter that can fit almost anywhere. I move mine around from the dining table to the living room.
3. Brass lift coasters– Gorgeously simple and minimal.
4. Brooklinen bedsheets– I got these. 1) They're excellent 2) They came folded in a beautiful gray tote bag and I immediately thought how amazing it would be to gift.  Who doesn't appreciate an extra set of fresh bedsheets??
5. Clover serving bowl– You already know I love the pattern.  Also, I don't know if it's just me, but serving bowls are one of those things I wouldn't prioritize to get for myself but would absolutely love to get as a gift.  You too?
6. Beechwood table brush– I have a plastic version of this and it is SO useful for tabletop messes. An upgraded one like this would be so nice to gift, and it's one of those simple things I think most wouldn't know they needed until they used it and thought omg why didn't I already have this.
7. Ceramic marble canister– Pretty storage is always appreciated. I was even thinking this could be a perfect vessel to fill with wax for a homemade candle.  Would you want to see that DIY??
8. Brass salad servers– A bit pricey, but maybe the only salad servers one would ever need.  Brass. <3
9. Copper cheese plate with knives– Would make any cheese/charcuterie enthusiast giddy.
10. Faceted vases– I got this in white and loved it so much that I got it in black too. Very versatile vases for simple, small arrangements. I like to keep one in the bathroom filled with greens.
11. Grid plank– Serve on this side, cut on the back side. Beautiful and useful hostess gift.
Let me know if you're loving any of these, and as always, if you have a find that you think I should check out!
I'll be with my family for the rest of the week, but before I go I wanted to wish you a very happy Thanksgiving.  Today I'll be on a mission to get a very popular pie I didn't think ahead about pre-ordering and may have to stand in line for.  Wish me luck ha!  Have a wonderful holiday!