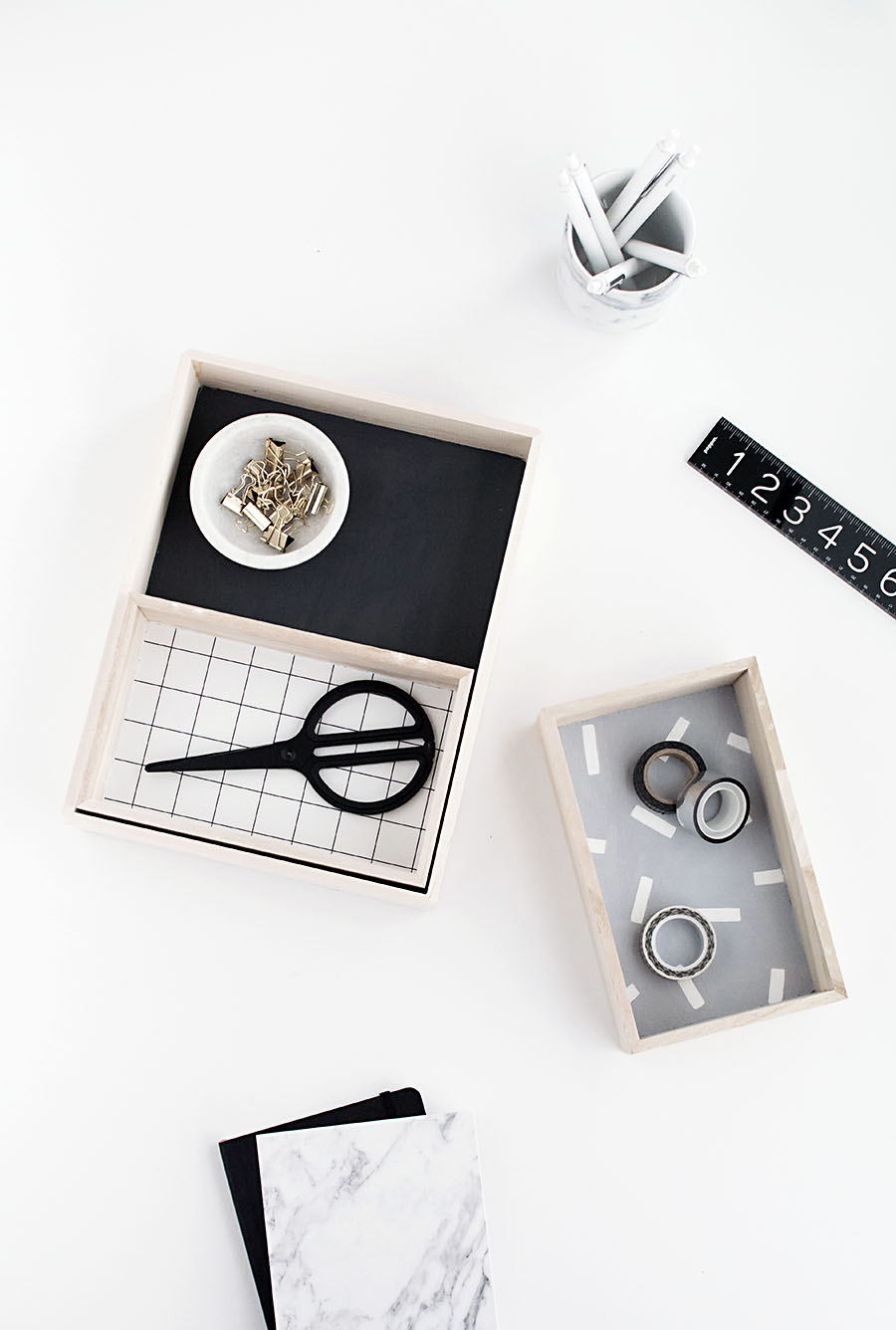 As I flipped through my planner from last year, I saw why it's cool to keep your planner from last year.  Bigger reasons include seeing where you were then, what you were up to, how far you've come, all that good self-growth stuff and so on.  The reason I'm shining light on today however, which I consider delicious surprise nuggets, is rediscovering abandoned ideas.
Among the scribbles in January 2015 was a note to repurpose boxes for organizing, with "wood?" written in parentheses.  Instead I had went with this contact paper idea which I still love and use, but now I'm curious about why I didn't figure out that "wood" idea and want to do something about that.  Plus, I've only been talking about my workspace makeover forever and could use some organizers for the desk drawers, so this is working out pretty nice for me!
Materials:
–Wood boxes (the larger one is also from Michaels)
-screwdriver
–foam brushes
-paint (I used white, gray, and charcoal)
–paint pen
–wallpaper optional

I didn't end up using that smaller square box, but for the others I removed the hardware with a screwdriver.  This leaves behind holes, which I actually didn't mind, but I wanted to show that you could fill them in with wood filler.  I used a toothpick to dab it into the holes, then scraped the side of the toothpick across the top to level it off.  This stuff is purple but dries white, which was cool when I first thought I'd be painting the edges but then decided not to.  The white dots do show, but again, I don't mind!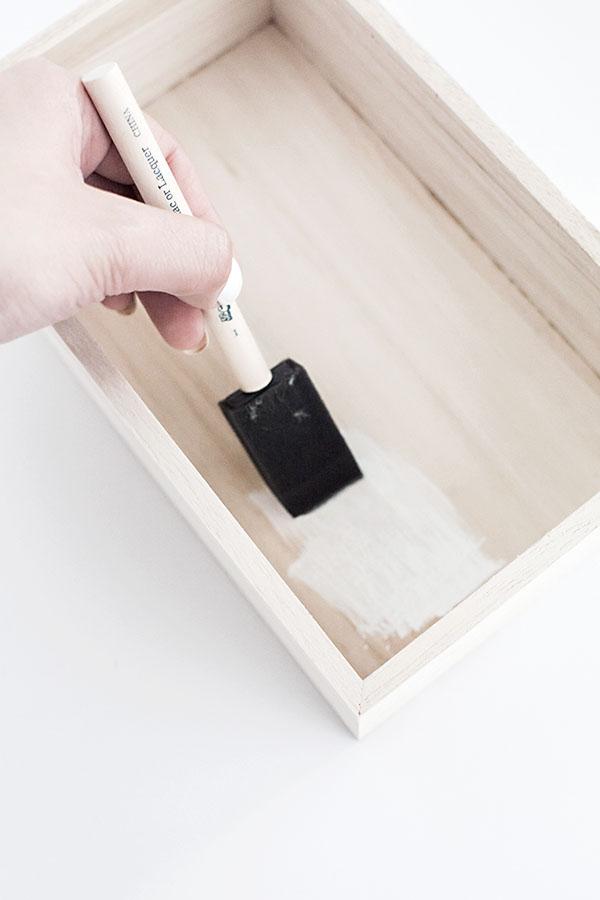 I painted the bottom of each box a different color.  For this white one, I tried three different patterns, painting over the last layer in multiple coats in between attempts, and it was all failing, so I covered it up with wallpaper.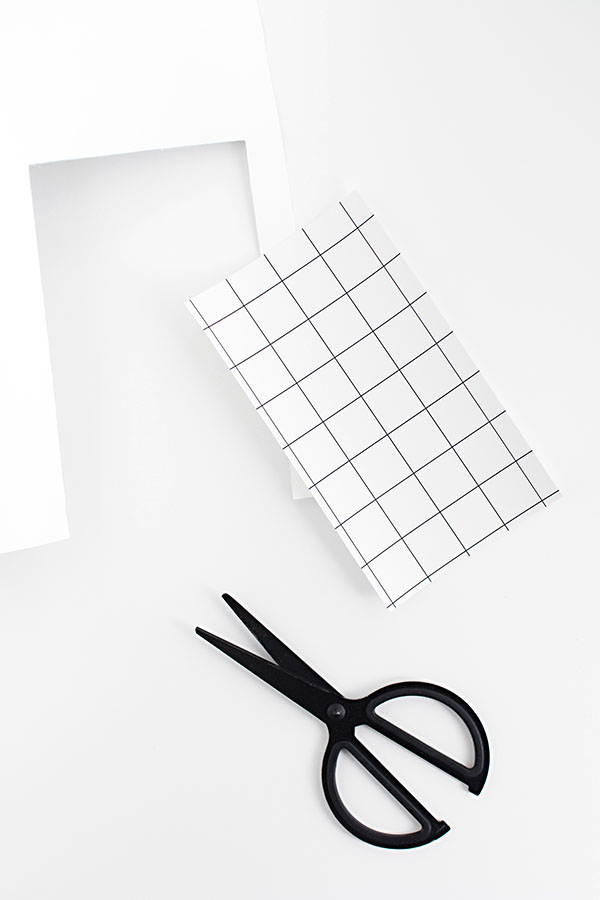 I measured the inside of the box and cut those dimensions out of this grid wallpaper, then stuck it onto the bottom of the box.  Problem covered solved  Viva la grid!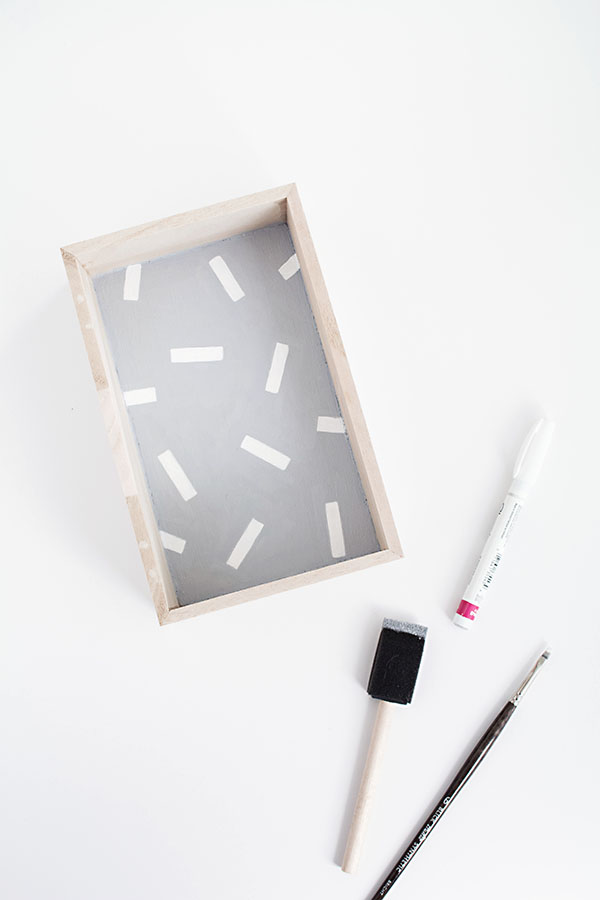 For the gray box, I drew on this sprinkle/confetti design with a paint pen, which isn't very good at creating sharp corners, so I used a detail brush with white paint to draw those in.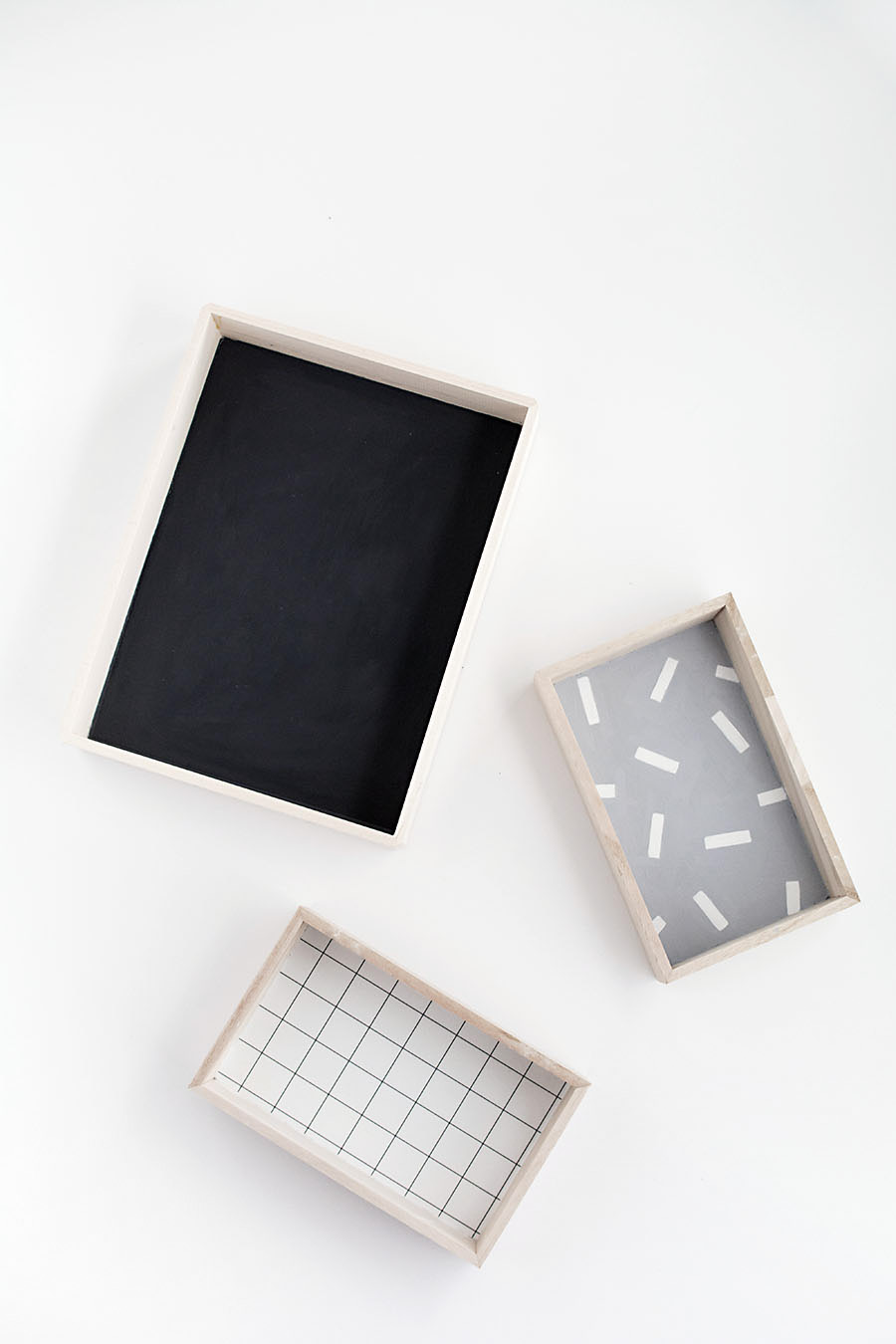 The big one I just left plain to be its dark and moody self.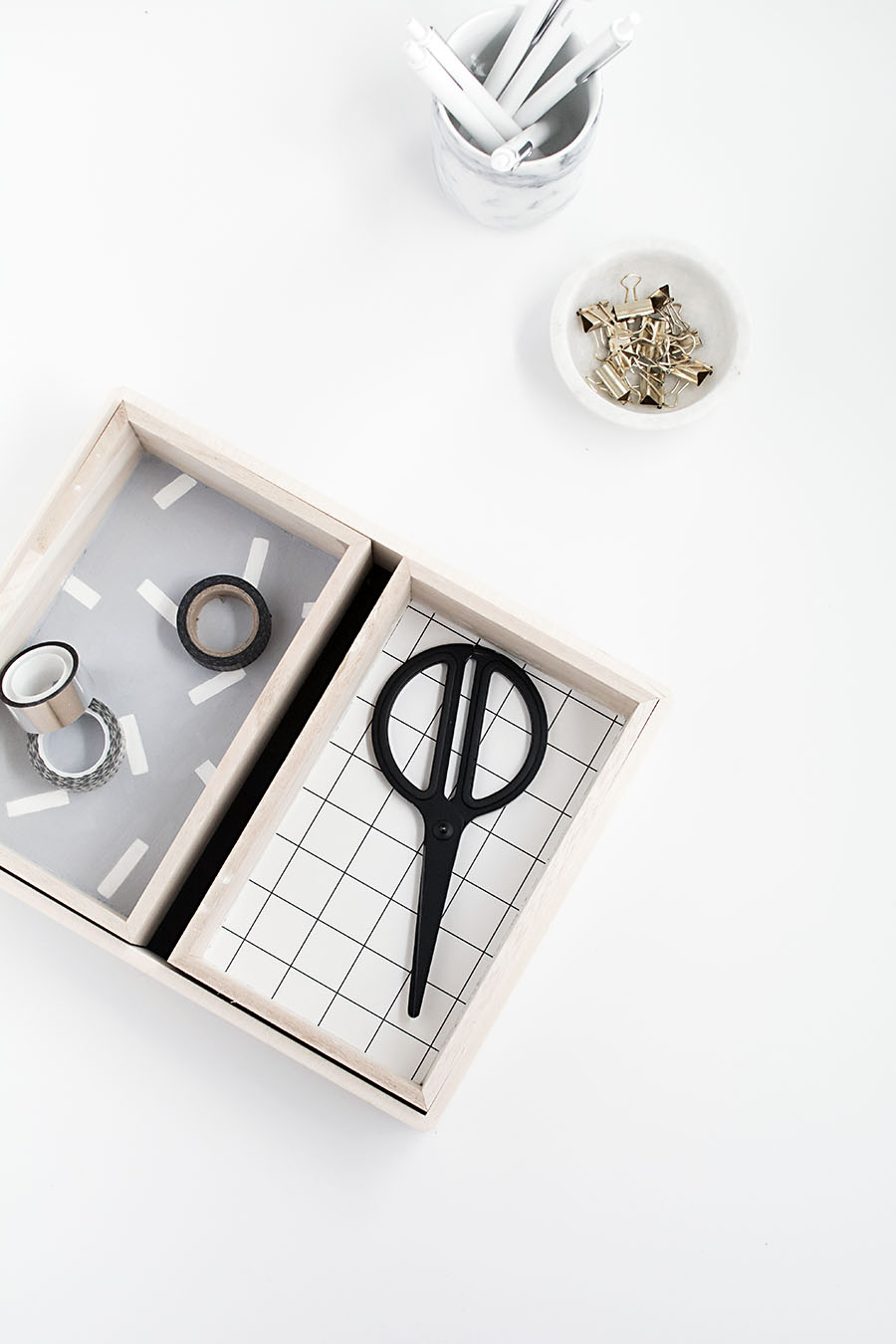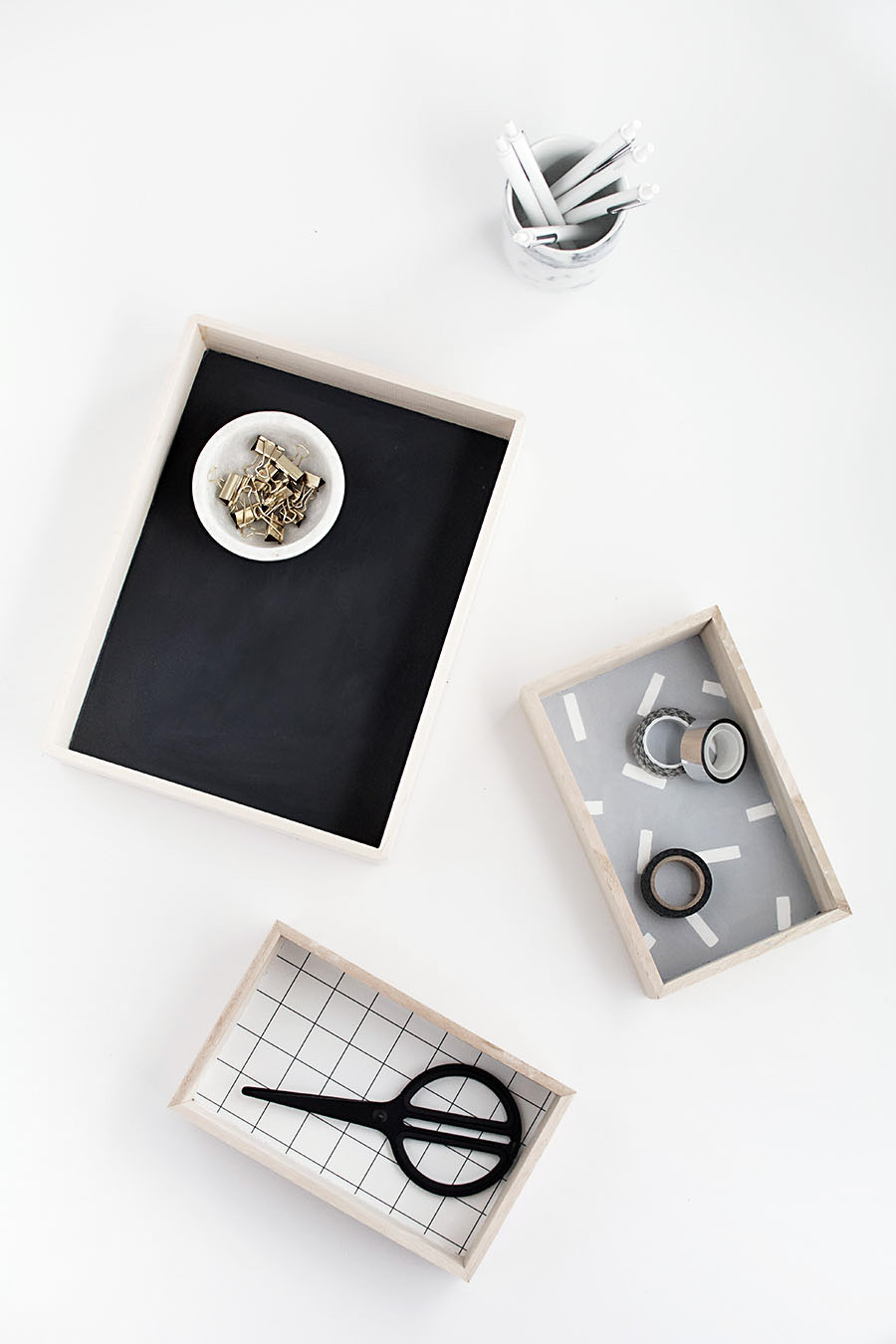 Funny after all that painting and drying time, I ended up liking the grid wallpaper the most- the simpler ideas tend to win my vote!  It has me thinking about other things I'd want to stick that paper on.  Any ideas for that??