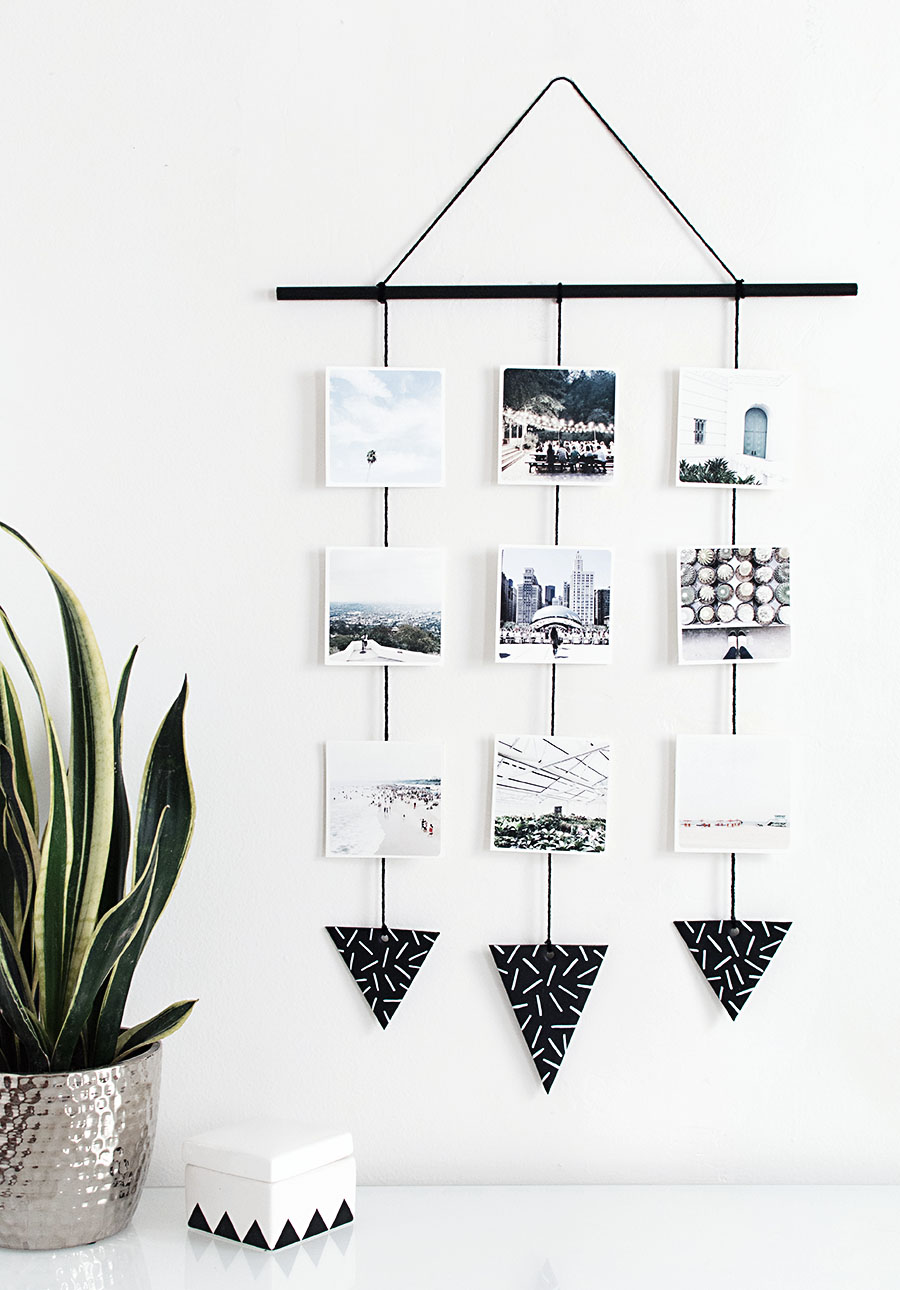 I never print my photos.  Never.  As much as I love taking them, I rarely go beyond having them exist anywhere other than on my phone or the blog.  Oh, but you already see where this is going, yea?  I had some printed out!  For all that effort I put into snapping shots of my favorite places, things that inspire me, and moments I loved, it's nice to have little mementos to actually look at IRL.
So I came up with this really simple wall hanging DIY in partnership with SnapBox to put those Instagrams on the wall in a cool and modern way, perfect for hanging up inspiration in a work space or just a casual way to house memories.
Note: the long list of materials does not indicate the difficulty of this project.  It's easy, really.
Materials:
–photos
-wood dowel
–acrylic paint
–foam brush
-yarn
–super glue
-cardstock
-pencil
-ruler
–clay
-clay blade or knife
–paint pen
–parchment paper
-Washi tape
I painted a round wood dowel with black acrylic paint using foam brush.  Once dried, I tied each end of a piece of yarn to each end of the wood dowel, applying super glue to each double knot to secure in place before cutting off the excess yarn.  From this point forward, every double knot of yarn is secured with a couple dabs of super glue.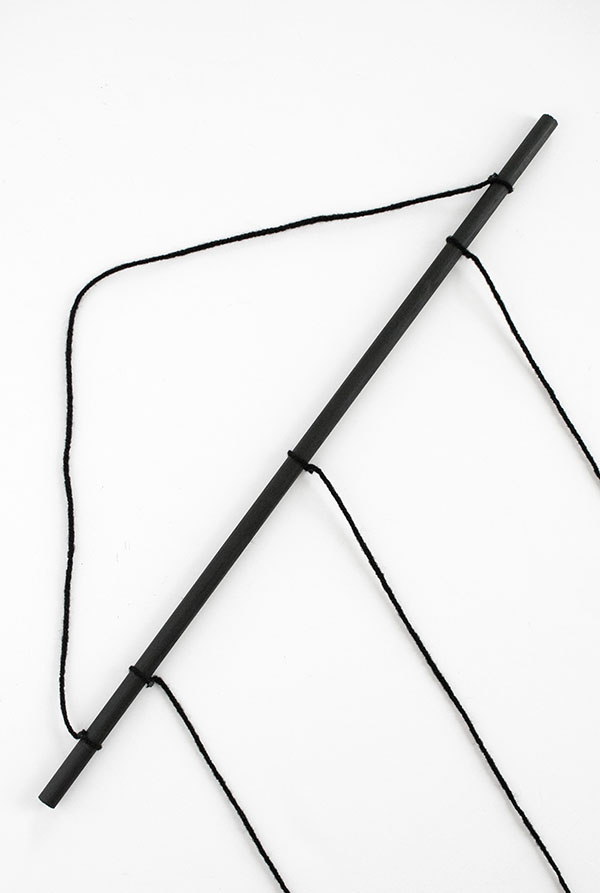 Next, I double knotted three long pieces of yarn across the dowel and cut off the excess yarn.
We could stop here and be totally fine.  BUT, I wanted to add an ornamental element because that's fun, and it helps weigh down and keep the yarn taut, so the next steps are for those triangle thingies that are hanging at the bottom.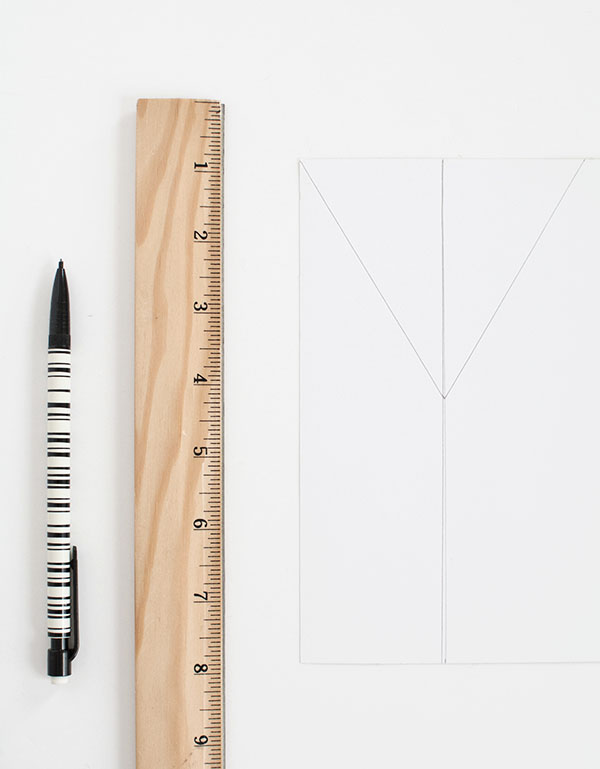 I measured and cut out an equilateral triangle from a piece of card stock.  Really simple: I measured 4 inches for the base, drew a straight line down at the midpoint (2 inches in), then drew 4 inch lines from each end of the base to the center line.  I did the same thing for the larger triangle, only I made the two longer sides 5.5 inches long.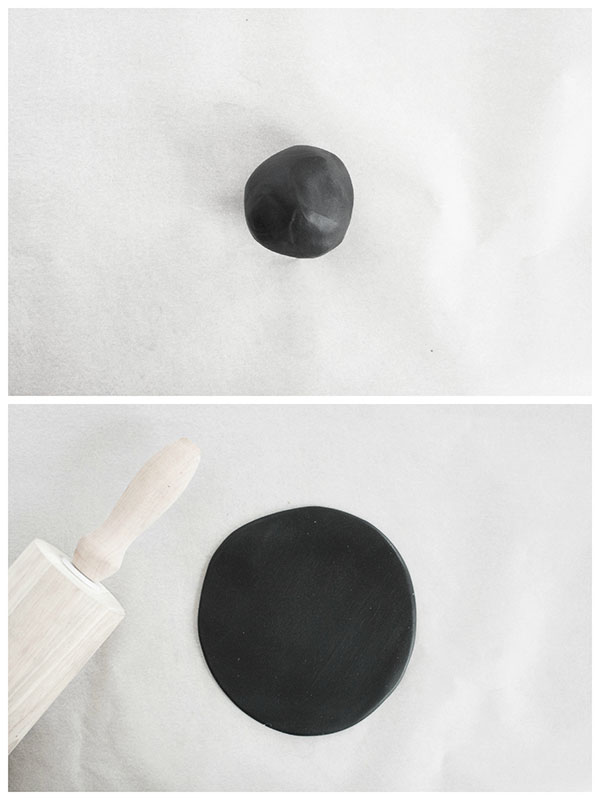 Working on top of a cutting board lined with parchment paper, I rolled one block of black clay into a ball then flattened it out until it was just large enough for the triangle card stock.
I cut along the triangle with a knife.  The "proper" thing to do would be to use a clay blade, but a knife works perfectly fine heyyy.  This also cut out the parchment paper backing with the triangle, which I left stuck on to the triangle.
For each clay triangle, I used a straw to poke a hole out from the top.  The key is to twist and wiggle the straw so that the clay from the hole pops out with the straw.  I then transferred each triangle to a baking sheet lined with parchment paper.  Baked them at 260F for about 30 minutes, and honestly, I don't know the science to this and just played by ear.  All that the instructions on the plastic packaging of the clay said was not to exceed 265F.  Hopefully your clay has more to tell ya.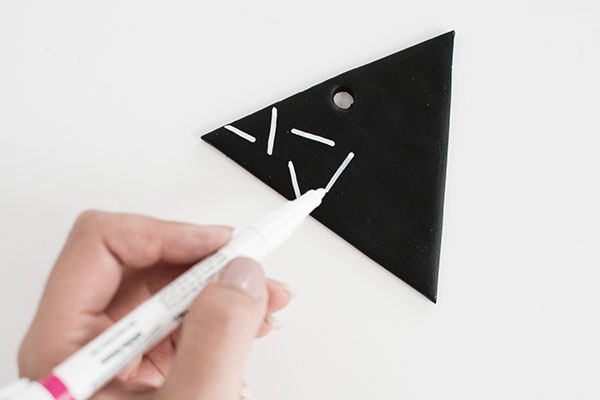 Once cooled, I used a white Sharpie paint pen (oil-based) to draw this sprinkle-like pattern on each triangle.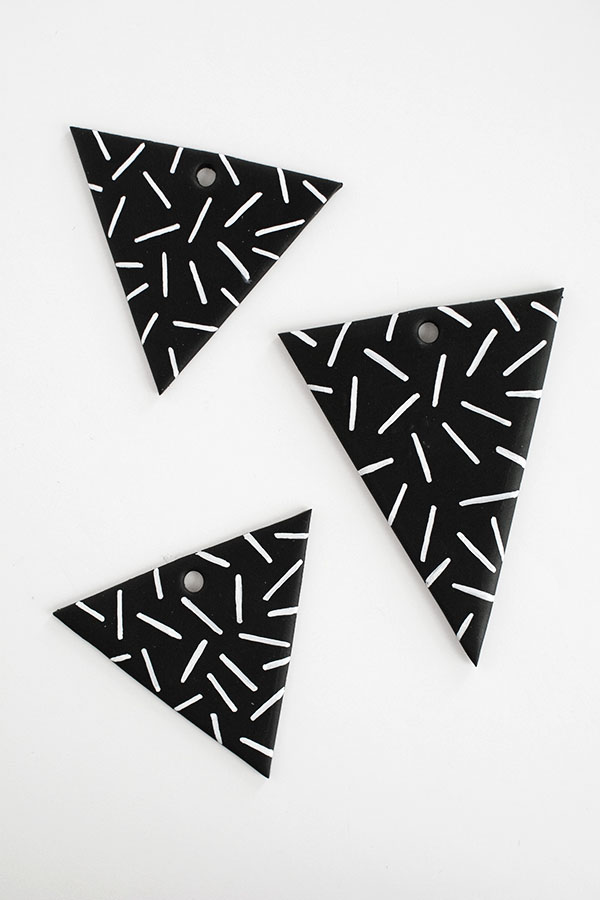 Each triangle was double knotted at the end of each yarn that I previously tied to the dowel.  I feel a strange urge to eat them.
Now the fun part.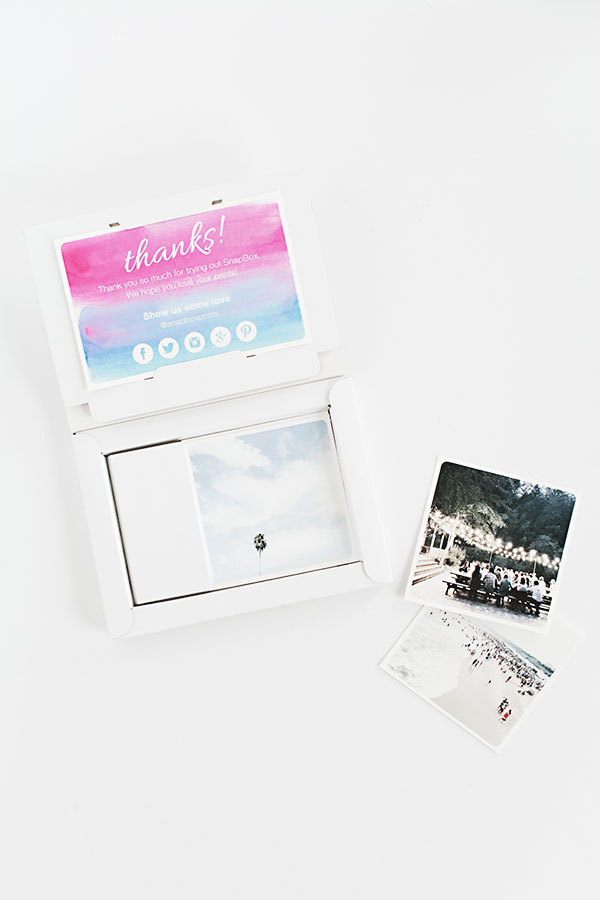 I ordered 4×4 prints of some of my Instagrams through SnapBox, which was so so easy to do because the photos were imported directly from my Instagram account.  What I loved most was that I was able to make edits to the photos (have you ever posted a photo to Instagram and later wished you had edited some aspects of it more?  Am I crazy?)  I definitely did all those "wish I had done that" things to some of these Instagrams, like bumped up the brightness on that one, or turned down the saturation on this one.  LOVE that feature.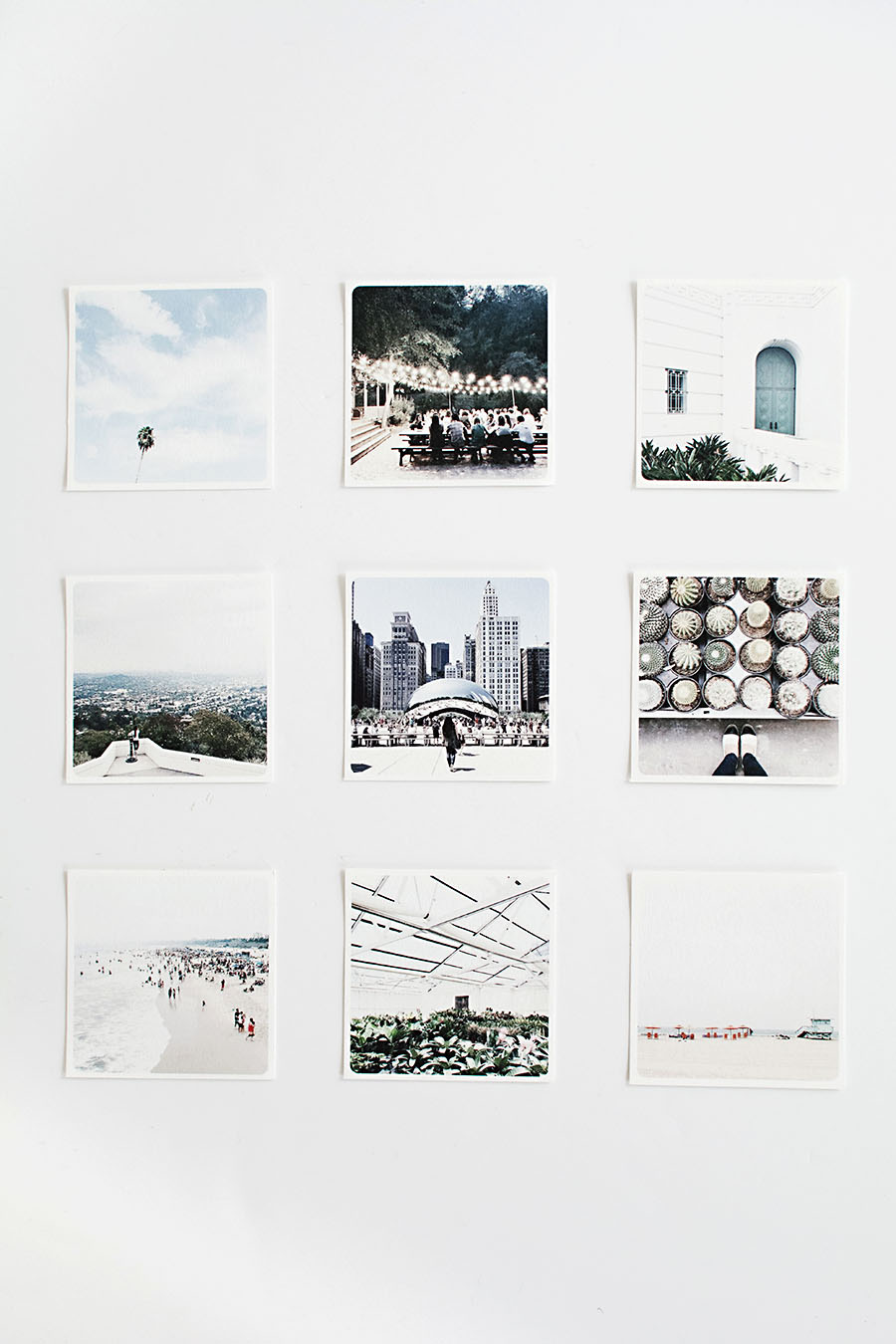 I planned the layout before putting the photos up on the wall hanging.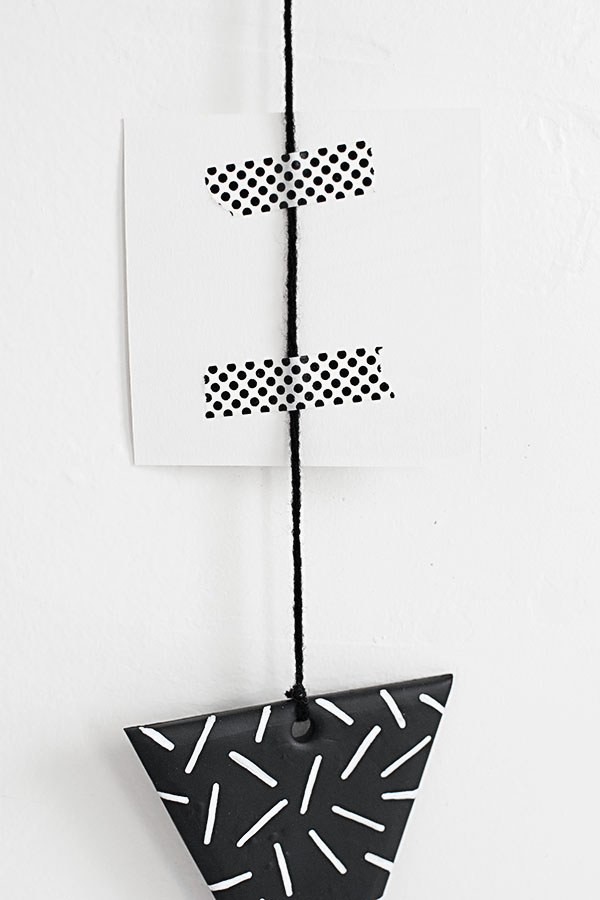 I used Washi tape on the back side of each photo for three reasons: 1) it looks cleaner than other methods like paperclips or punching holes in the photos 2) it allows the photos to be easily swapped out with your mood and 3) it makes photo placements adjustable once stuck on by gently pulling the photo up and down the yarn.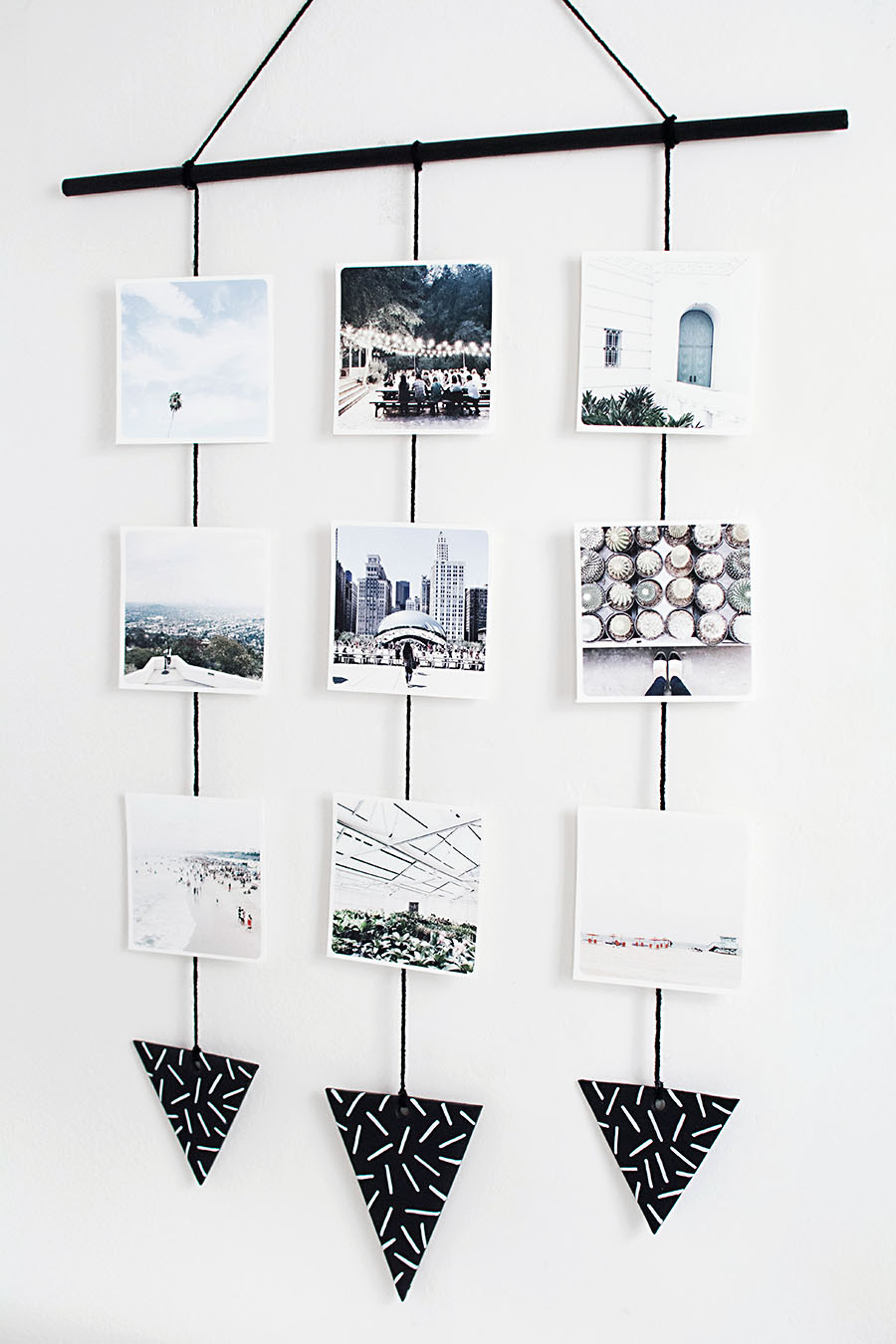 I've said multiple times how much I love wall hangings, and I dig this one for how it serves a function while still being decorative.  It's also the first time ever I'm displaying my grams.  Do you print your photos?  Am I super late to the game??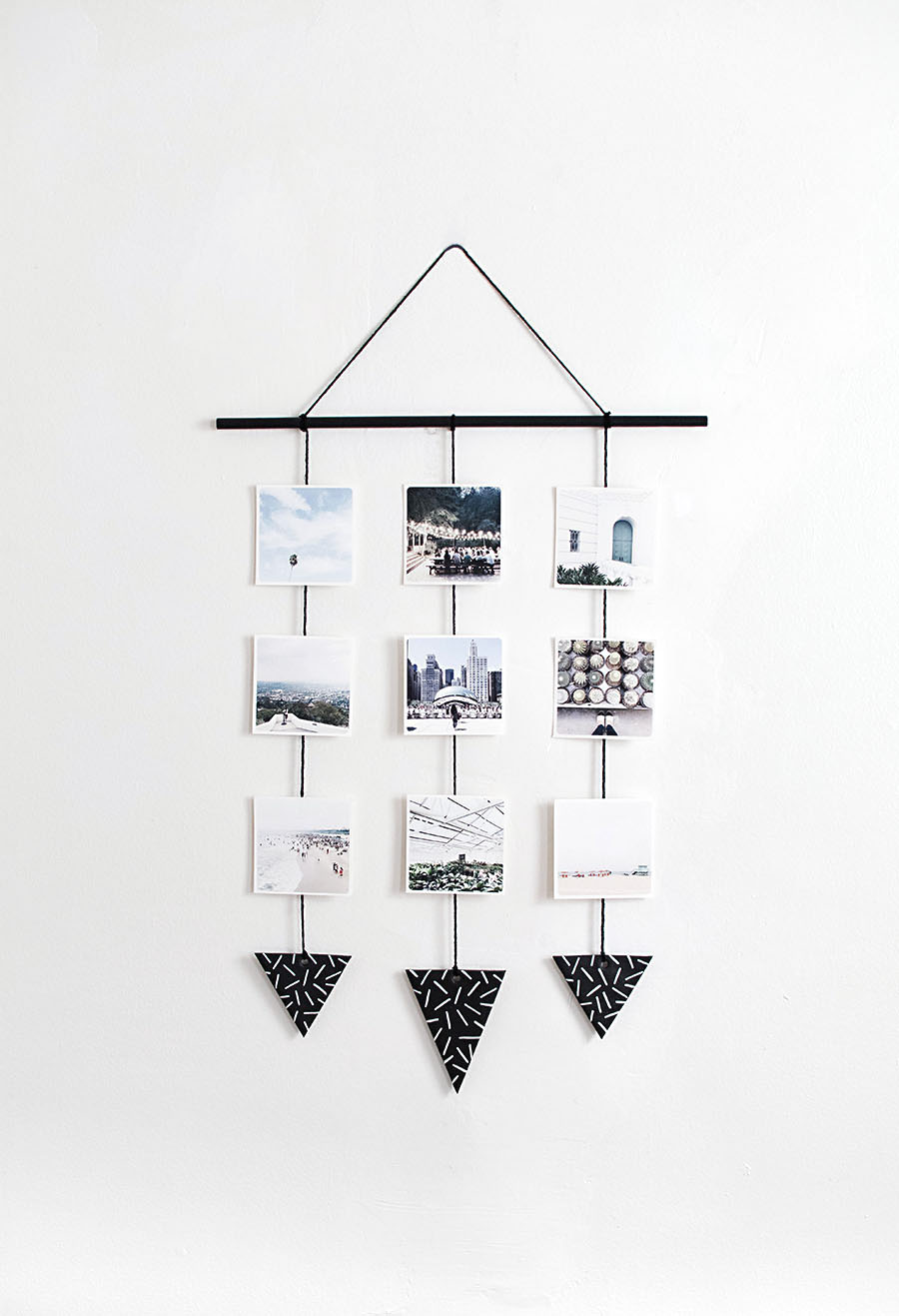 This post is sponsored by SnapBox.  All thoughts and opinions are always my own.  Thank you for supporting brands that keep the fun stuff coming!