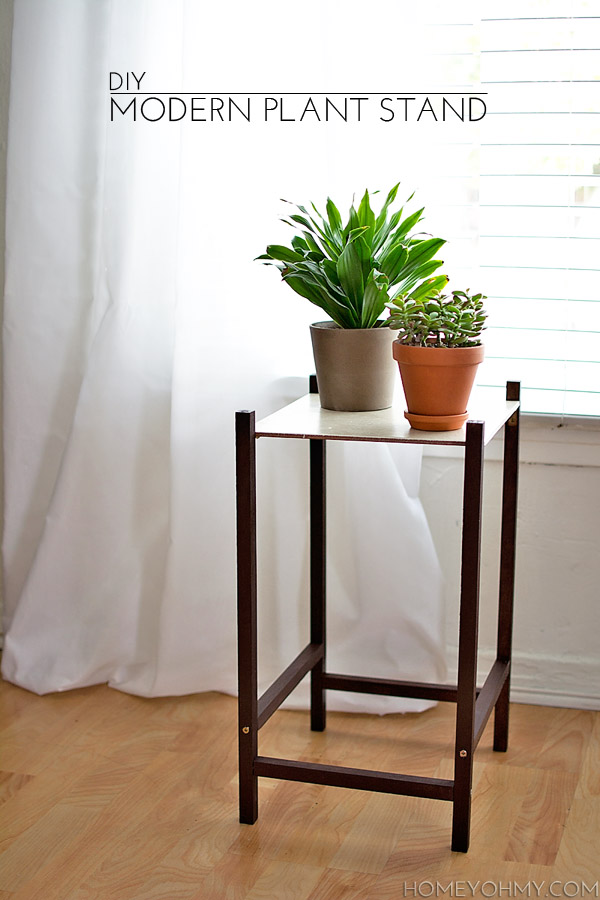 With all this recent talk about plants, it would probably be a good idea to address where to put them!  My "indoor garden" has grown so much and while my previous setup near the window was a temporary and quick solution consisting of two old IKEA stools, it became more permanent as almost a year later the cramped and uninspiring situation remained the same.
Well!  I finally got sick of my plants looking cluttered and messy and did something about it.  I made not one, but THREE of these modern plant stands using wood and ceramic tile.  Here's how it goes.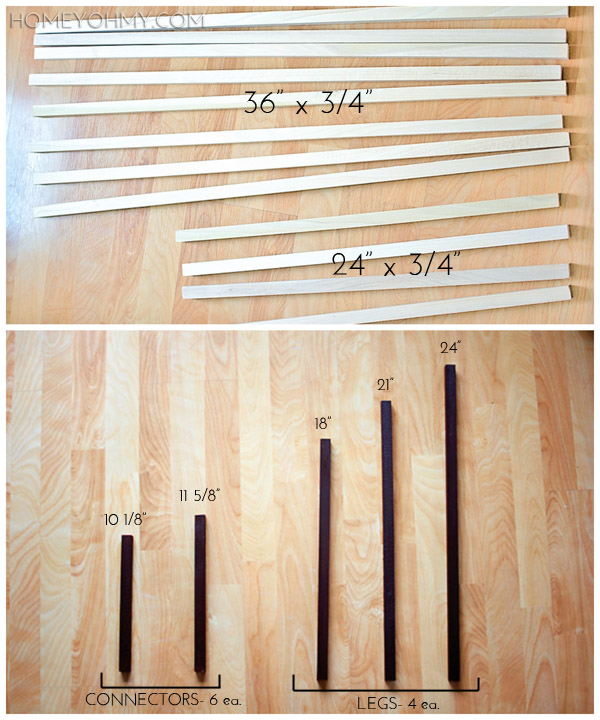 I used square birch wood sticks to create the stands.  The 24 inch sticks were used as is but I cut up 9 of the 36 inch sticks into all the other pieces shown in the bottom photo.  Why such random measurements for the connectors, you might be asking?  The ceramic tile I picked out to use as the table top is exactly 11 5/8″ square, and since I wanted the tile to sit in between two pairs of legs, that meant the legs in each pair needed to be separated by exactly 11 5/8″.  The 10 1/8″ is the difference between 11 5/8″ and the 3/4″ widths of each leg so that the leg pairs would be connected at a combined total distance of 11 5/8″ (10 1/8″ + 3/4″ + 3/4″ = 11 5/8″.  Did I lose you?)  The point is, these measurements are all based on the size of the table top, so measure accordingly!
*NOTE: save the wood-staining for after you've put the stands together because it's simply easier.  I stained the wood first in this case because I needed to take advantage of some precious free-time I had and unfortunately didn't have a power drill on me at that moment.  So, do not do what I did (unless you really want to, of course).  Stain the wood later!
Each of the stands were assembled in this way.  I first drilled the 10 1/8″ sticks about 1.5 inches up from the base of each pair of legs, then connected the leg pairs by drilling in the 11 5/8″ sticks about an inch higher.  I used brass screws and liked the look of them, so I didn't bother trying to cover them up in any way.  As I mentioned earlier, now's the best time to stain the wood and let it dry.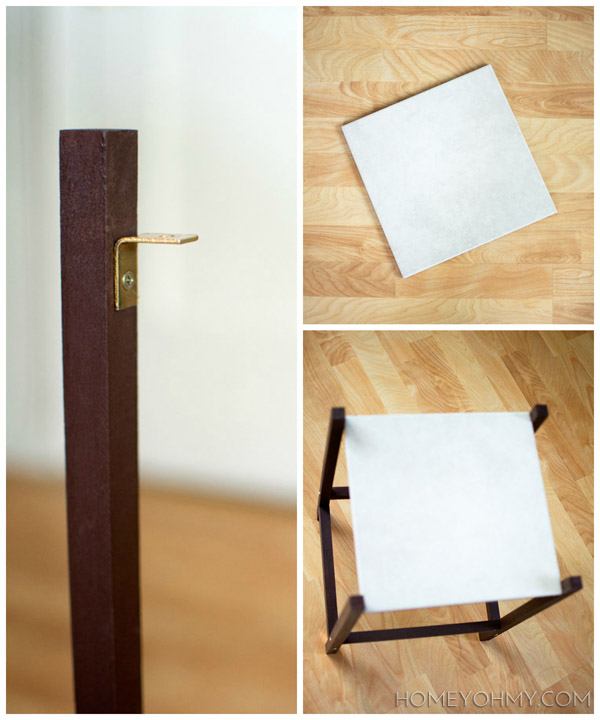 Next, I drilled in brass corner braces (4 for each stand) about 1.5 inches down from the top of the legs on the sides connected by the 11 5/8″ wood sticks.  This is for the ceramic tile to sit perfectly on top of.  I applied Gorilla Glue (affiliate link) on top of the brass braces and set the tile on top.  I let the glue dry fully before testing it out, and I tell ya, I trust my life with this stuff.  Ok, that's an exaggeration, but seriously, this glue has never failed me!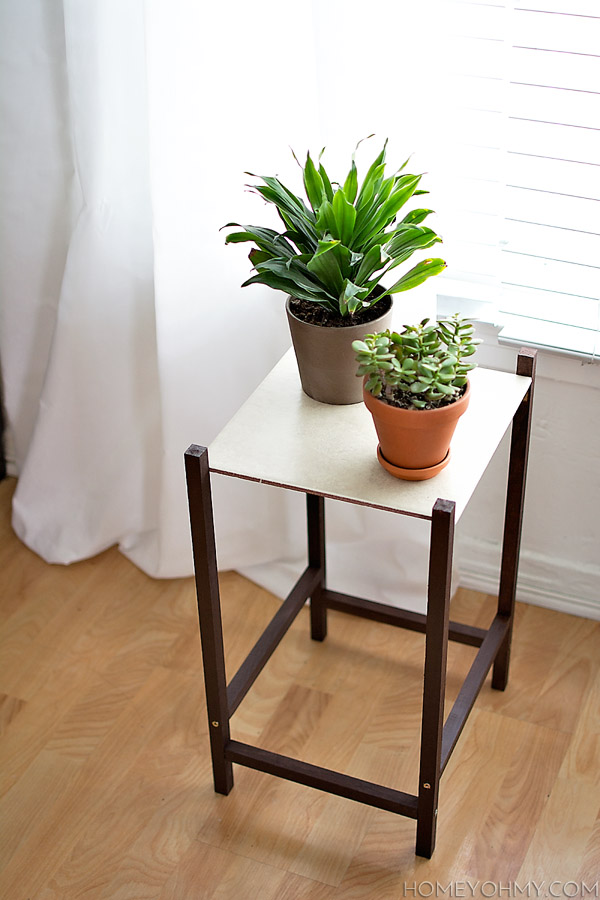 So there's one stand, and here's all three!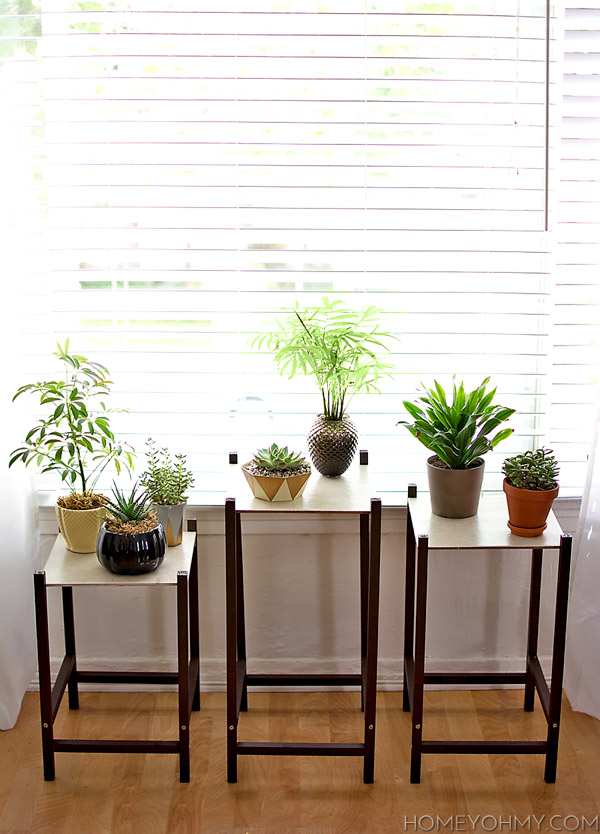 I call this plant stand arrangement the Olympic medal ceremony.  I'm so so happy with the way these stands elevate (pun intended) my plants and they're a major upgrade from what I had before.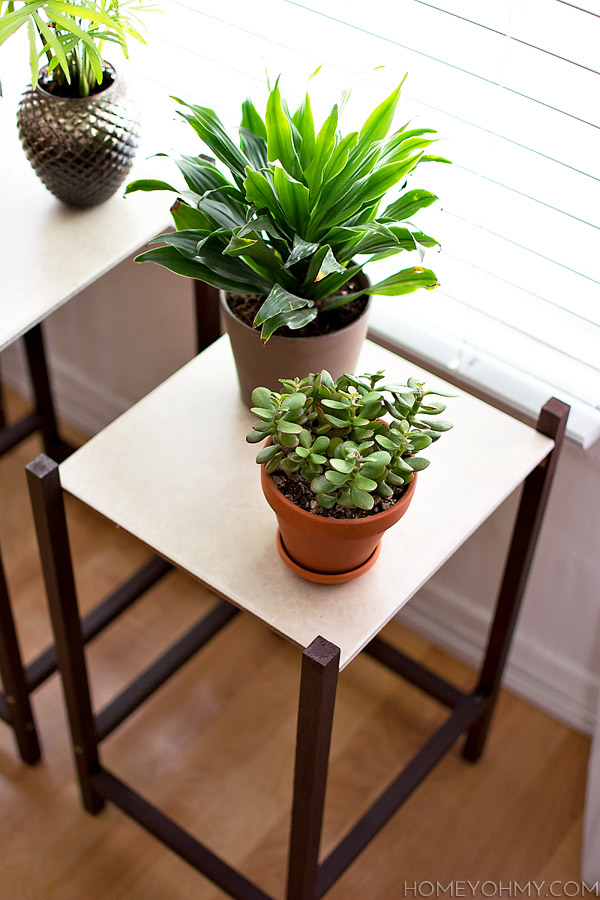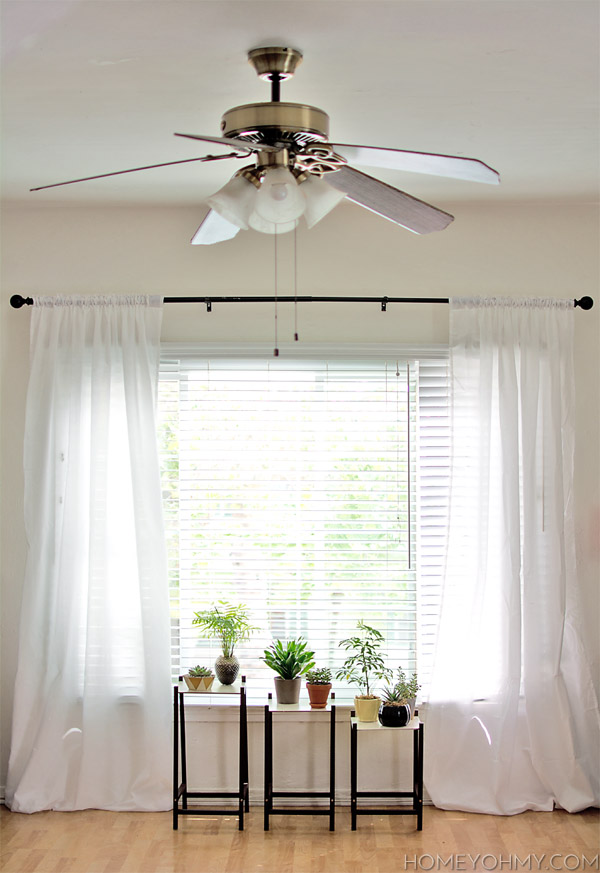 A little update about my curtains.  The previous black and white striped ones I had were so thick and heavy that they blocked a lot of light.  So, I replaced them with semi-sheer white curtains to brighten up our living room.  They still need to be hemmed, but for now I'm just pretending that they are :).  They've made such a huge difference!  An EXCELLENT and simple way to change things up and brighten the home for Spring!
Did you spot my DIY Geo Planters?  And did you also notice the stands re-arranged in the last photo?  Can't decide if I like them better in the Olympic medal ceremony arrangement or in descending order.  Which do you prefer?