I've always always always wanted to make an advent calendar, and I realized that the reason I hadn't was because I was saving the tradition for when we have children.  What was I thinking?  I like chocolate and toys, too!
The exciting thing about the holidays is traditions, and it dawned on me that we hardly have any, and again, I think I was reasoning that these would be things we do when we start a family.  So, putting this off no more, I'm starting an advent calendar tradition around here.  I assigned him the odd numbers and myself the even ones, and we're putting zero limitations on what can be put inside so long as it's small, maybe candy, a note, an activity, gosh isn't the daily surprise exciting??
Materials:
-mini wood tree stickers (purchased at Michaels)
–black paint
–foam brush
-paint pens (black and white)
–mini tote bag boxes
-string
-scissors
-36″ wood dowel
–mini clothespins
The idea for this calendar came to me the instant I found these wood tree stickers at Michaels that I love for their Scandinavian design.  The annoying thing is that it comes in a pack of 24, which is perfect for the proper advent calendar, but if you're trying to do 25 days like I am (because 25 bags make a perfect hanging triangle), I'd recommend just tracing one of the trees onto black paper and using that as the 25th one.  Yup, that's what I did.  Although really thinking about it now, I wouldn't have minded getting a second pack because these trees are so cute and I'd love thinking up another idea for them.  Perhaps something with gift wrap!
I painted all but one tree black.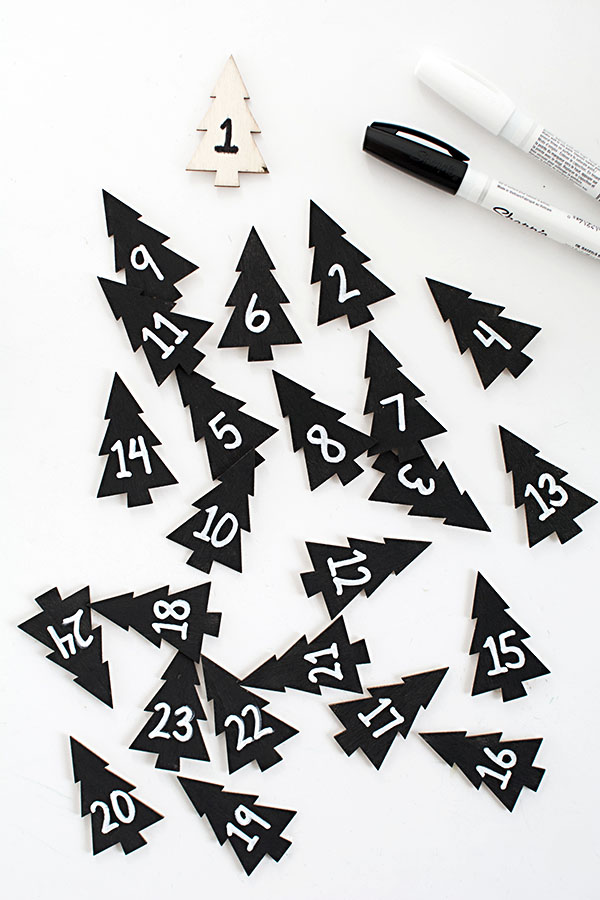 I used a white paint pen to number the black trees.  On the unpainted tree, I initially used a regular black Sharpie and it bled.  This would not have happened with a black paint pen, so that's a good tip right there: stick to oil-based paint pens.
After browsing the Container Store for an embarrassingly joyful amount of time, I decided on these adorable mini tote bag boxes.
I peeled off the backing of the sticker on each tree and stuck each one onto a tote bag.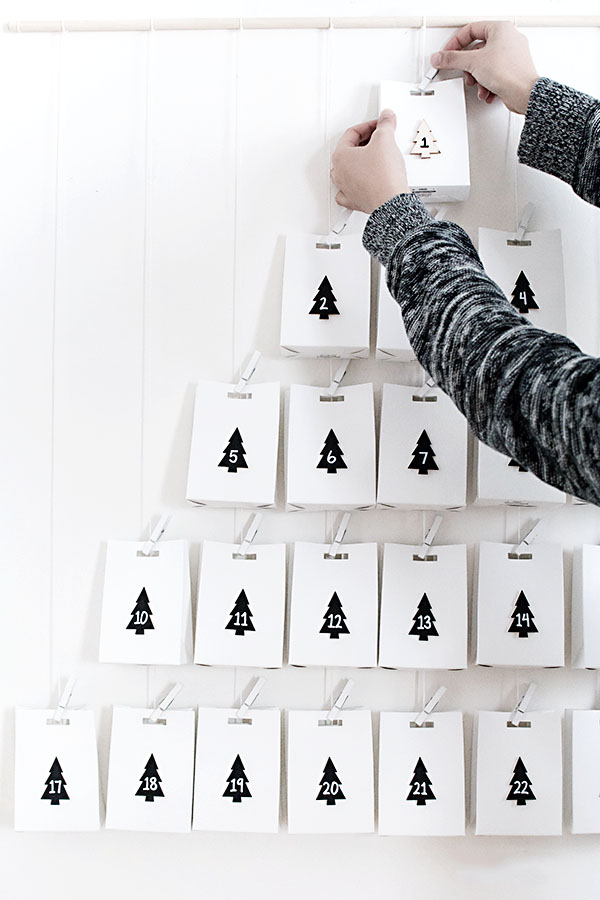 I tied nine pieces of string evenly across a hanging dowel and attached each bag onto the string in a triangle formation with white clothespins.  Any excess string hanging below the bottom row was cut off.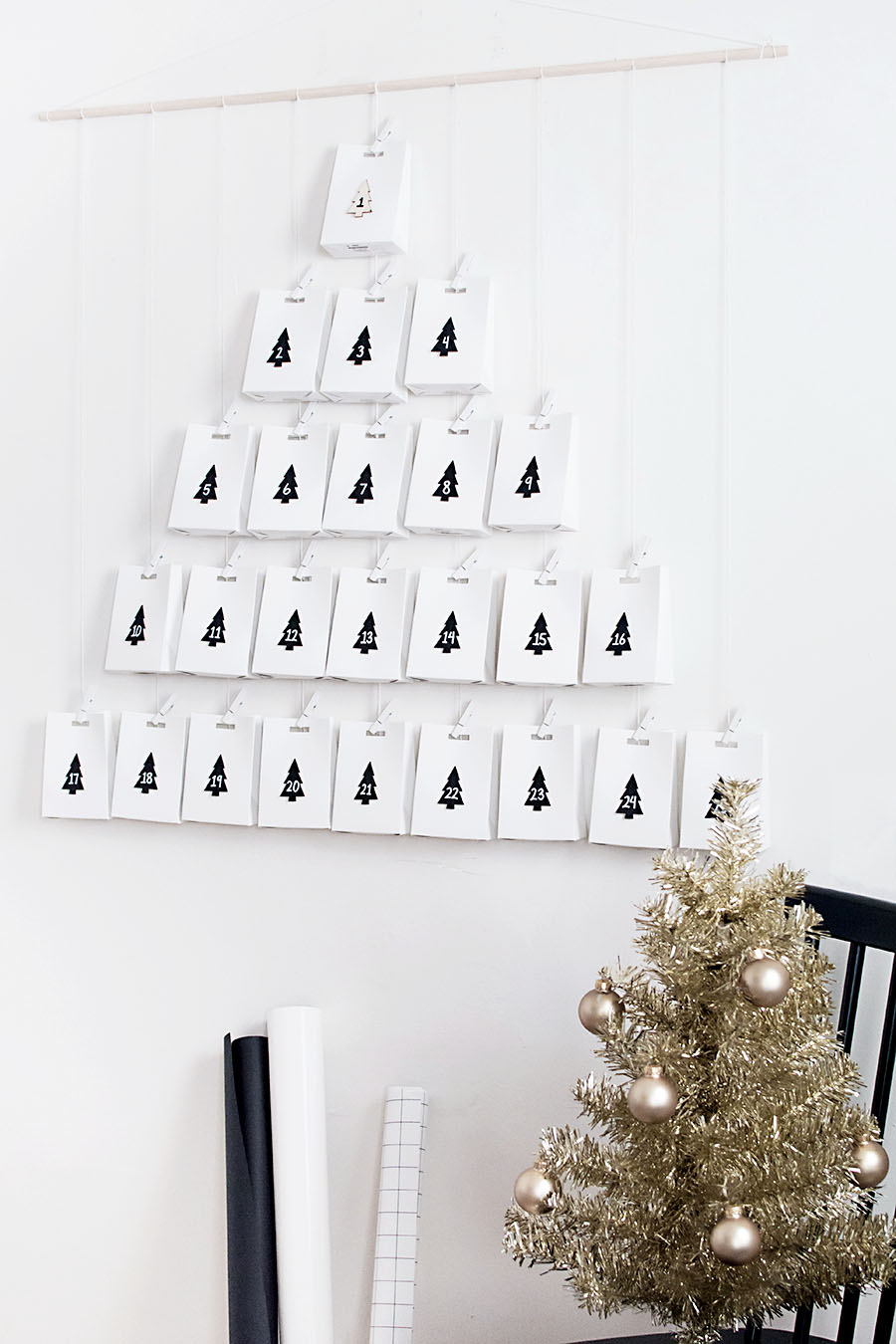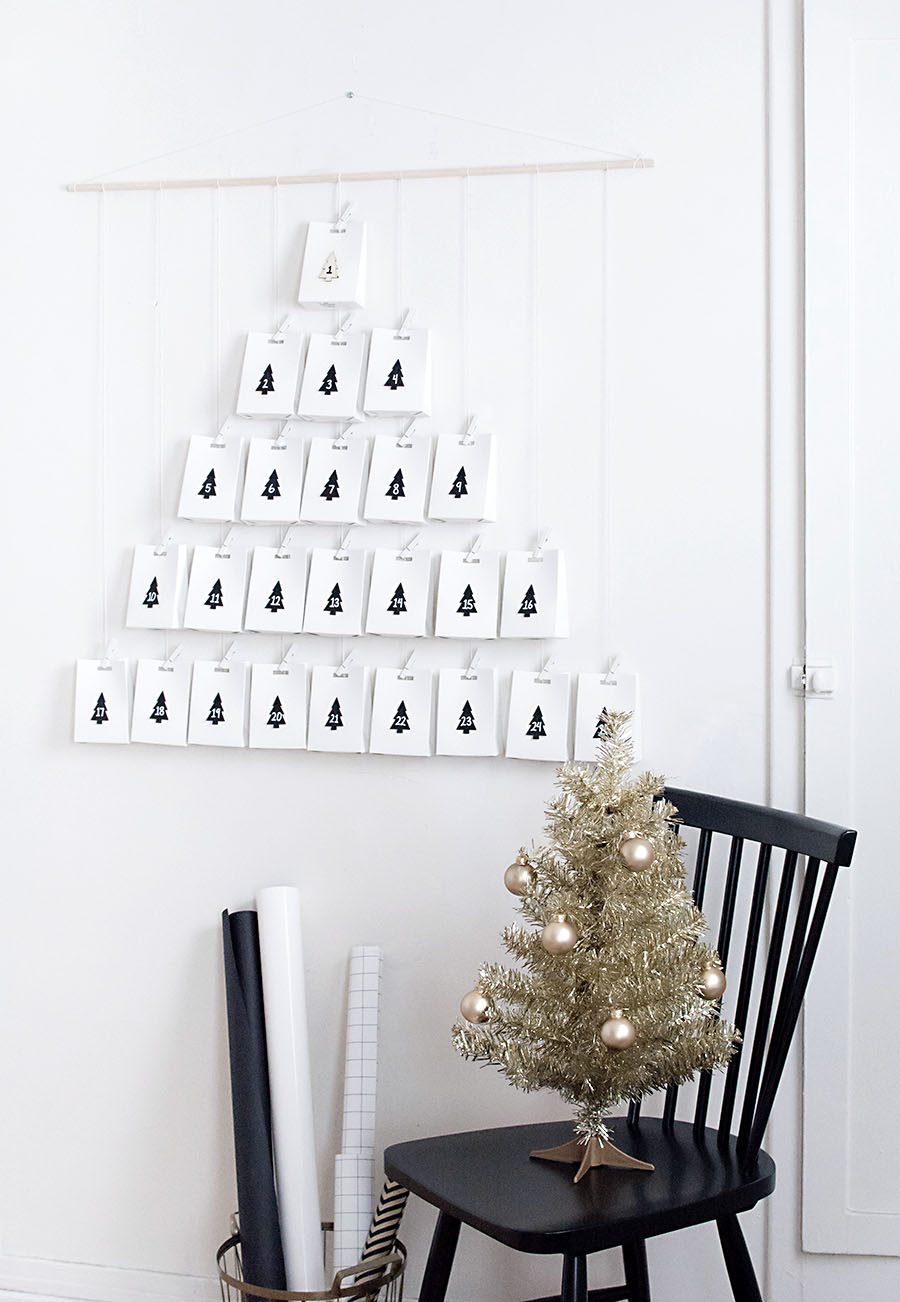 This could easily be a Christmas tree alternative as well, perfect for small spaces and people who love functionality (raise your hand with me).
Do you have an advent calendar tradition?  What do you put in yours, or is there a theme?