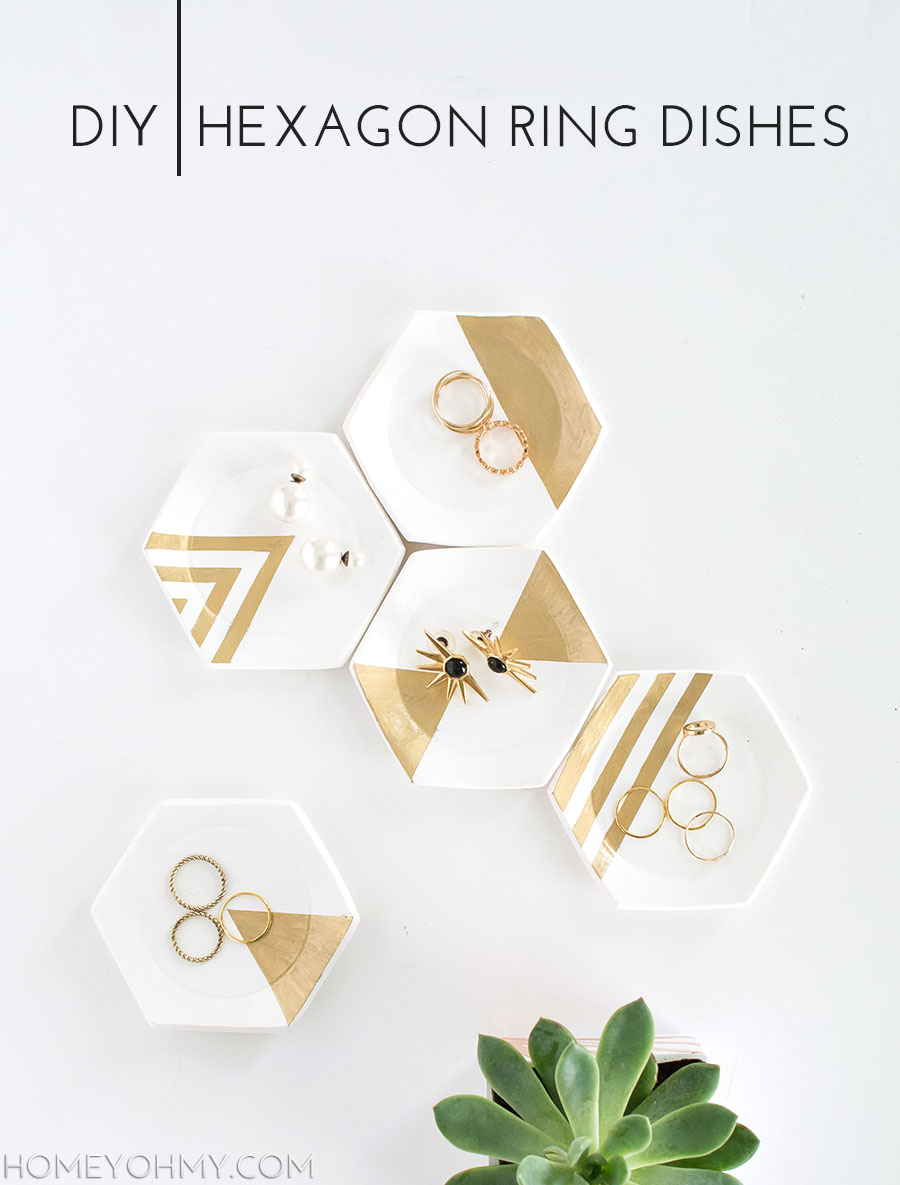 It recently occurred to me that I don't have a single ring dish in the apartment, and that crazy realization happened after I spent forever looking for a ring I couldn't remember where I last placed.  Will making a bunch of small clay dishes to sprinkle around the apartment 100% prevent me from putting my rings on random surfaces?  Maybe, maybe not, but I gotta at least try.  These dishes are cute anyway to keep around, and while they're intended for rings, they can be catchalls for anything tiny that would be annoying to lose!
Also, five might be overkill for one household, but I actually ended up making 10 total, reason being because I messed up the first five, then made five more hoping at least three would turn out alright, then I liked how all five turned out, so this turned into a real ring dish party.  Point is, I've shared a couple tips and "don't do what I first did" stories in the how-to below!
Material
–white clay
–parchment paper
-rolling pin
-cutting mat
-hexagon box (about 3.5″ width, found at JoAnn for $1)
–X-ACTO knife
-oven safe bowl (the base of my bowl was 2.5″ in diameter)
–white spray paint
–1/4″ tape
–gold leaf pen
First thing, I recommend rolling the clay out on parchment paper on top of a cutting mat.  The parchment paper will keep the clay from sticking to whatever surface you're working on and will peel right off of the clay.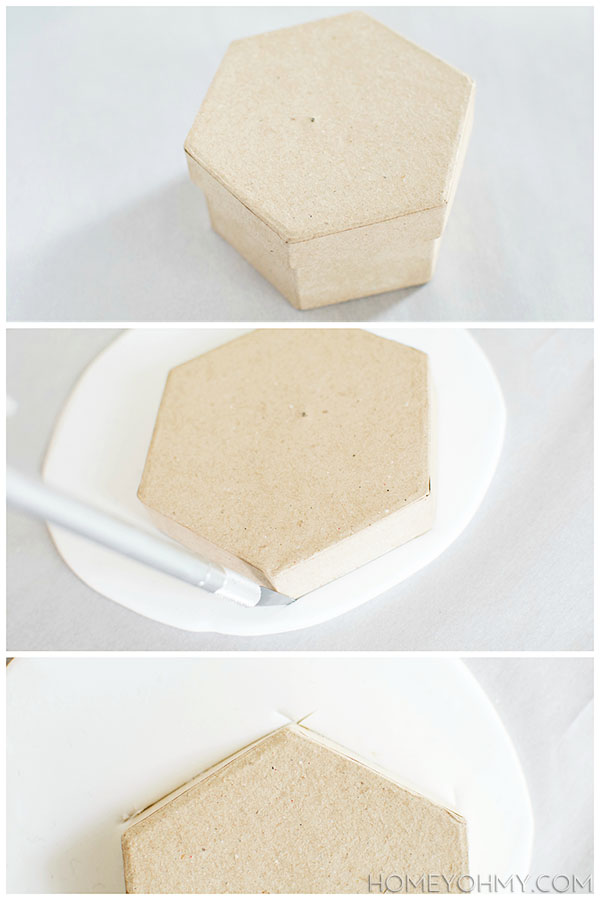 I traced the lid of a papier mache hexagon box (found at JoAnn fabrics) with an X-Acto knife into the clay, which I rolled out to about 4mm in thickness.  At first I tried using one of those plastic clay cutting tools, and it didn't work nearly as good as the X-Acto, so definitely, definitely, use an X-Acto.
The clay lifts off with the lid, so after carefully peeling it off and removing the parchment paper, I draped the hexagon clay on top of the bottom of a bowl and baked in the oven according to the clay packaging instructions (230F for 30 minutes).  I used the bottom of the bowl so that it would create a flat base for the ring dish.
After baking, I spray painted the dishes white, only because every dust bunny and fuzzball in the world somehow ended up in the clay and it looked dirty (anyone know if it's possible to completely prevent this?  I think I already know that the answer is no.)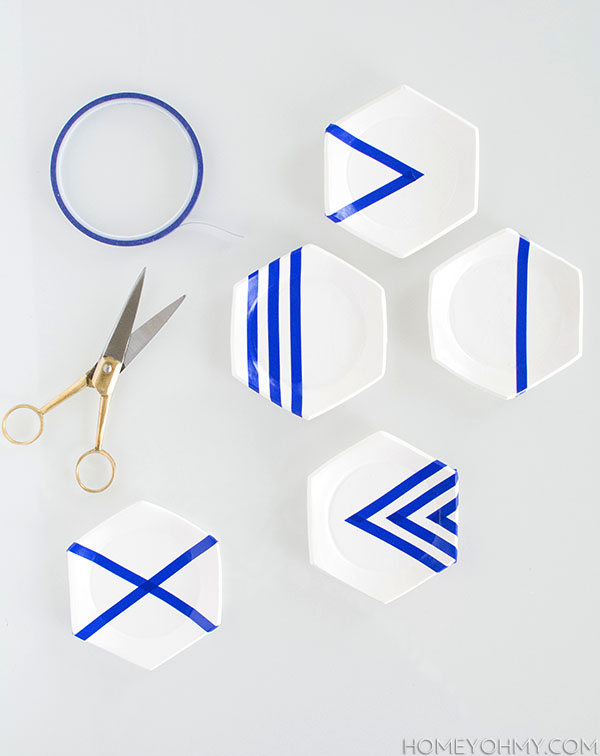 After letting the white paint fully dry, I taped a different design on to each dish using 1/4″ tape.  Really, really, really, really make sure to go over the edges of the tape with a finger nail to make sure the seal is tight.
I colored in the designs with a gold leaf pen, which does leave a more textured appearance.  If you want that airbrushed flawless finish, spray paint is definitely the way to go, but will require extra steps to cover the parts of the dish you want to keep white.  It's definitely possible that I was too lazy to do this and thus used a gold leaf pen instead.
After peeling off the tape, I let the gold leaf fully dry before dumping stuff on to the dishes.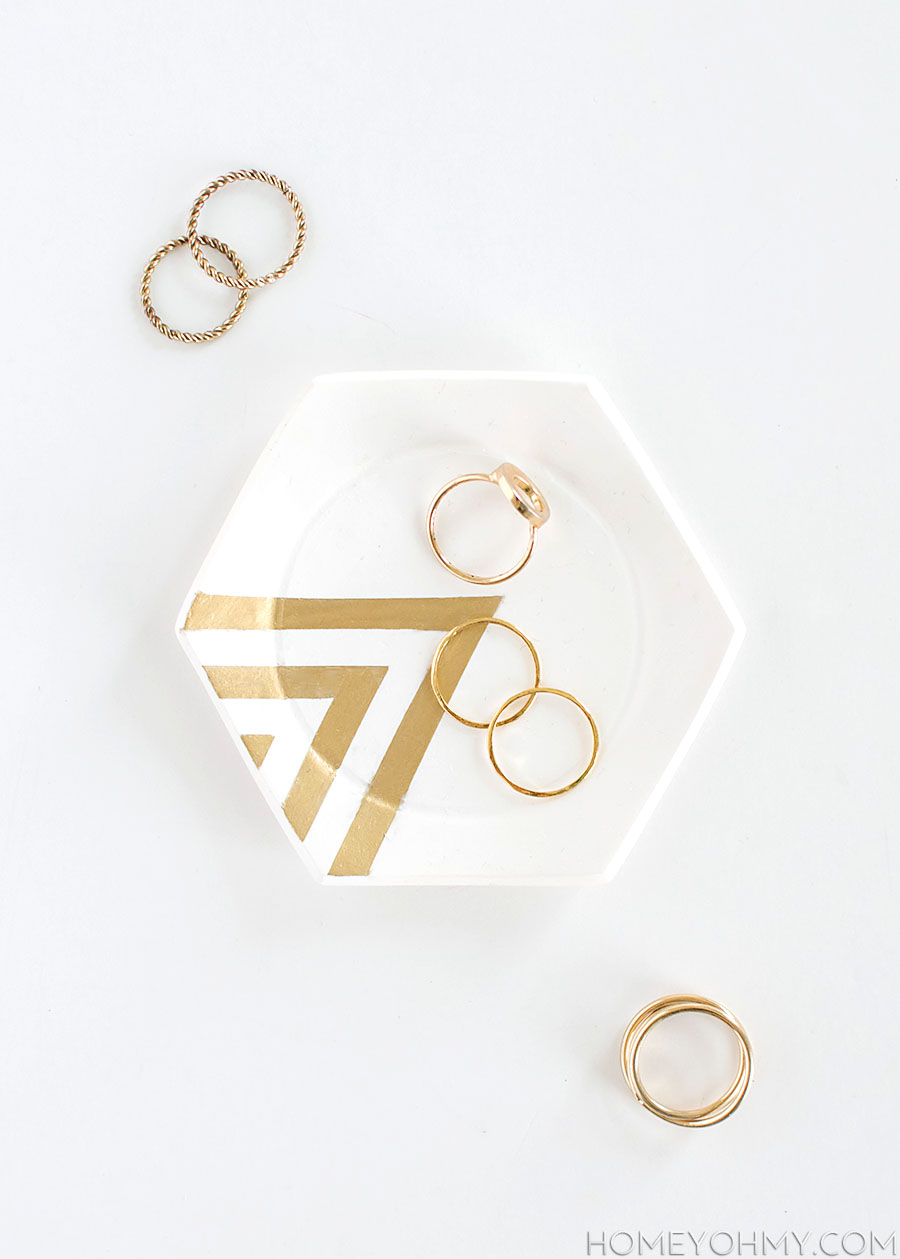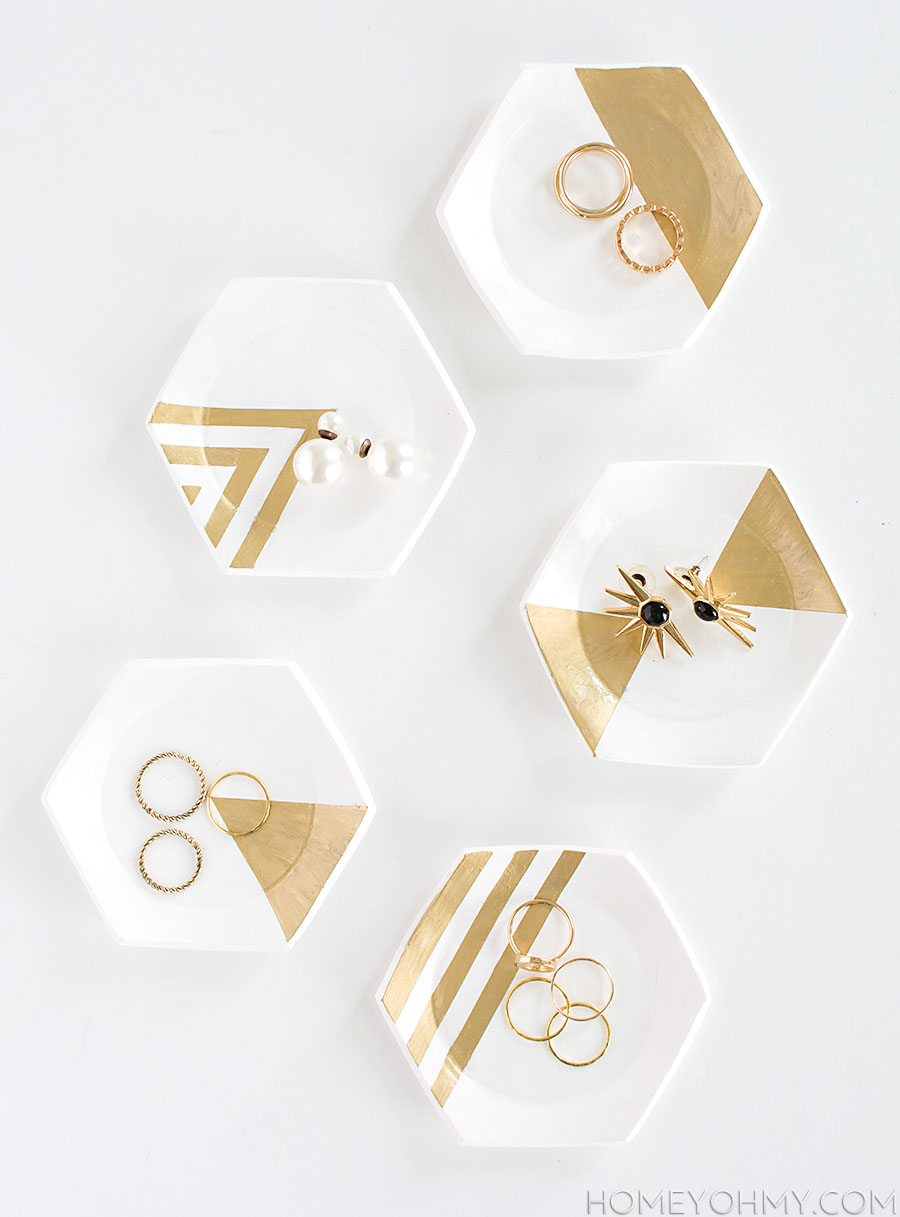 Also, anyone notice there hasn't been a lot of gold around here on the blog lately?  What happened there??  It's like I'm going back to my roots with this one HA.  I like it.  I like it a lot.
We're two for two on a jewelry themed DIY here, which wasn't intentional, but accessorizing is a pretty huge part of my life so it's not surprising that happened.  Which reminds me, I completely forgot to share this video with you guys at the end of my multi-strand bracelet DIY. It was stuck in my head the entire time I was making those bracelets, and then again when I was making these dishes, even though these dishes aren't jewelry… Any Portlandia fans??