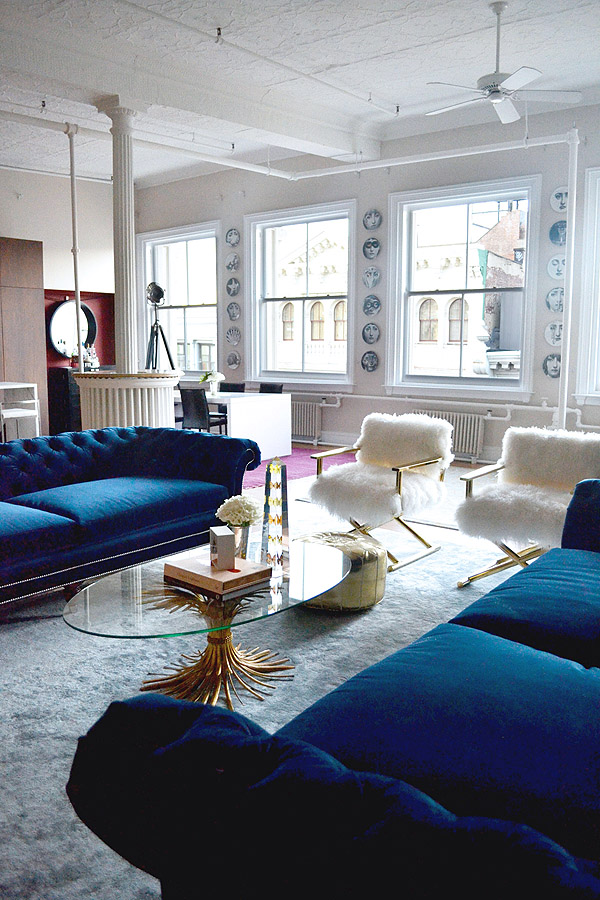 Another weird week gone!  Weird for me since boyfriend has been out of town and somehow that resulted in me reverting back to the college dorm lifestyle and diet.  Mac and cheese, anyone?  Other than that, I've just been feeling really off about blogging lately.  I'd best describe it as a mix of being in a funk, a case of the blahs, and craving change.  I might talk more about that later, but I sense a shift coming, or I dunno, maybe I just need to get a drastic hair cut (ladies, I know you know that feeling.)
Anywho, always happy for the weekend, which everyone around here in LA has been talking about how hot it's going to be- up in the 90s.  I foresee ice cream in my near future.  Hope your weekend plans involve ice cream, too <3 .
Here are today's finds:
Currently on a sofa hunt and I gotta find something blue and velvet.  This space (photo above) is added to the list of reasons why, but yes, this is going to be a long and patient hunt for something that won't cost a million dollars.
Everyone needs to read this piece about online negativity.
It's been about a year since I first wanted these vases, and I still wanted them a year later, so I got a couple, and I LOVE them.
A really, really cool coffee table DIY.
A round-up of posts to help you rock at social media.
Can't get enough of jacket earrings, and I've got this set coming to me soon for a happy mail day.
I was misty-eyed at my desk at work when I was reading this and watching the video. Have you donated to this cause yet?
If you've got any finds of your own or something I need to see, definitely let me know about it.  Happy weekend, guys!