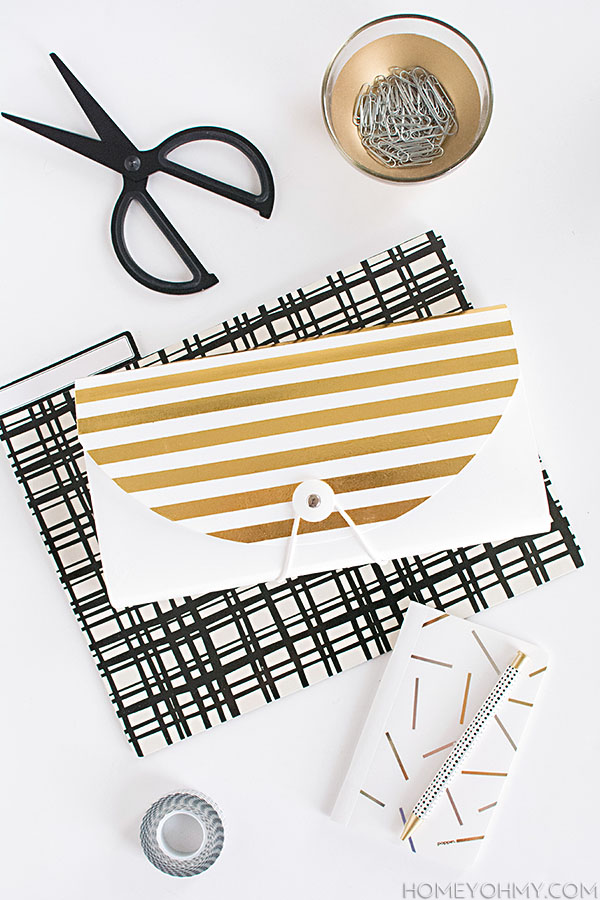 Am I the only person who still uses accordion file folders?  Not that I have more than one, or four, but I like this "old-fashioned" way of keeping my receipts organized, which I was thinking about after filing my taxes this year, which is very boring and no one wants to talk about that, but what's not boring is putting gold on everything.  This one only takes 10 minutes, too, which is so worth spending to make receipt-keeping a lot prettier.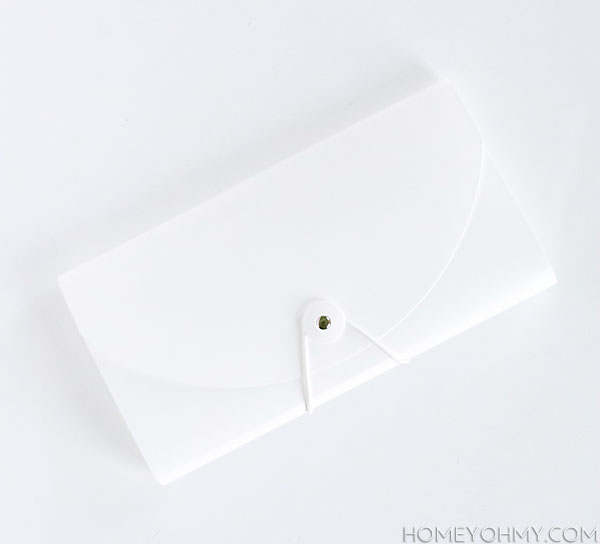 First, this 12 pocket file folder, which was only a dollar at the Target dollar spot (they get me).  I was completely happy with it being all white like this, but it also felt like the perfect opportunity to test out a new craft find.
Here's a truth.  This DIY happened because I wanted to tell you guys I FOUND GOLD FOIL TAPE.  You've seen a lot of copper foil tape around here on the blog, which yes, I often wished it was gold,  but I couldn't find any that was thin, or maybe I didn't look that hard.  Point is, I found it, in a three pack set like this at Michaels.  It was in the Washi tape section, which I browse only in two situations: whenever there's a sale, and whenever there's not.
There's not much to show, especially because I did this at night and took zero photos of the process, but it's very straight forward.  The foil tape has a paper backing that needs to be peeled off, and I used a small piece of the backing to measure out the spacing in between each gold stripe as I stuck them on.  This tape smooths over really nicely, so it was easy to get rid of any small air bubbles by rubbing them out with a finger, but if reapplication is necessary, the tape doesn't crinkle or crease much when peeled off- nice!  Once satisfied with the placement, I used scissors to cut off the excess tape around the edges of the flap.
If I had to do one thing differently, I probably would have brought that gold tape at the bottom all the way down to the edge of the flap to give it more definition, but it didn't occur to me until after I was all done.  For a second I considered doing it all over again, but only for a second.  I got over that real quick.
I could very easily go down the rabbit hole of gold foil taping all the things.  This could work on so much stuff, like most other office supplies, DIY art, vases, planters, all my favorite things apparently.  You might probably definitely see more of this stuff in the future.
Do you guys like these quick little DIYs?  I personally do, and really I focus so much on simple DIYs because of how they best fit in to my lifestyle.  So often people tell me they wish they had the time to DIY, and I think if a lot of that desire comes from just wanting to create, quick projects like this to make ordinary things just a little more you can be so satisfying and fun while still leaving plenty of time for all the million other things you gotta do, like taxes.  MAN I'm glad I got that done!!