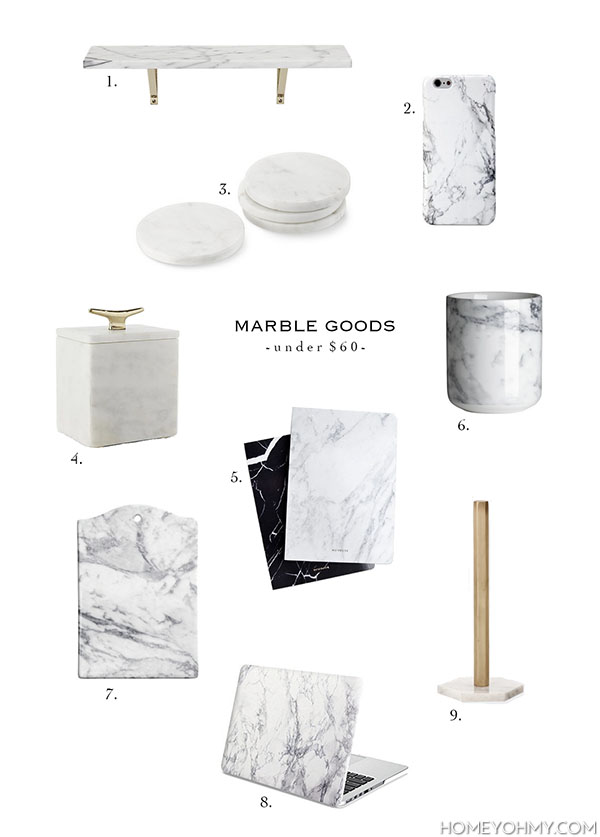 I was taking stock on "props" I have for photo styling and noticed I have a lot of marble stuff.  I really, really like marble, particularly the look of carrara, so let's do some browsing for affordable ways to bring more marble into our lives, shall we?  Of course, not everything here is real marble, but some of it is!
1. Ok, why is this shelf not in my life?  AND it comes with the gold brackets?  This needs to happen.
2. My current iPhone case and I love it.
3. I like that these coasters are on the thicker side.
4. This box is one of my favorite decor pieces. You might have spotted it before here.
5. The prettiest notebook.  So pretty that I haven't written in mine yet and kind of don't want to ever, but I will…
6. A cup that I like to use for tea.
7. This small cutting board is on its way to me!
8. What I like even more about this laptop case is the way it feels.  Buttery smooth.
9. I cheated with this gorgeous paper towel holder because it's $3 over, but that's ok.
I've had marble on my mind a lot more lately since making over this lamp and hope to DIY with it more.  Would you want to see that?  Are you into marble as well?