My boyfriend has recently developed an addiction enthusiasm for wine, and I collected the empty bottles out of the foresight that I'd need to add some DIY vases to my vase-ridden apartment. Though I can never have too many vases, my boyfriend seems to think I've surpassed that limit a long time ago, so this was my attempt at compromise. As long as he's emptying wine bottles (don't worry, I help him out), I might was well decorate and use them as vases, right? :P  This time around, my objective was fall decorating.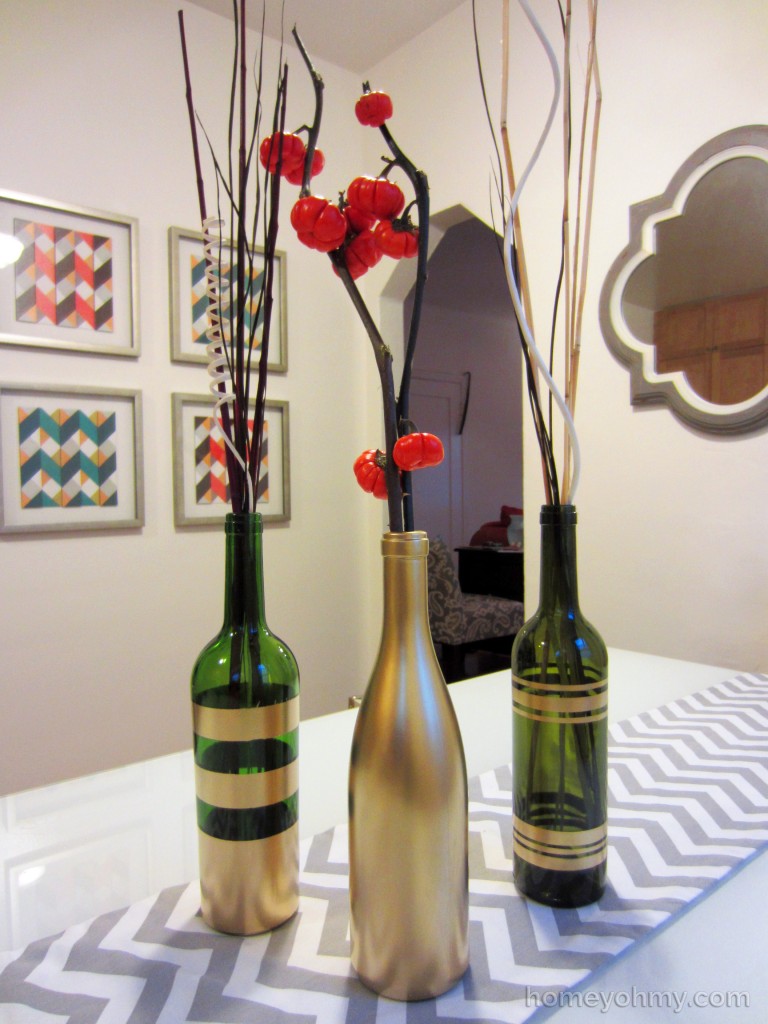 This is a super simple DIY and you only need a  few things.  The materials include wine bottles, painters tape, rubber bands (optional), and my holy grail DIY weapon: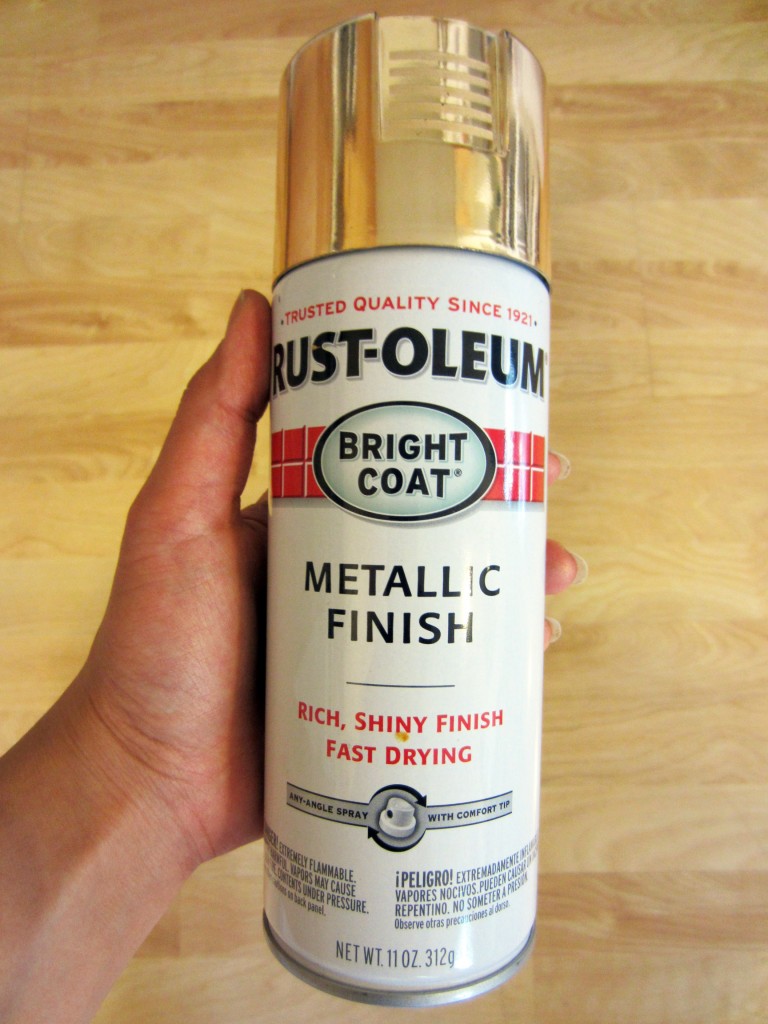 THIS.  Pinterest was not lying about this one.  I got mine here
(affiliate link). If you're as crazy about gold as I am, Rust-oleum Metallic Spray Paint in Gold will make you want to paint everything you own in its awesome, goldy goodness.
I wanted to have at least one bottle painted entirely gold in order to see the color in full force, but for the other two bottles I taped them up in two different stripe patterns.  For one of them I used only painters tape to create thick stripes, but on the other I used four rubber bands to create thinner spacing between smaller stripes.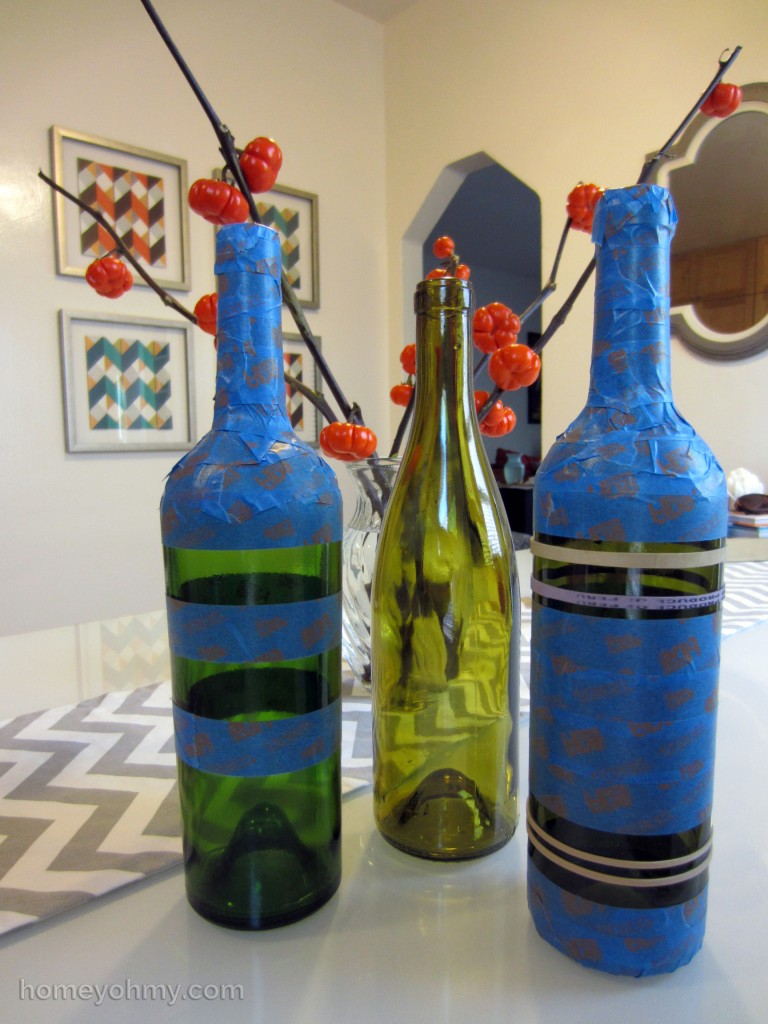 The next step is to spray paint the bottles, but let's refresh some basics since I feel like I should have done this before I started (aka I messed up).
SPRAY PAINTING TIPS:
Really make sure there are no bubbles in the tape edges near the portions of the bottle that you are painting.  Use a credit card to scrape over the tape edges so that the seal is tight and no spray paint can leak through
SHAKE THE CAN A LOT before spraying.  Do not underestimate this step.  I used to ignore the instructions on the back of spray paint cans that say to shake for 2 minutes thinking it doesn't make a difference, but it does in terms of how evenly the color comes out.  Do it.
Test the paint after shaking it by spraying it onto any scrap material you have.  If the paint doesn't come out even in color, resume shaking.   Repeat until the color comes out evenly.
Use light, multiple coats instead of trying to spray one heavy coat.  This will give you much more even coverage and prevent the paint from dripping.
Start spraying off of the surface and then sweep it across.  If you start the spraying on the surface of your material, you are more likely to create uneven texture and will be able to see where your stroke started.  The goal is to get a clean, air-brushed look.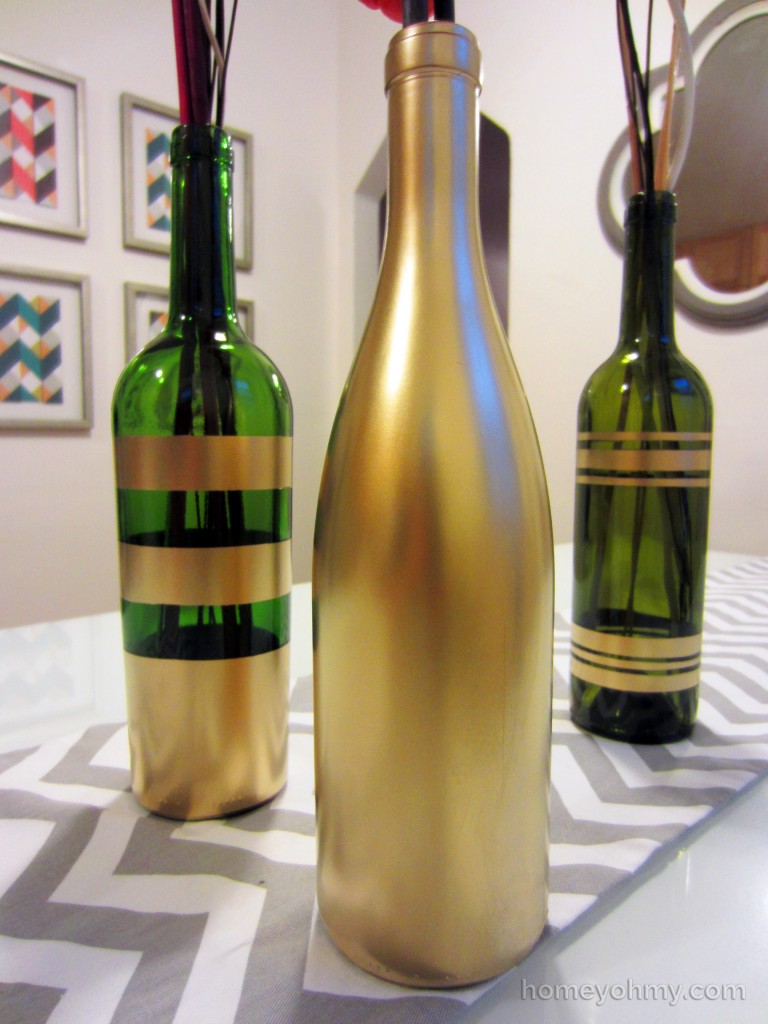 And there you have it!  The paint is dry to the touch after an hour but should be left to dry fully for 24 hours.  If the spray paint leaked through the tape in some parts, you can just scrape off the imperfections with your fingernail, like I did.  That also brings up a point that these painted bottles are not ideal for heavy handling and are best for purely decorative use.
As for what to put in them, I had originally planned on putting in some white silk blossoms I had, but I saw these mini "pumpkin trees" at Trader Joe's and just couldn't resist (the majority of my floral/plant purchases are impulse buys during a trip to Trader Joe's).  The thing that got me is that they're REAL!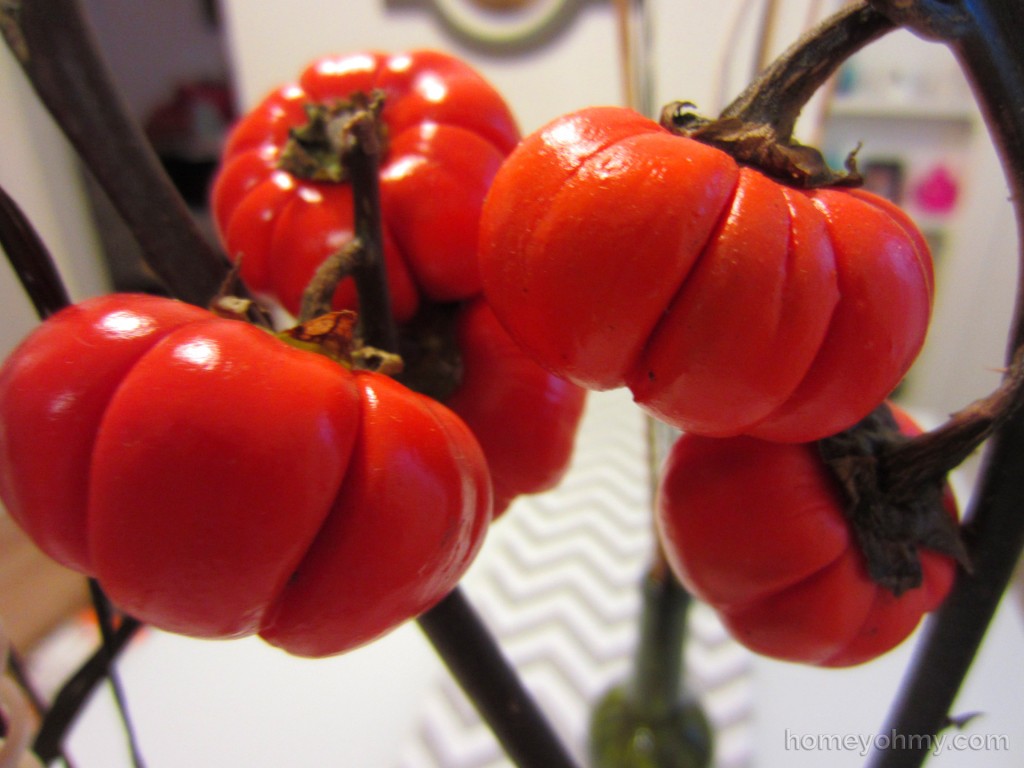 I had no idea these cuties existed, and when I saw that they were bunched in a bucket of water, I started to daydream about how they might grow into full-sized pumpkins.  Will they?  No, probably not.  But they are too darn cute and forced me to buy pumpkins in September.
I put the pumpkin trees in the gold bottle, and for the other two bottles I put in some grass stick bouquets that I got at the dollar store.  Because of their height, I probably wouldn't keep them as a centerpiece on my dining table and will most likely move them to the living room.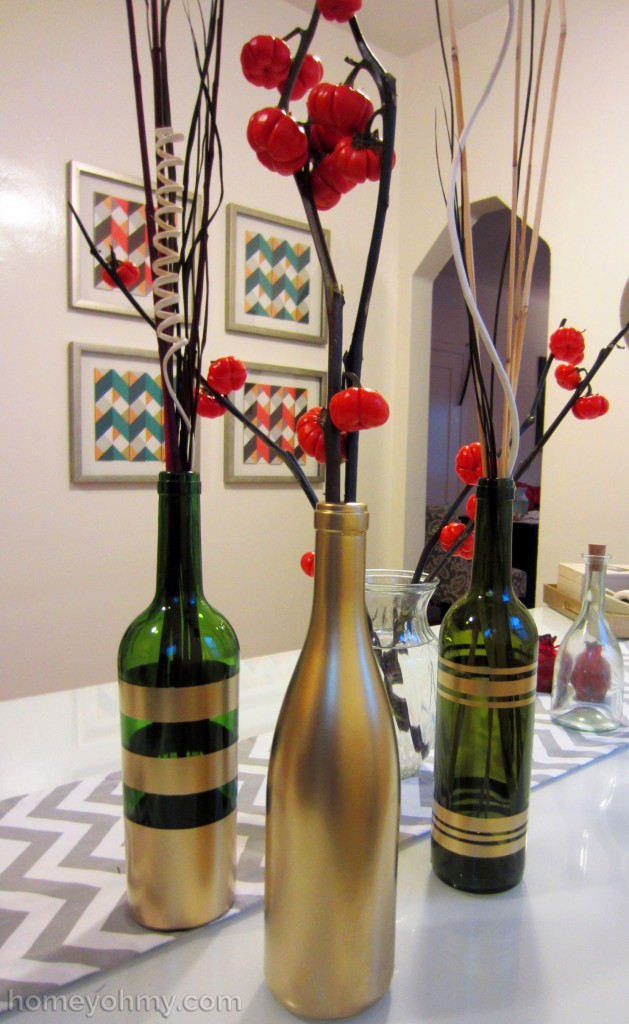 Replace the pumpkins when they die or go more traditional with some flowers?  My love for pumpkins was purely in eating them and this is the first time I'm actually decorating with them. Luckily, the bottles are versatile and can work throughout the year instead of just during the fall season.
Thanks so much for stopping by!