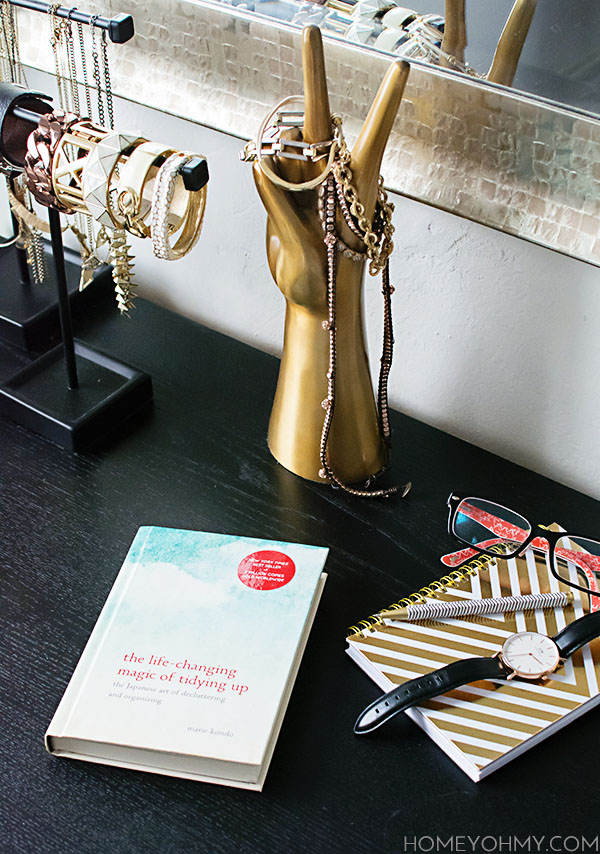 Remember when I said that one of my goals this year is to de-clutter because last year I was drowning in clutter?  Then soon after I talked about how I'm in a bit of a creative funk and finding it hard to get the wheels rolling again after the holiday madness?  I'm convinced the two are completely intertwined.
I started reading The Life-Changing Magic of Tidying Up to get a grip on my clutter issues, and it made one thing instantly clear again, a concept I find really easy to forget:
Tidy Space = Tidy Mind
This quote from the book puts it so perfectly:
"…when you put your house in order, you put your affairs and your past in order, too.  As a result, you can see quite clearly what you need in life and what you don't, and what you should and shouldn't do."  
How badass is that??  Who wouldn't want to achieve this?
So often I've been frustrated by the constant messes piling up around our apartment, but still I let it be just that- a distraction, a nagging troll that occupied my thoughts and convinced me that my efforts to de-clutter would just be replaced with more clutter, so why even try.
I needed a change in perspective, so I'm going to try a different approach outlined by this book that's different from anything I've heard before.  As simple as it is, it's pretty bold.  Want to know the secret?
Throw away everything.
Ok, so that's a super simplified and dramatic version of it all, but I'll go into more details on the main concepts, because I know there are more of us out there who feel me on this dilemma and have decided to take on this battle as a high priority.
1) Identify Your Goal
The book explains this as the most important first step and encourages specific visualization of the lifestyle you want to achieve should you successfully de-clutter.
Story time.  A recent event was my rude awakening for why things needed to change.  We had an unannounced guest.  Guys… it nearly killed me, and is why I frequently kind of joke that I need at least one week notice from anyone that wants to come over.  The mortification I felt over there being nowhere for him to sit because every surface was occupied by materials or scraps for one of the 47 projects I was working on at the time was unbearable.  Some might think I'm overreacting, but to me this brings to light what my goal is: I want a lifestyle where people can come over and I won't have to worry about them having to move trash in order to sit down.  Simple!  This is in addition to wanting to free up space so I can enjoy both working and relaxing in my home, and not feeling stressed about having to tidy all the time.
2) Discard
This refers to a one time tidying, major overhaul of discarding all items that do not bring you joy.  We're talking like 13 garbage bags to toss, donate, or sell.  Can you imagine how good it would feel to be surrounded only by items you truly use and love?  It requires examining every possession one by one, holding it in your hand, and asking yourself if it is either useful or makes your heart soar.  If the answer is no, toss it, baby.  The author stresses that this inner dialogue you have with yourself is so important, to not even listen to music or watch TV while you do it.  It should be a serious, almost meditative practice, where you really pay attention to the energy of the item and what you want do with it.
I've never in my life taken the time to go through all my possessions and re-evaluate what I still enjoy and what I forgot even existed (I'm looking at you, leather shorts shoved up against the back of my dresser).  I'd like to think a bonus that would come out of this activity is grooming a "buy less choose well" mentality, which is something I definitely want to commit to.
An important factor that the author stresses is to do this in a short amount of time.  In my mind, I was thinking I could get this done in a weekend, but the timeline she gives as an example is six months.  At first I was like whaaat but then I thought about my vase collection and how that itself will probably take a week of examining, so yea, six months sounds reasonable.
3) Organize by Category
The author recommends examining objects by category, not by location/room.  This is a completely new concept to me, but makes a lot of sense.  For example, she recommends starting with clothes by gathering every clothing item from every room into one pile, and maybe into subcategories if there are a ton of items.  This is for two reasons, 1) to get an accurate visual for how much of the item you actually have and 2) to notice repeats and similar items that might be an easy place to start for deciding what to toss.  I've actually started doing this with my jewelry and have tossed half of it already, one of which were earrings from Claire's that I wore to PROM (WHY did I still have those?!?)
 A funny thing the author mentions is warning not to downgrade old clothes into loungewear.  I am so guilty of just making anything I wouldn't wear in public another pair of pajamas.  My pajama drawer doesn't even close right now.  It has got to go.
My plan is to hack away category by category each weekend and try to do it all within a 6 month period, and I agree, it sounds a bit daunting, but I really do think this is one of those the-hardest-part-is-starting situations.  The idea is to make it such a big feat with drastic results in lifestyle changes that reverting back becomes an impossibility.
What do you think?  Is this something you'd try or have tried before?  Was this so totally boring?  Are you guys interested in this kind of stuff?
I really recommend you check the book out if you're trying to get serious about tidying and de-cluttering, and because I only did a so-so job of summarizing the main points.  It's a quick and eye-opening read, and has interesting anecdotes that address things like why you shouldn't let your mother see what you're throwing away.  Hilarious, though that's not my mom.  She's really, really good at throwing things away, a talent I unfortunately did not inherit from her.