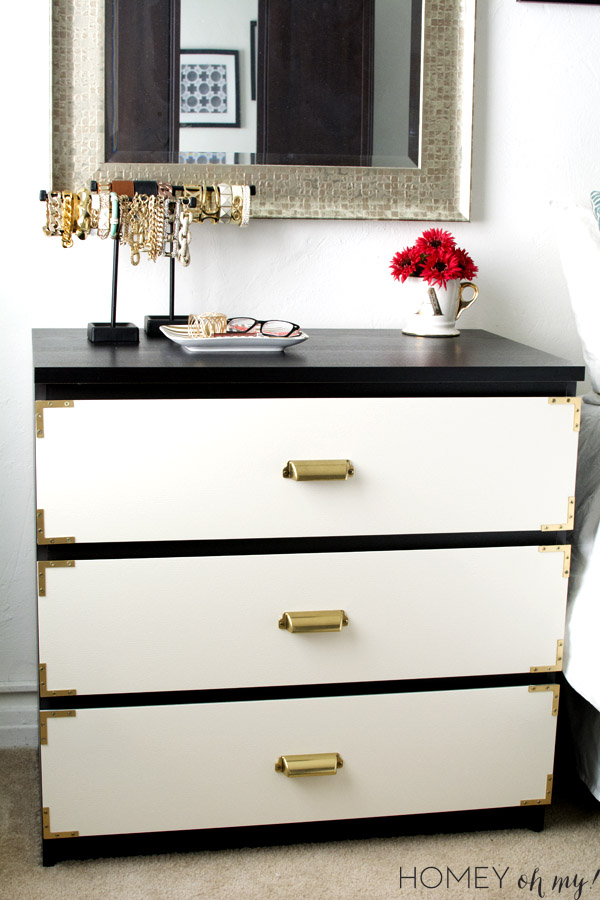 The infamous Malm dresser… This guy is everywhere, and while I think that's part of why it gets a bad rap, it's hard to deny that it provides a great amount of storage, which was a key deciding point for why I chose them to double as dressers and nightstands in our storage-deficient apartment.
I would agree with anyone who would call the dresser boring, but I see it as an opportunity, like a blank slate calling out for customization.  I believe in you, Malm!!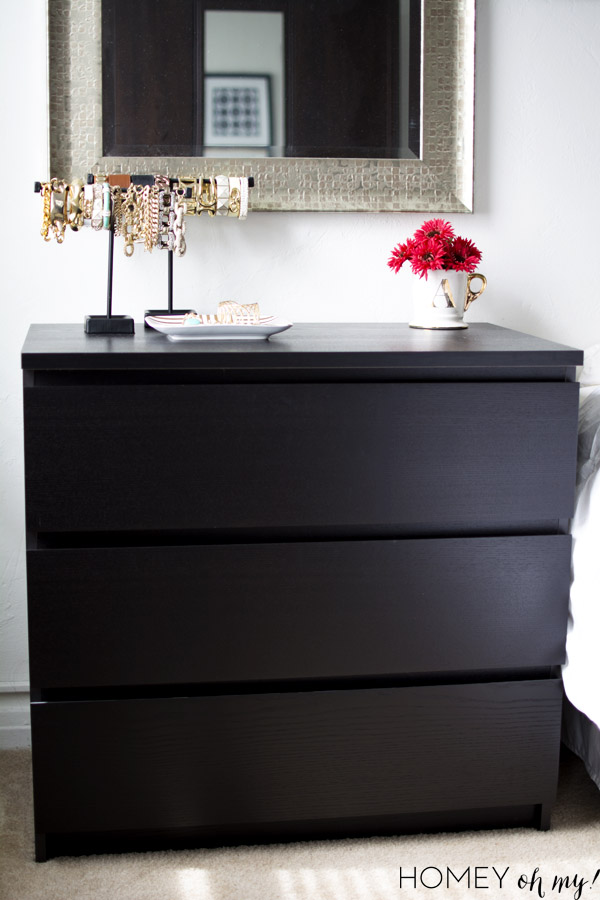 What stuck out to me was how dark the dresser was, which I wouldn't mind so much if our apartment wasn't already dark in general.  To remedy this, my mind was made up to lighten up the look of the dresser, and when I came across this early post from the Hunted Interior (LOVE everything Kristin does!), I was sold on going campaign style with it.
I removed all the drawers and taped the back side edges of the front panels, then taped on aluminum foil.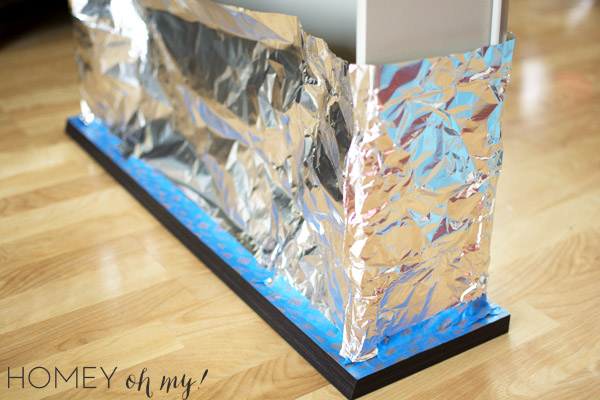 This wasn't about creating clean edges, but more about protecting the insides of the drawer from spray paint over-spray.  I didn't mind having a little over-spray, and the one layer of foil I applied blocked the majority of it.
Now THIS needs to be mentioned.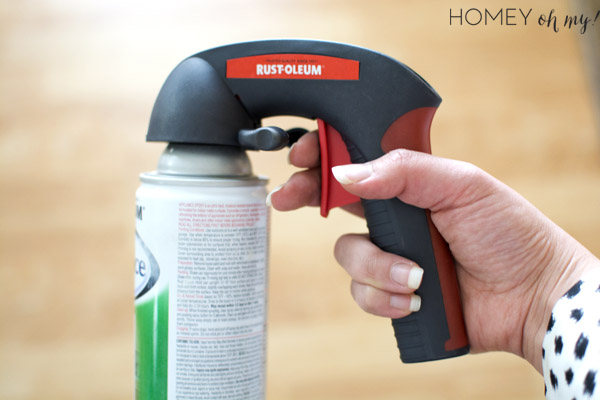 Guys… this is such a huge game changer that I feel like I've got to be the last person on Earth to know about it.  I had already accepted that my spray paint addiction meant that I would forever live with a blistered and swollen index finger resulting from spray paint fatigue, but now I know… life can be better.   Divine intervention helped me cross paths with the Rust-Oleum Spray Comfort Grip (affiliate link).  It attaches to a regular spray paint can and allows you to control the spray via the grip and trigger.  It's my new best friend.
Using Rust-Oleum Appliance Epoxy in Biscuit (affiliate link), I spray painted the front and the sides of the drawer panels.  This stuff is amazing.  It doesn't show your strokes and it dries to a hard, enamel finish.  Even when my ponytail fell onto the wet paint, it morphed back into its smooth, factory finish.  Some of the paint is still on the ends of my hair by the way.
After letting the paint dry overnight, I screwed on the brass corners.  They had a coppery green tinge to them that I didn't like, so I spray painted them gold (isn't that the answer to everything?)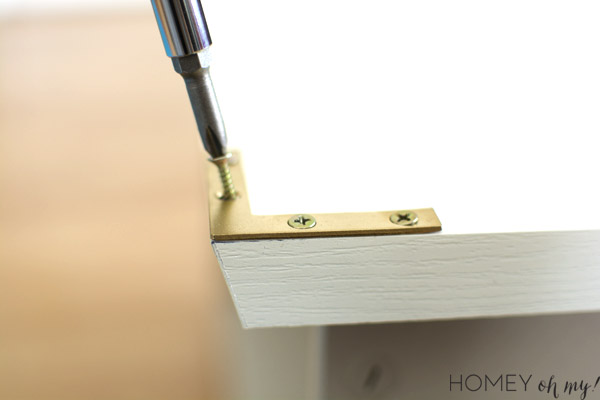 The top sides of the Malm dressers are slanted as shown in the photo above, so I had to screw in the screws here at the same angle.  This is so that they wouldn't poke out through the slanted side (I know this because it happened on the first screw I tried!).  Since all the other edges of the panel are straight, those screws were just screwed in straight down.
For the drawer pulls, they're meant to be screwed in but I was too lazy to do that.  Instead, I glued them on with E6000.  This would be the appropriate time to say that these pulls are entirely meant for show, and that's okay.  I do not plan on ever pulling on them, so we should be good to go!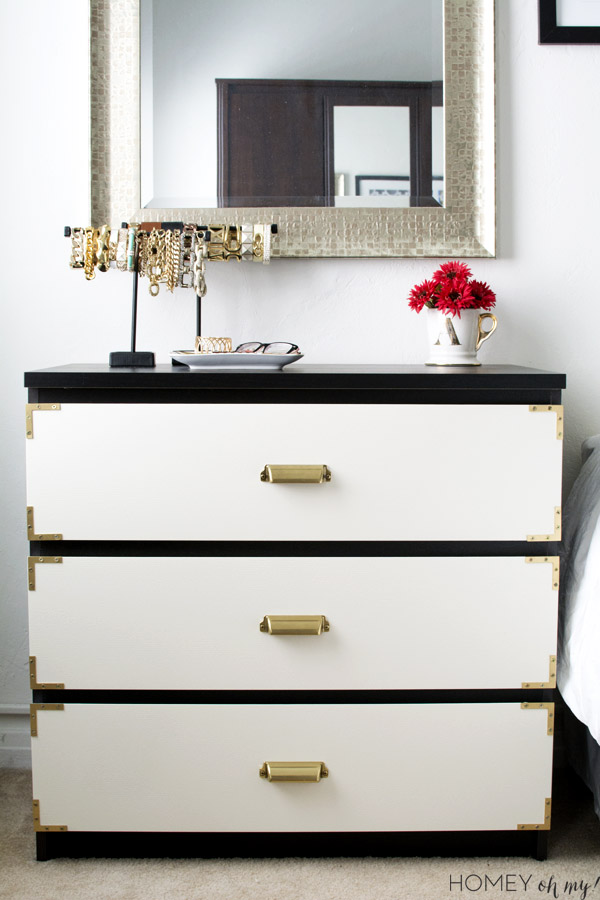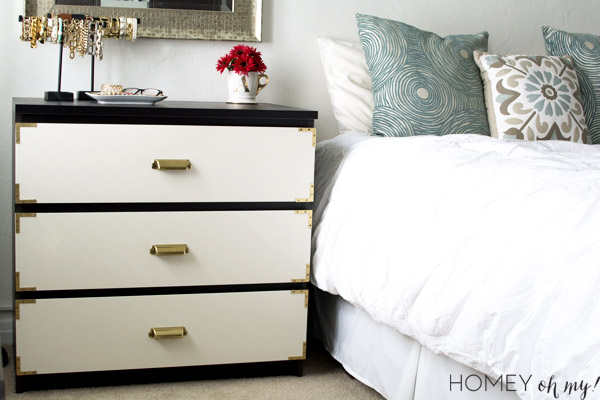 I LOVE how the dressers turned out and how they make our bedroom look lighter.  They're also boyfriend approved, judging from how he described them as "awesome".  That never happens!  His is on the other side, which you might see in a potential bedroom update later.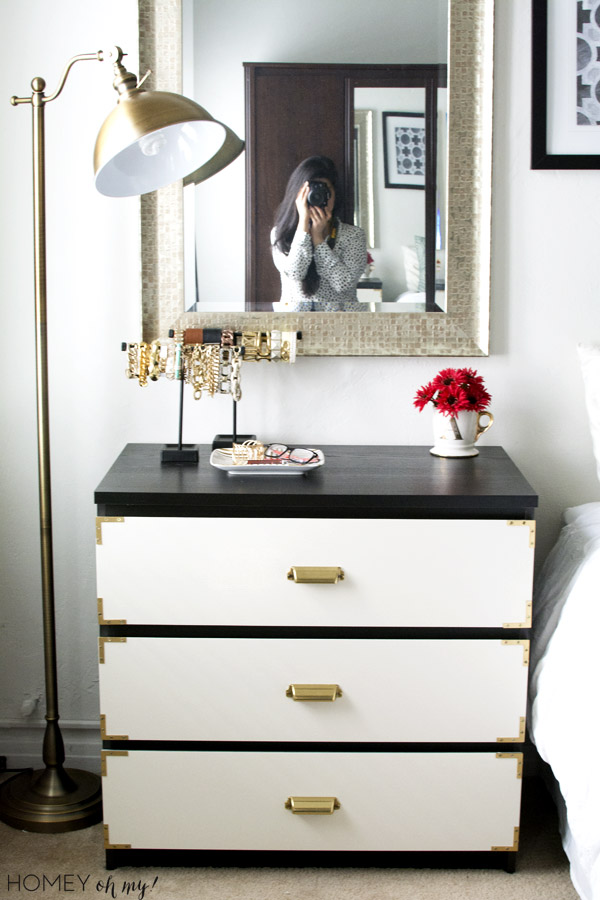 One last thing.  I've been on a lamp craze lately (did you see my new desk lamp that I shared on Instagram?) and I need to talk about this one.  Please excuse my photo-bomb, unless you like it, then hello!  I recently found it at HomeGoods and am SO excited about how well it goes with my dresser.  It's a unique version of a nightstand lamp, don't you think?  Except this one is bright enough to light up most of the room :P.  I thought about moving it to the living room, but I think it's here to stay in the bedroom.  What do you think about it being here?
Any questions, comments, thoughts about the dresser (or lamp!!) leave them below and let's chat!