This was my first trip out of the country in over a decade, and what I hope is the door that opens up more international travel, because you bet that "travel" has been on my resolutions list every year of my life.  The biggest advice I hear on traveling more is that making it a priority is the biggest step, which sounds simple and makes sense but when we think about everything else in life that is demanding our priority, travel takes a back seat real quick even with how much we love it and want to do it always.
Had it not been for O needing to go to Montreal for work, we probably wouldn't have made this trip happen, but that realization made us reason that we should take advantage of it, extend his stay after work with me joining later, and make this our 2016 summer vacay bash.
I loved Montreal and am so grateful we had this chance to go.  It's a beautiful city, the weather was perfect (not the case at all in winter I hear), and the food was bomb.  This trip was largely eating at as many places we could, mixed in with a bit of wishing badly that I had left room in my luggage to bring more stuff home.  I don't think the chair I wanted would have had any chance of coming back with me though.
Everyone we came across spoke both French and English, which was fascinating how fluidly bilingual this city is, and everyone was super willing to guide us on what to do while we were there.  Even being very prepared on where we wanted to go from all the research we did + suggestions from O's local coworkers + suggestions some of you left on the blog + much help from my friend Jan who was a local, a bunch of you guys sent me DMs on Snapchat and Instagram during the trip with more tips that totally helped us do some really good stuff, so thank you!!!  Hopefully this will help any of you already planning to go, thinking about going, or encourage you to put this destination on your list.
SEE
---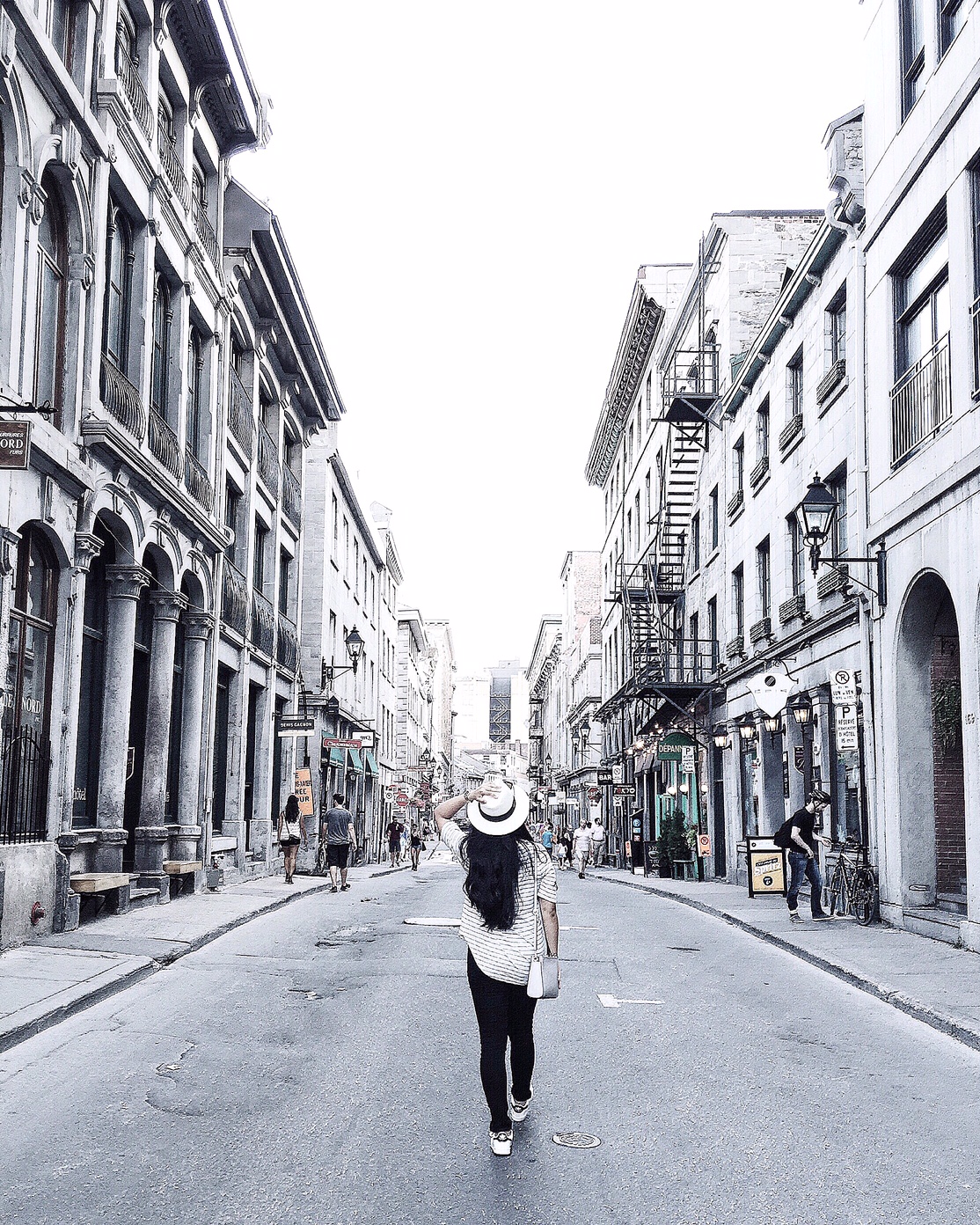 Old Montreal is the main tourist attraction, which becomes more apparent with the souvenir shops closer to Place Jacques Cartier, but it is still so so pretty to walk through with lots of cute restaurants and buildings to admire.  
Rue Saint-Paul will take you straight through, which is the street that most of the restaurants and shops are on.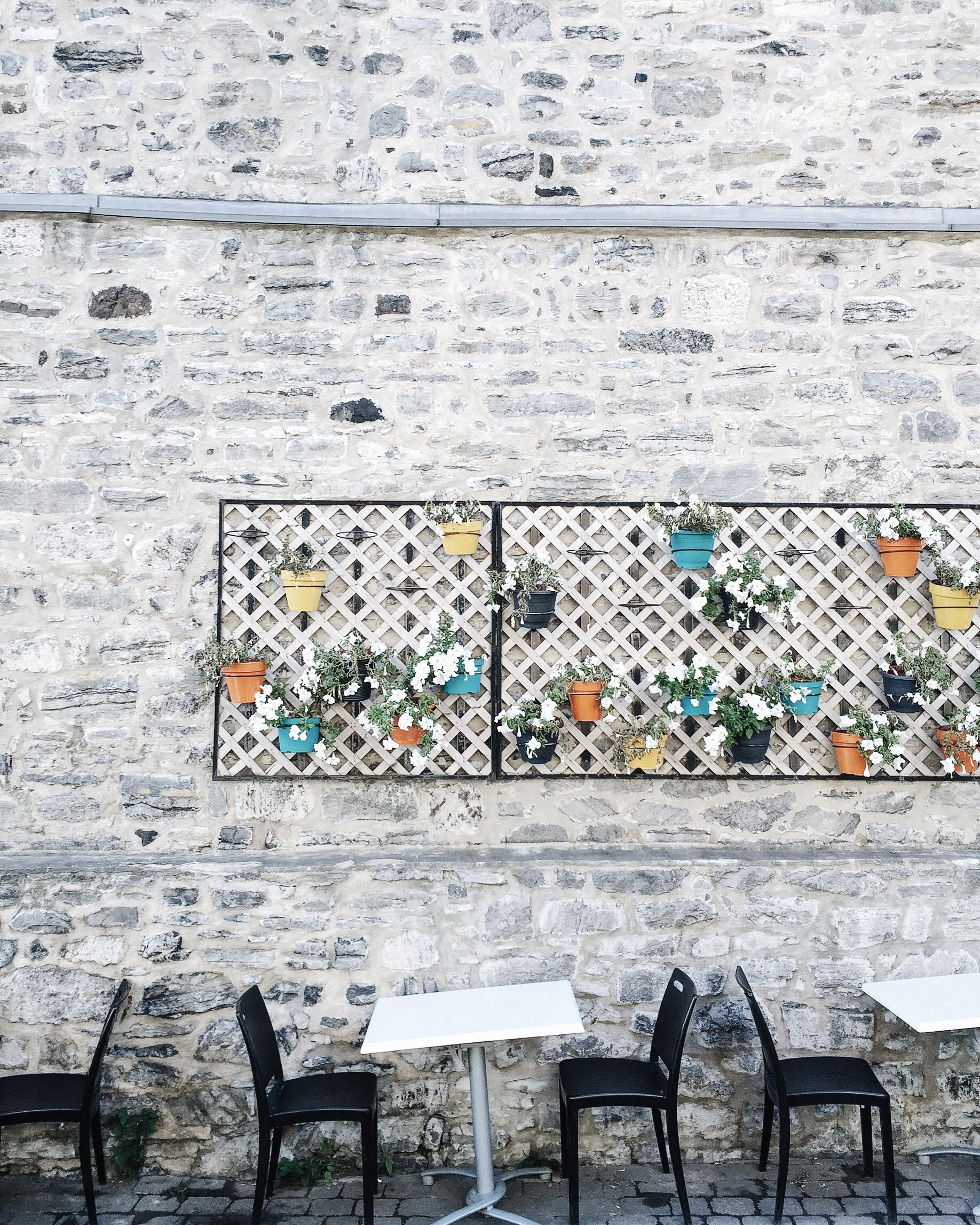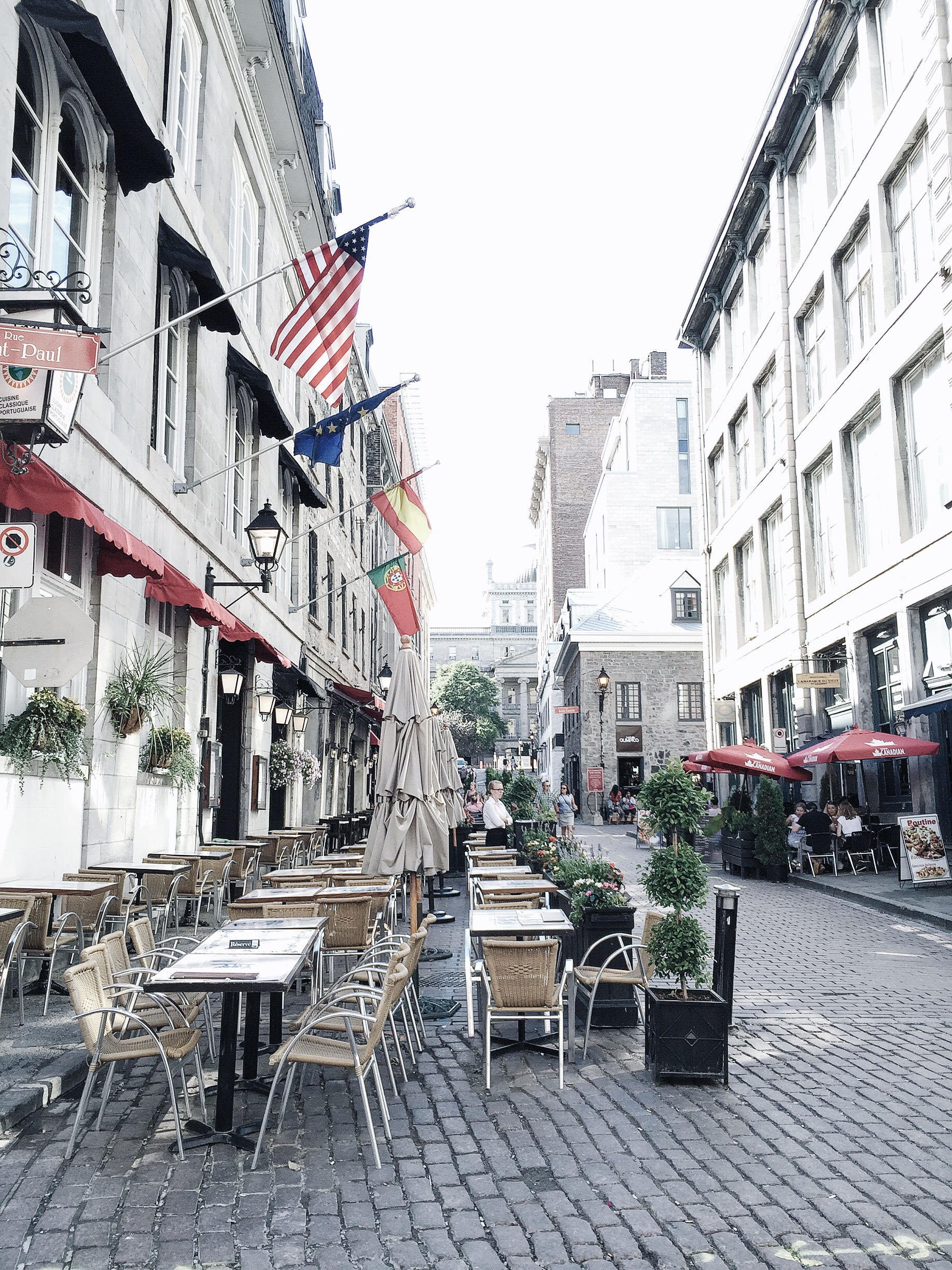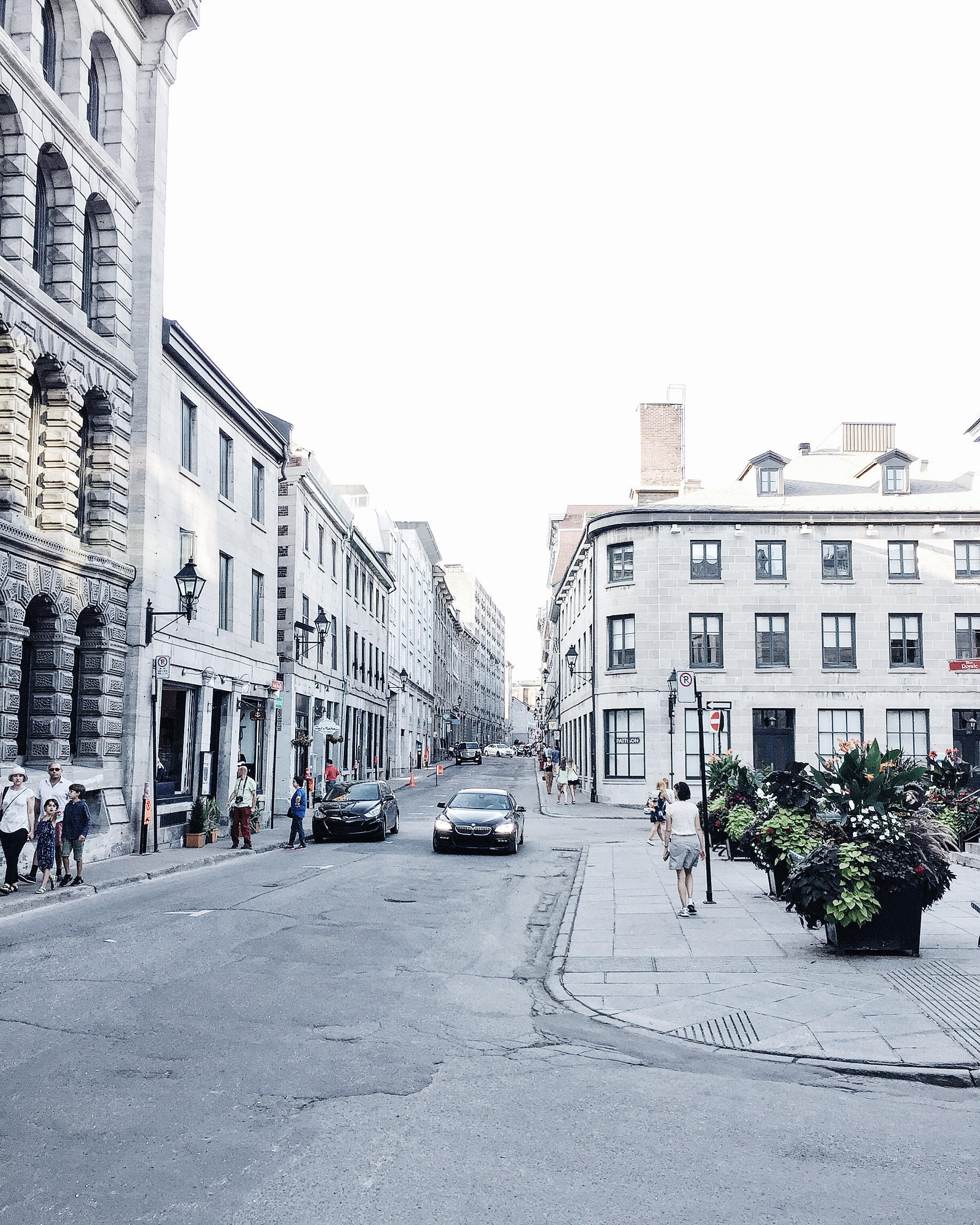 I didn't get a photo of it because phones weren't allowed inside, but it's right around the corner of this shot.  For a treat-yo-self spa experience go to Scandinave Spa in Old Montreal, please.  We blew 4 hours here getting massages and cycling through cold and hot pools/rooms and it was so perfect for our first day there.  Very much highly super recommend for the best relaxation experience.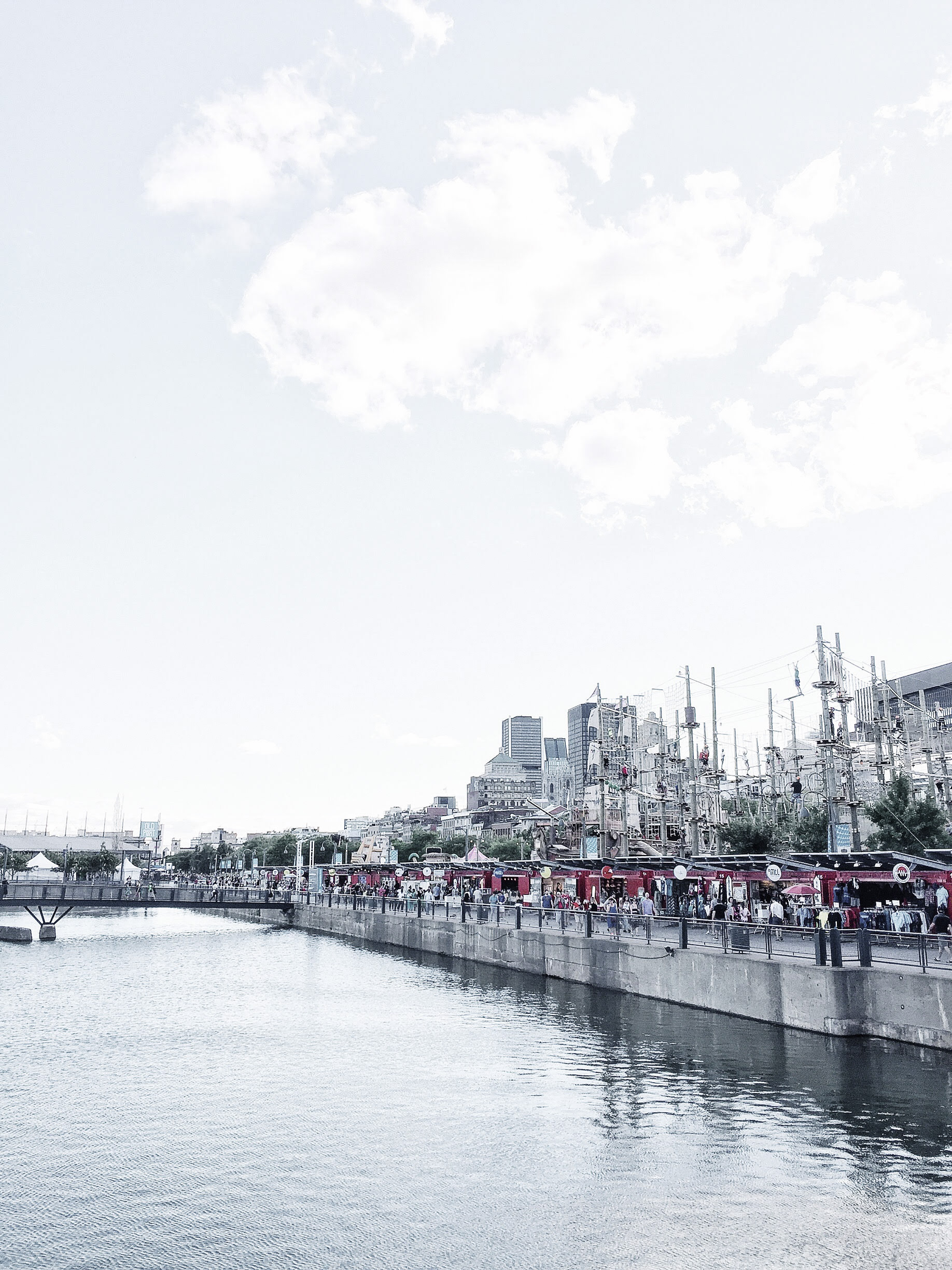 Right nearby is Old Port which has pretty views, boardwalk activities, and food trucks.  We actually didn't do much here other than walk around because we were mostly watching the Montreal ITU Triathlon that we didn't know would be happening.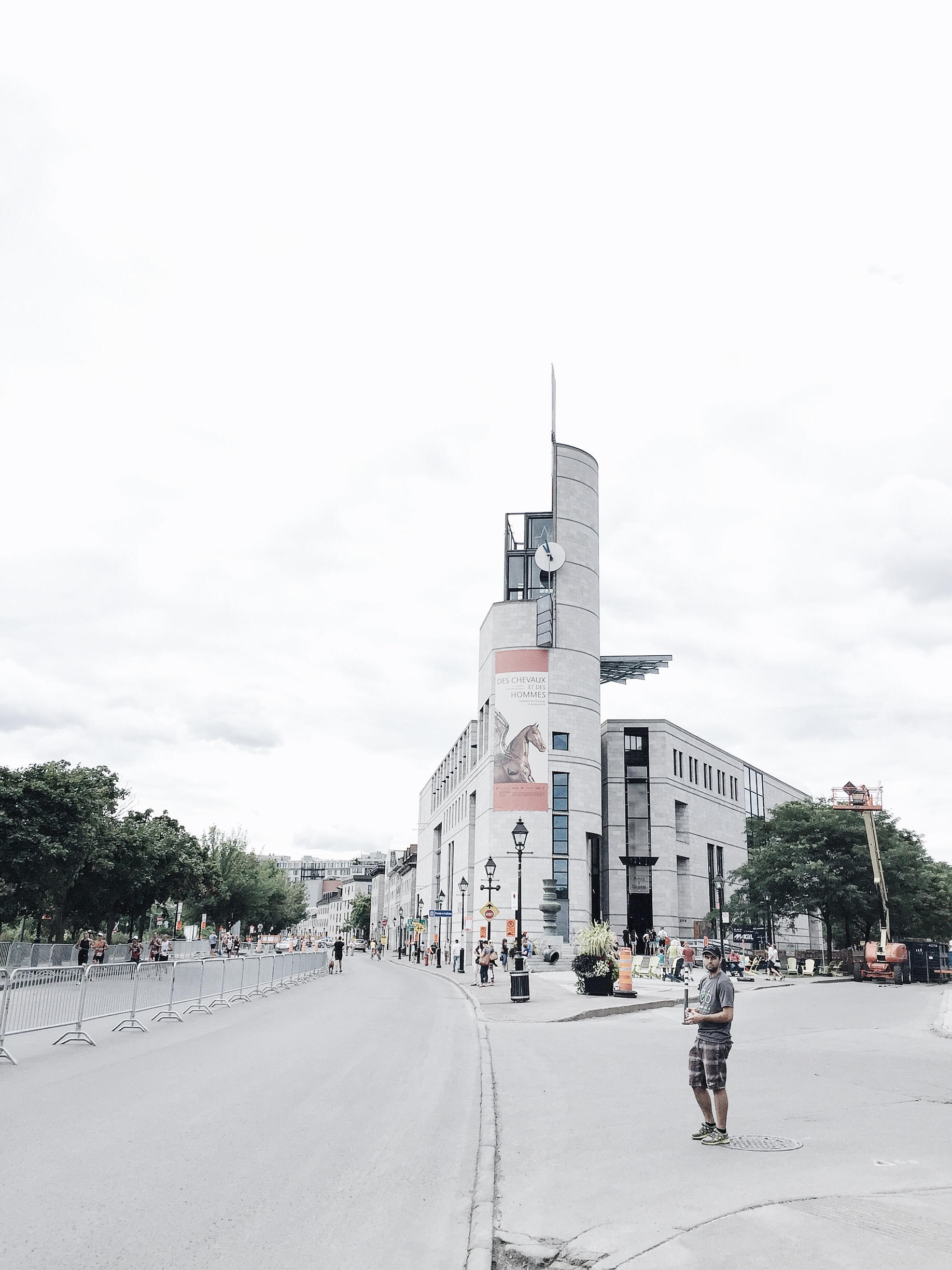 We first spotted the runners along the left side of that fence and thought there was probably a marathon going on, then we saw cyclists riding throughout on closed roads, then we watched swimmers jump into the river.  I think this was a particularly exciting day to be in Old Port!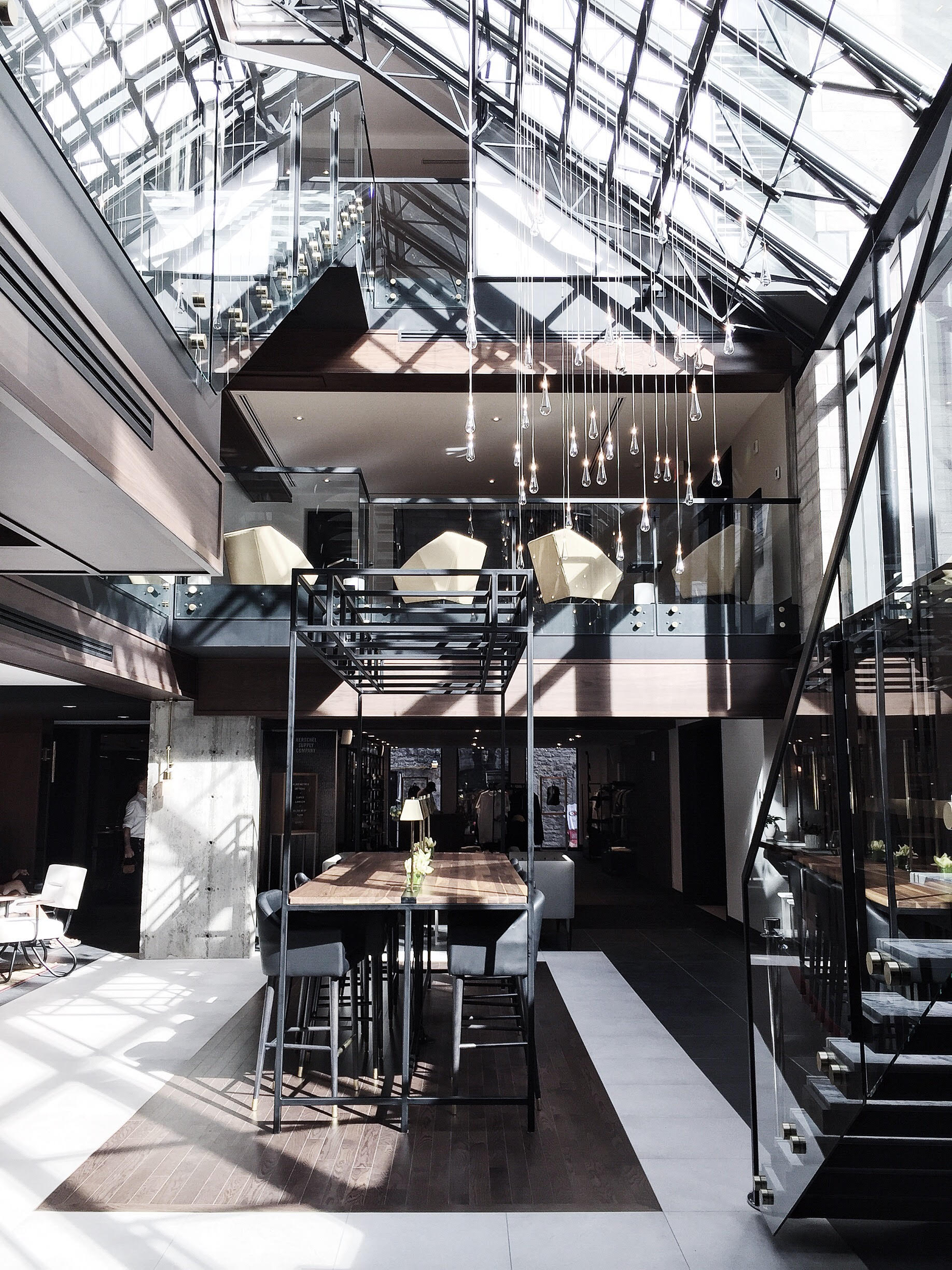 While walking out the back exit of a restaurant in Place Jacques Cartier in search of a bathroom, I accidentally found Hotel William Gray.  This place is stunning and while only a seemingly unexciting first floor of a hotel, it's so worth the stare.
We sat in these chairs for a bit to soak it all in for my sake let's be real, and O flipped through a book from the shelf about a restaurant we wanted to go to (more on that later).
The hotel we stayed at was in Downtown Montreal, which was the first area I walked around and my first reaction was that it felt a lot like Chicago.  Chicago is my hometown, so I liked this a lot.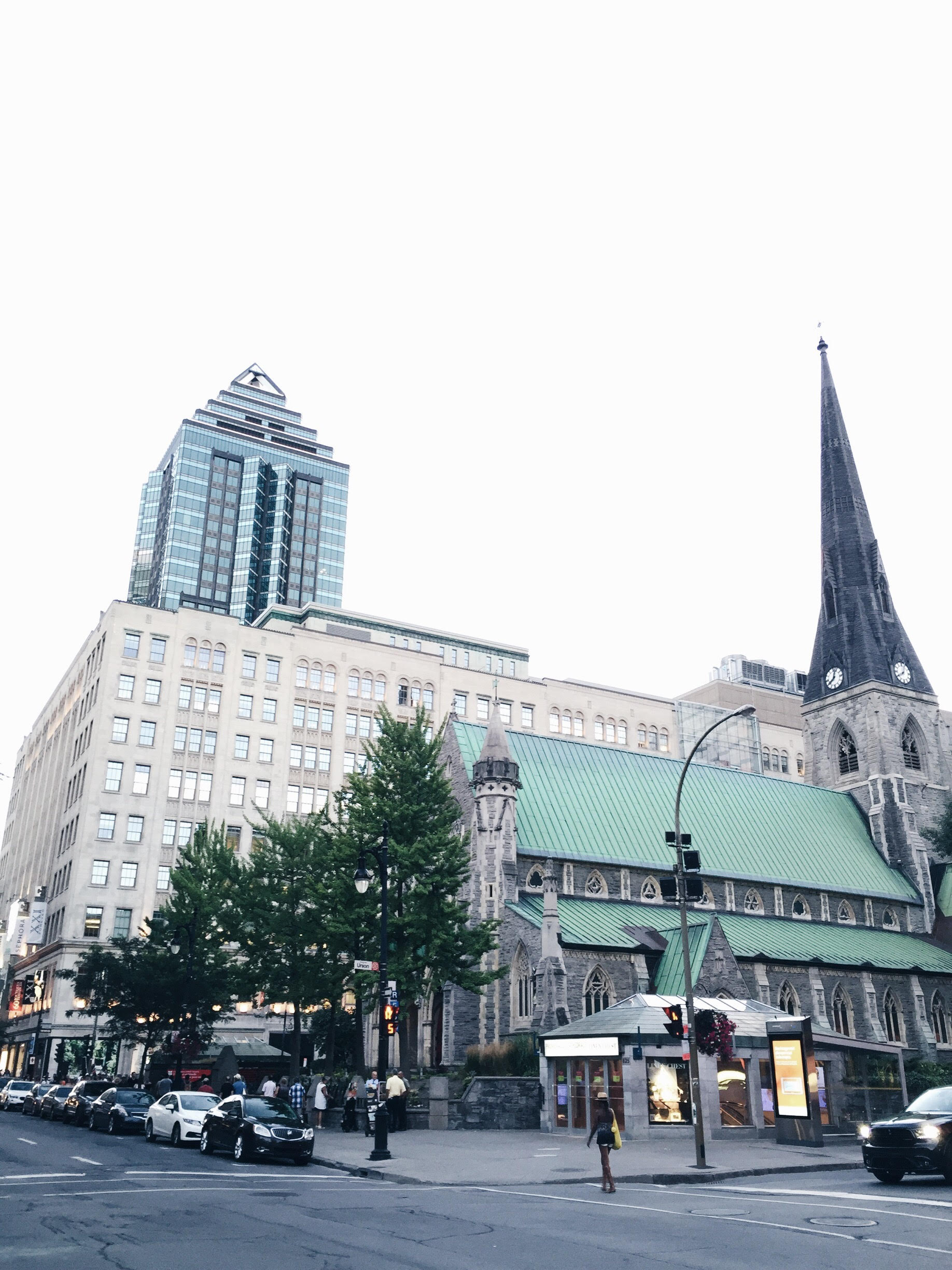 Rue Sainte-Catherine is the main shopping street and would compare to Michigan Avenue.  It's a lot of the shops available in the US, but some are not.  We frequently found ourselves walking here or on Crescent Street, which is where a lot of the bars and restaurants are.  Both are busy and pretty to walk at night.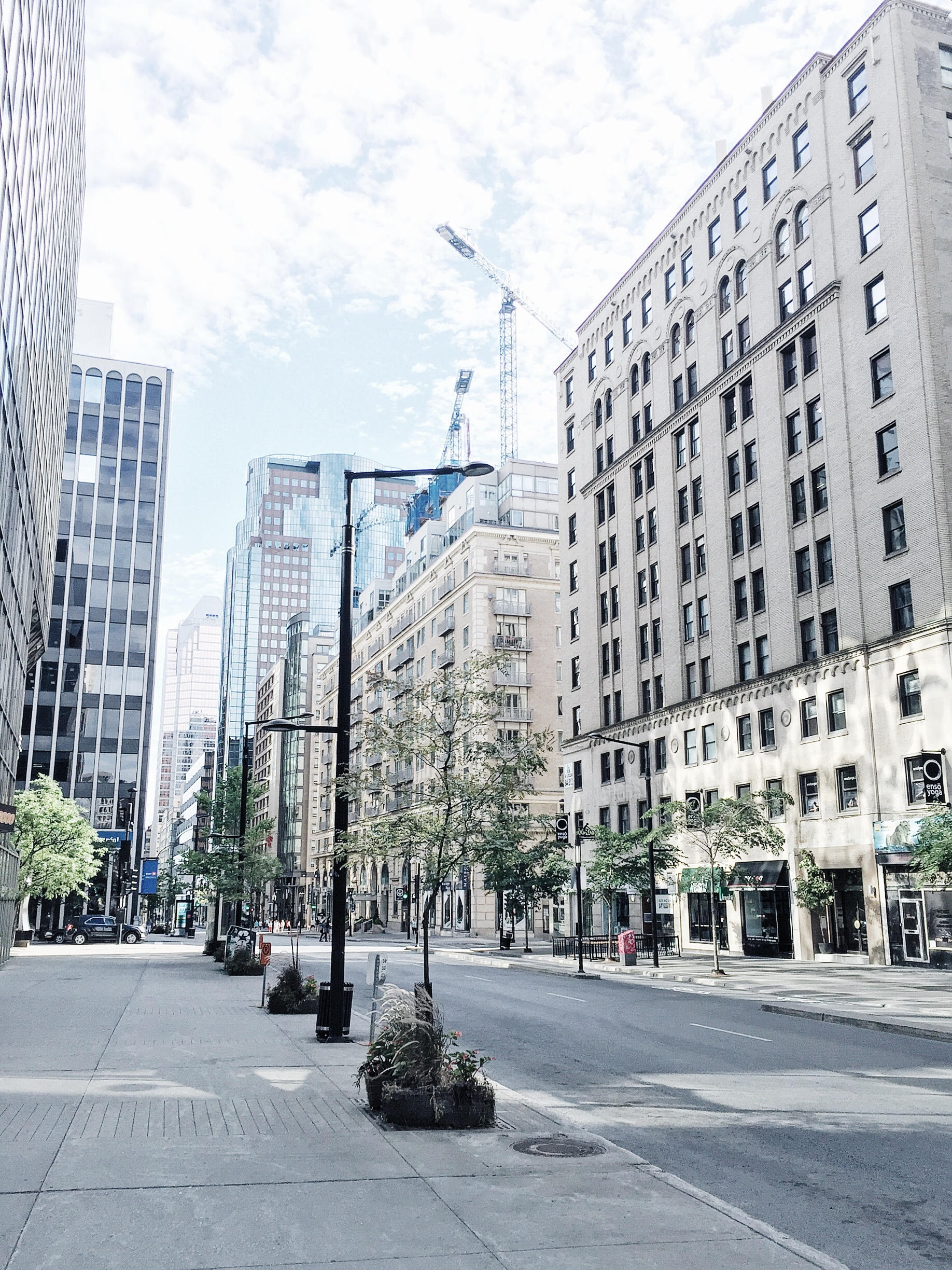 We heard a lot from locals that Montreal is always under construction.  Closed roads and detours are to be expected, which can make it hard to get around sometimes.
GETTING AROUND:  We mostly walked everywhere, which added up to miles of walking and when we found ourselves very far out from our hotel, we'd Uber back.  Within a month from our stay however, Uber will no longer be operating in Montreal, but there's a metro system and a BIXI bike-sharing system with stations all around the city.
One thing most everyone told us to do was rent a BIXI bike and ride it up to Mount Royal, which we regretfully didn't do baahh, but we heard so many good things about how it has the best view of the city especially at sunset and how the Sunday Tam-Tams festival is a good one to see.
EAT
---
Before anything else, I love how outdoor seating is major here.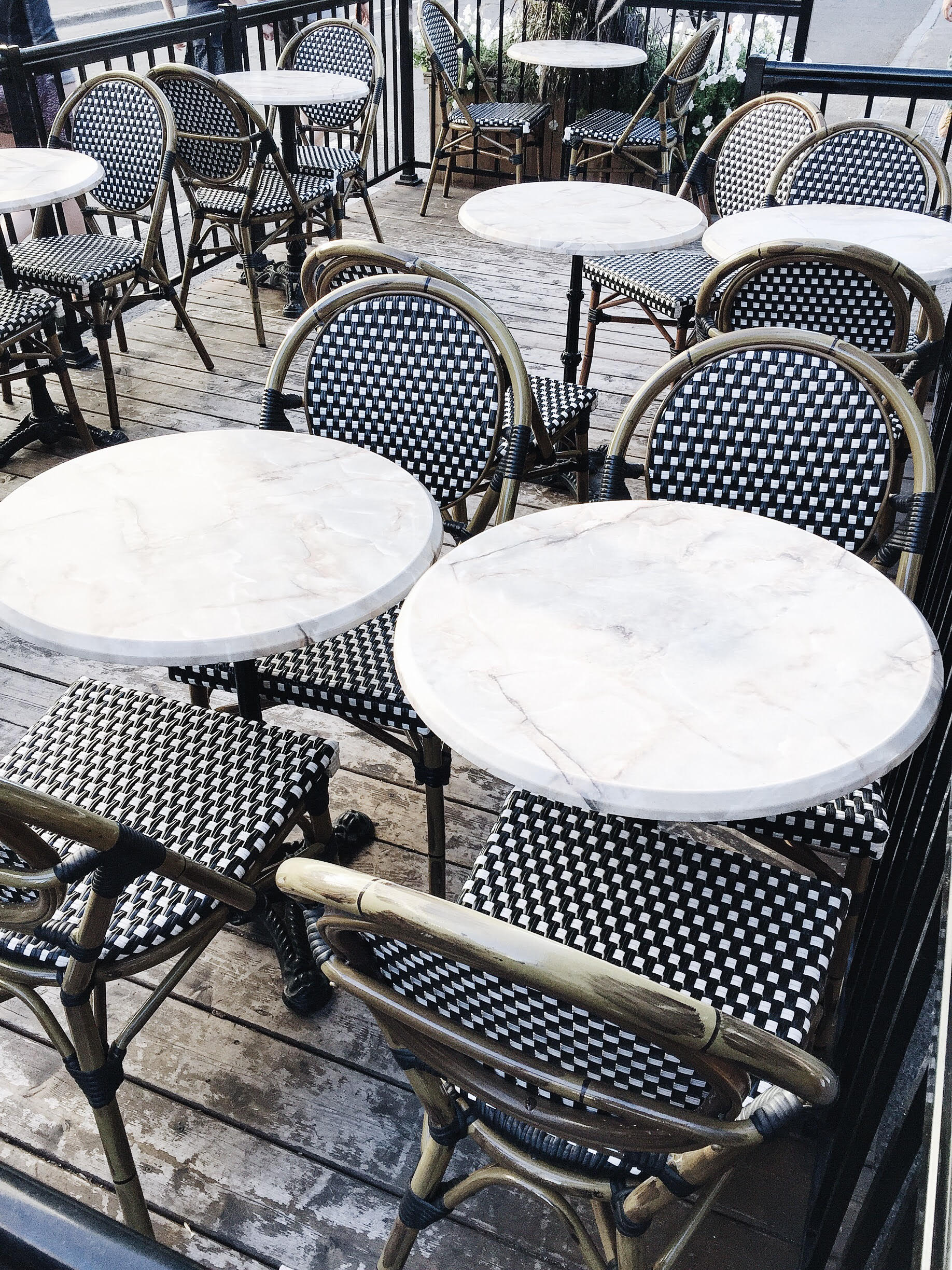 Almost every restaurant had an outdoor seating area like this.
Or like this one at Restaurant Ha, which was particularly very cute (string lights are everything).
Out of all the places we tried, these were the very best.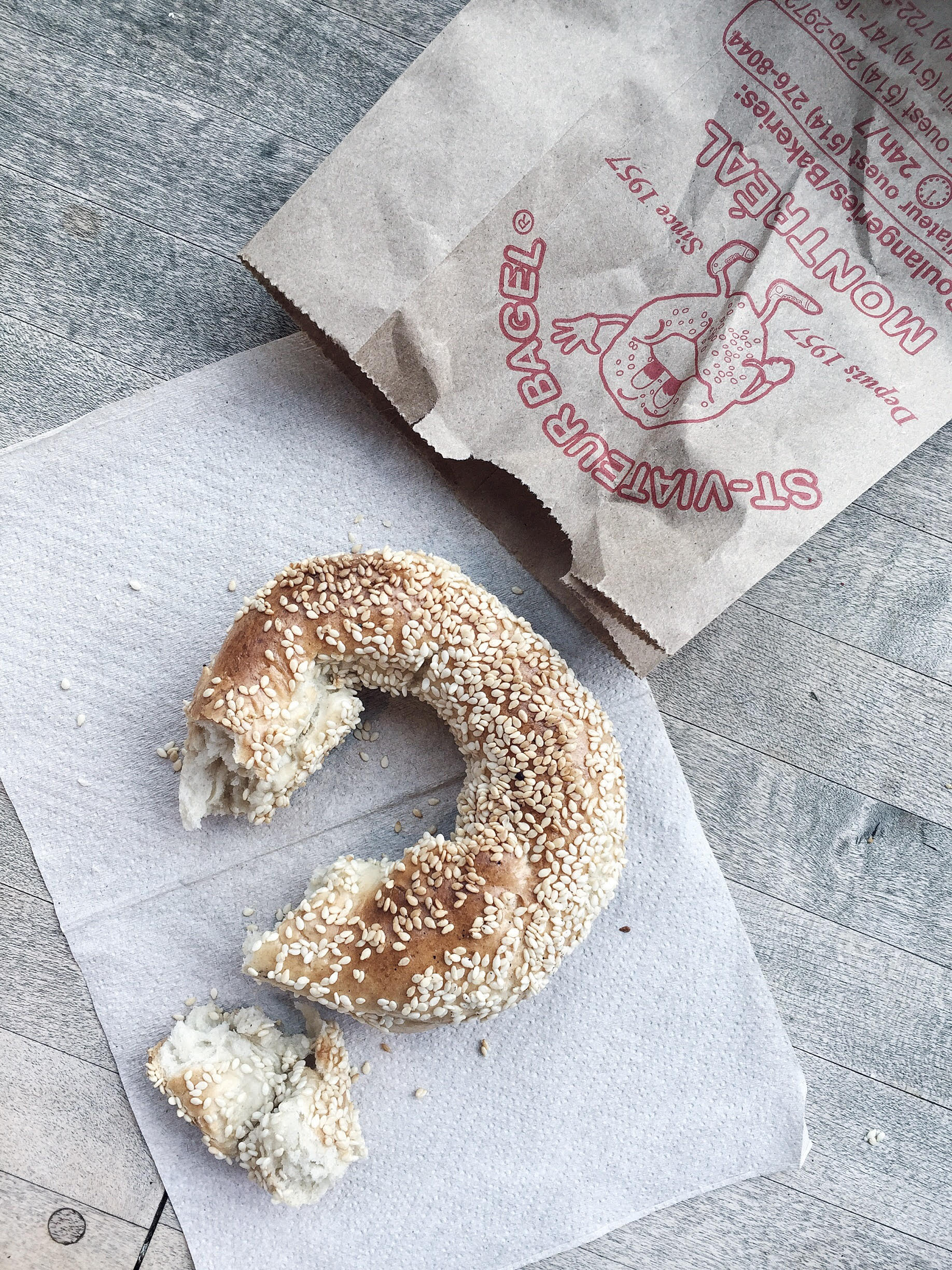 St. Viateur Bagel– We are not bagel people and never eat bagels.  Everyone told us to get this and we were like ok I guess we gotta.  This was the most incredible bagel I've ever had.  I had no idea a bagel could be this good.  It was like a toasted kinda-mochi-like bread with the perfect amount of crispy burntness.  We were both stunned after finishing one, then went back in and got a second one.
Beautys- We are breakfast people and must try a classic breakfast wherever we go.  This was so so good.  It came by recommendation via IG I believe, and O confirmed wanting to go after figuring out that his favorite person Anthony Bourdain had eaten here too.
Schwartz's–  Didn't get a good shot of it, but still needs mentioning.  The smoked meat (pastrami) sandwich is as good as everyone says and melts in your mouth and kind of in your hands too.  We got it to-go because the dine-in line was so long.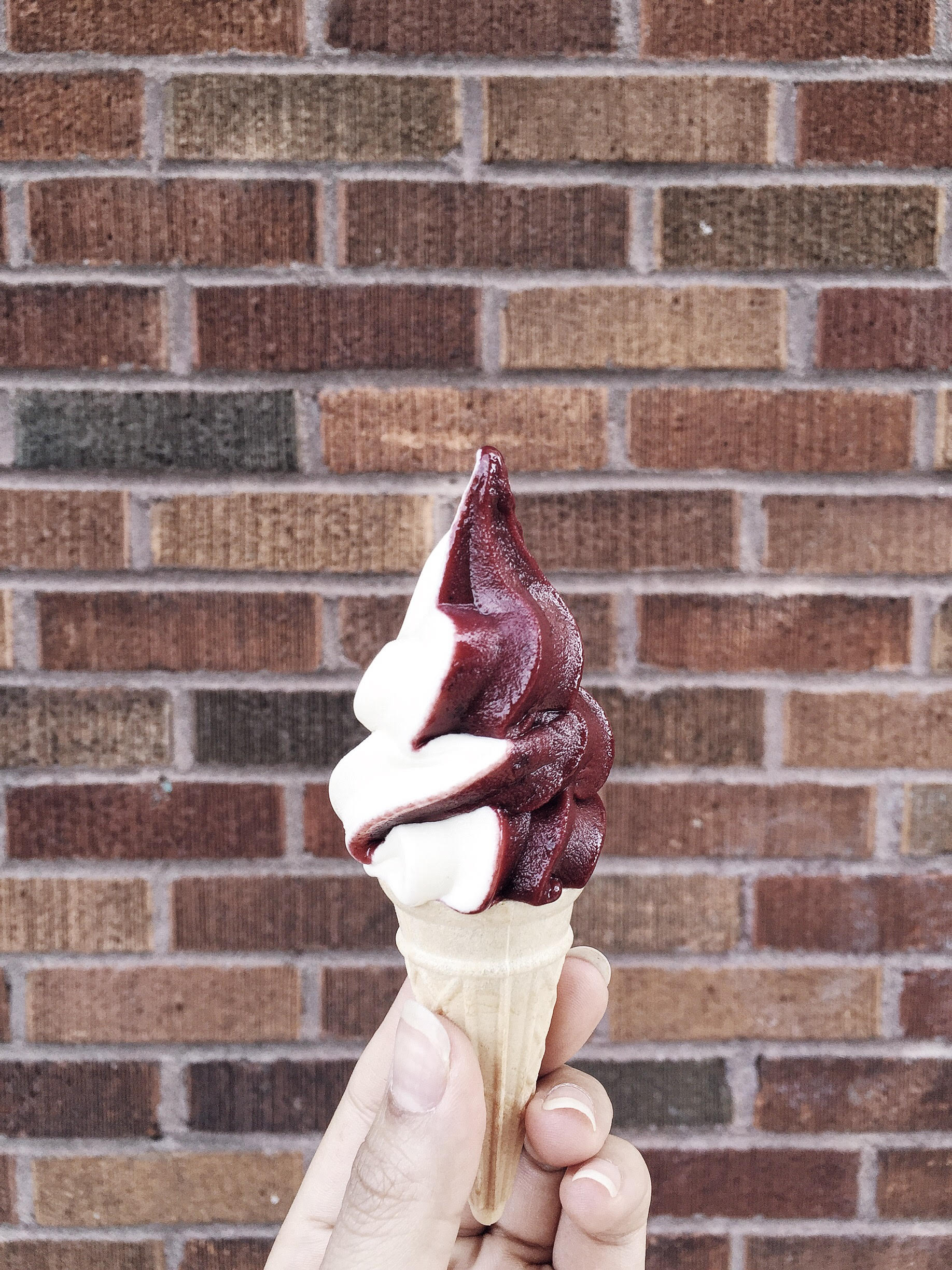 Kem Coba– I came here not knowing at all what to get, so I sampled some ice cream flavors and kept it pretty safe with a peanut butter chocolate combo, which was good but nothing memorable.  When I came outside with it to share with O, he asked, "Why didn't you get that swirly thing that everyone is eating?"  I looked around at the large crowd and every person was eating the swirly thing, but I didn't notice at all before.  So we finished the ice cream, and I went back in and ordered the swirly thing in a petit size because we were full before we even had the first ice cream, and the conclusion is this swirly thing was clearly the thing to get.  I still don't even know the official name of the flavor because I literally asked for "the swirly one", but it was I think a raspberry cream flavor and it was DELICIOUS.
Dolcetto & Co.– We walked past this Italian restaurant in Old Montreal, noticed how insanely cute it looked, and patiently stood around outside for the best table in the house to open up, which was this one in the window frame.
O left the table to go outside and take this photo per my request.  Fiance of the year.  We were maybe overly ecstatic about this table but it was genuinely very, very cute and we never wanted to leave.  Even better, the food was outstanding.  There was a name for it and I forget what it was, but the prosciutto and truffle cheese is gold.
Maison Christian Faure– We are chocolate croissant people.  This was easily the best we've ever had.  The almond chocolate croissant was more decadent than what we prefer, but still very good.  I'd say this was the top three memorable eats from our trip, and it has ruined all other chocolate croissants for us.
Chocolats Favoris– Having grown up on Dairy Queen (which was also my first job!) we are big fans of chocolate dipped cones.  We saw a bunch of people eating them outside around Place Des Arts and didn't hesitate to get one.  They offer a bunch of different dipping flavors but we went with a regular dark chocolate shell which was thick and dreamy that's what she said.  We still talk about how good it was.
Garde Manger– The best meal of the trip, and it showed us how sitting at the bar tended by a guy that knows stuff and is generally just really nice can really make the experience.  We ordered the octopus, lobster poutine, and arctic char, all amazing.
The lobster poutine was wonderful, though Dave was accurate in saying that it's something you don't need to try more than once but still a good thing to have tried.
While we're on my favorite topic of poutine (fries, cheese curds, and gravy) we ate a lot of it and my favorite was at La Belle et La Beouf.  We were consistently told that La Banquise was the place to go mostly because of the variety of options, and it was very good, but we were also told poutine is good anywhere, which I'd agree since I don't see how something so good can get messed up.  Another place we tried and liked is The Burger Bar on Crescent, and our waiter there said his favorite poutine is at Burger Royal.  Point is, get poutine.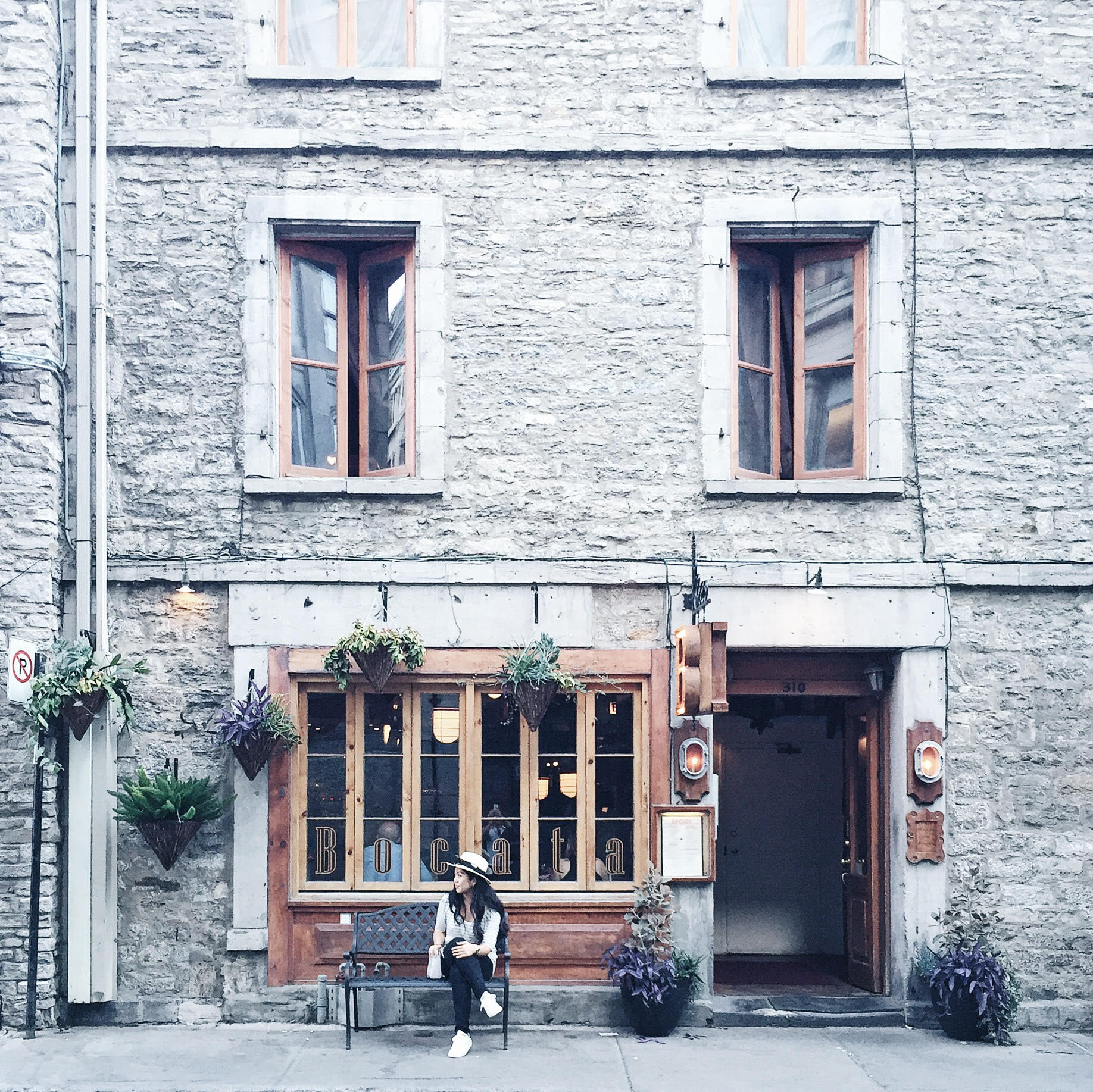 TIP:  There are very popular and famous restaurants that are hard to get into without far ahead reservations.  We got the DINR app which notifies you of reservation cancellations at restaurants you have an eye on and allows you to swoop in and take the open reservation, which is how we got into Garde Manger.  We didn't have any luck with Joe Beef, which we wanted to go to the most (and was the subject of the book O had flipped through at Hotel William Gray) or its family restaurants Liverpool House and Le Vin Papillon, mainly because they were closed for summer break HA.  We never had a chance!
SHOP
---
I loved Mile End/The Plateau district the most for shopping, which is where most of these shops are located on Boulevard Saint-Laurent.  They are also mostly home decor, which is no surprise.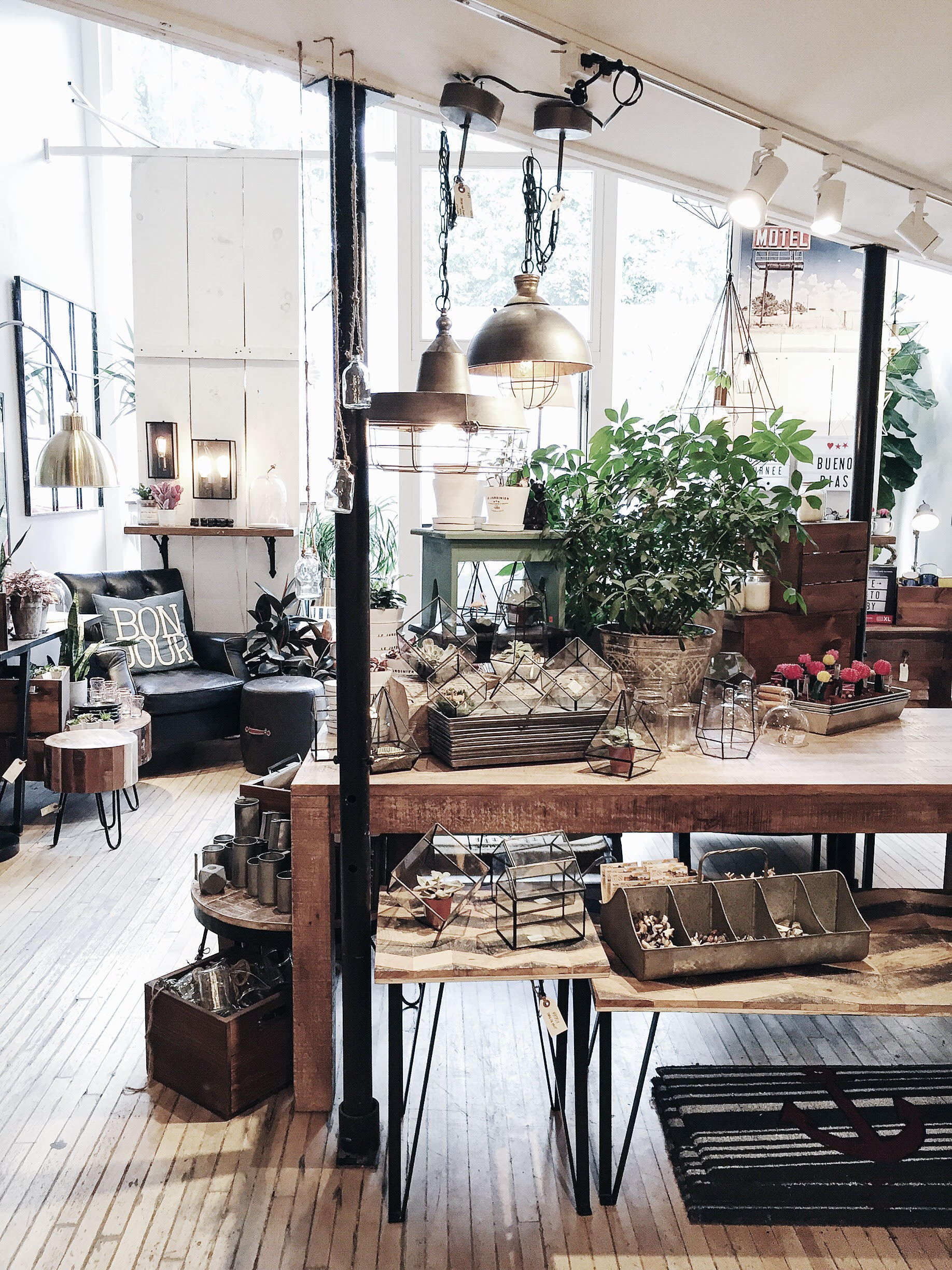 V de V Maison– homewares and decor
EQ3– A personal favorite home brand.  Our dining chairs are EQ3!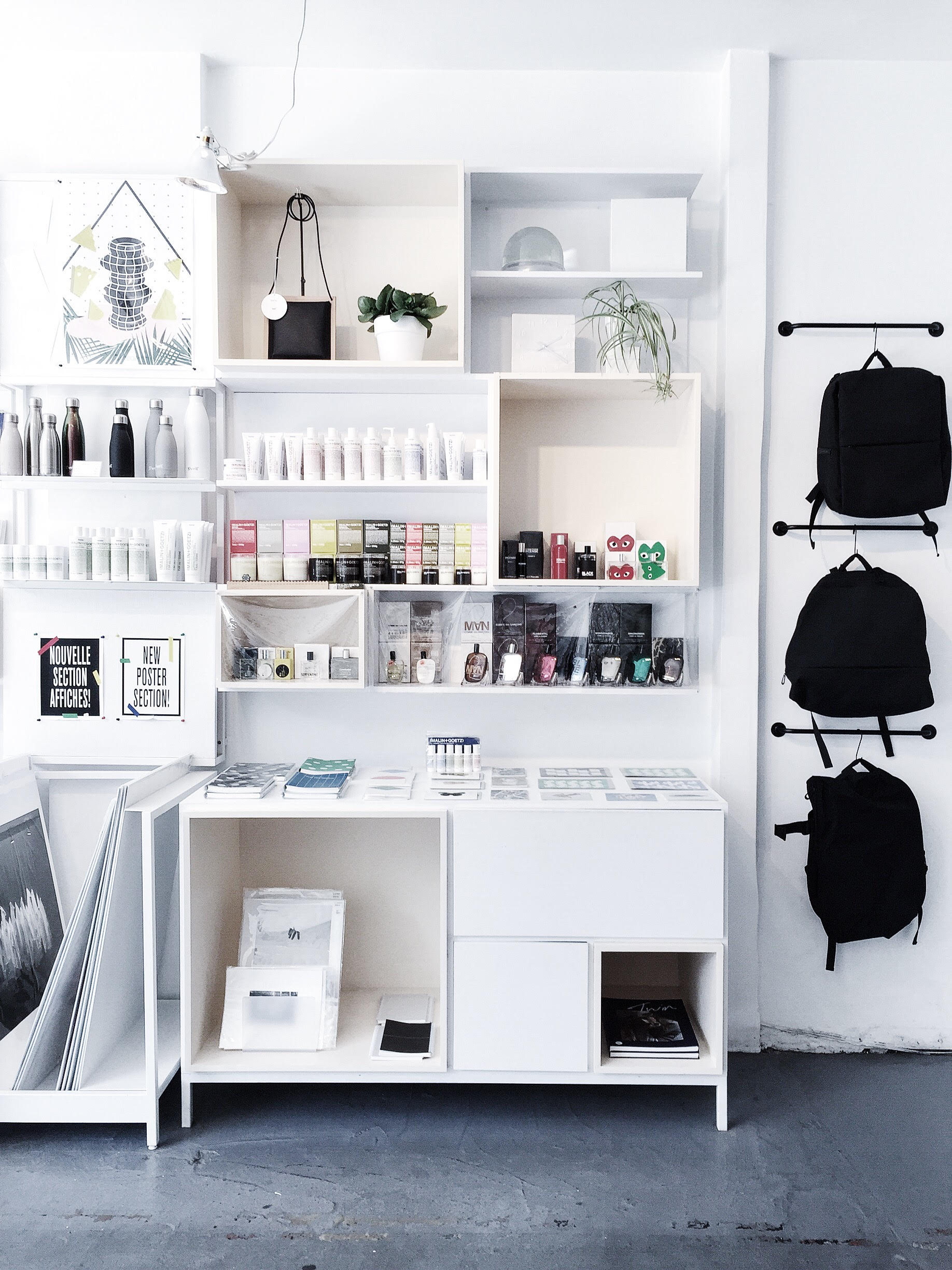 Ibiki– clothing, accessories, beauty, and stationary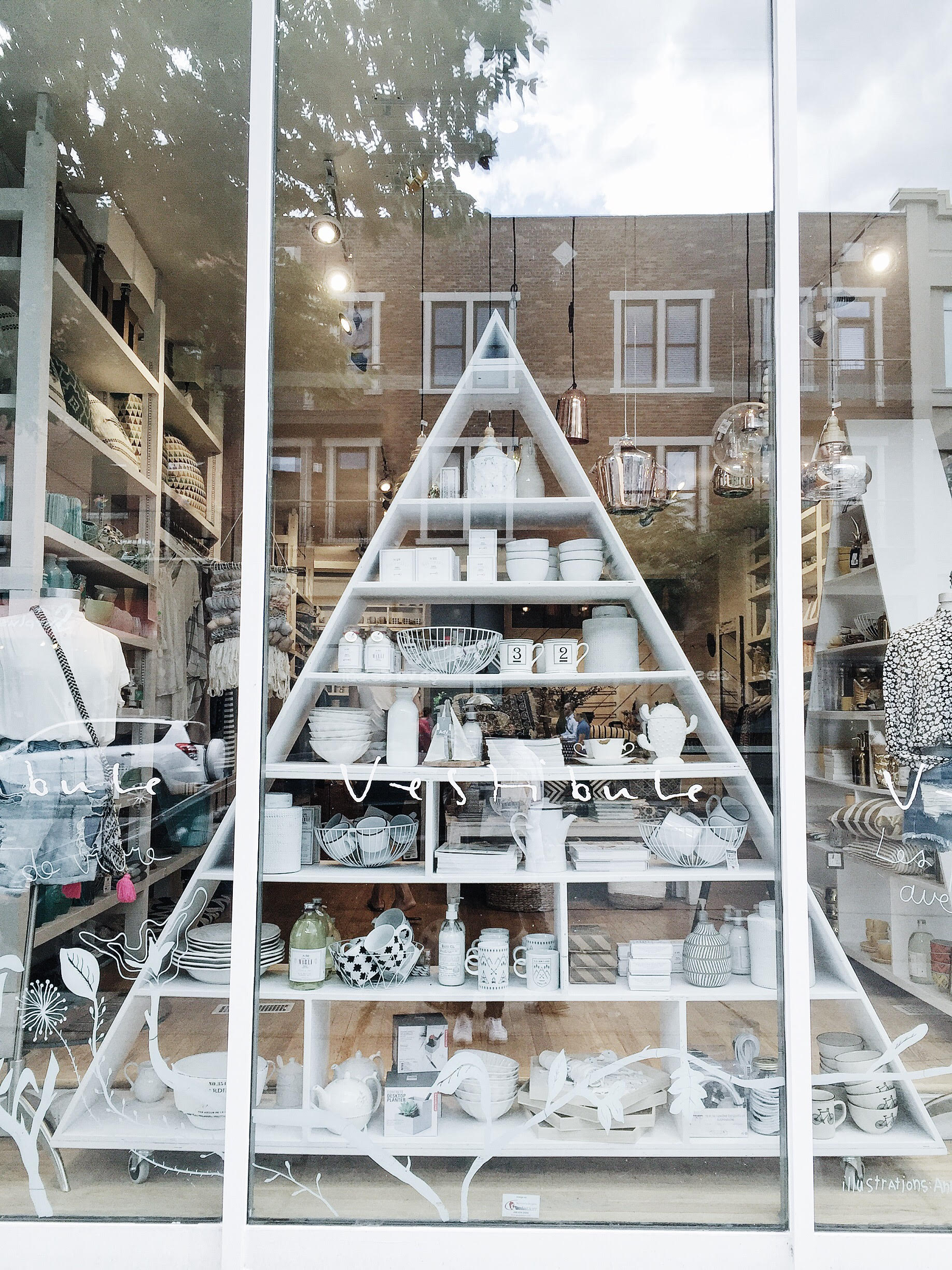 Vestibule– clothing and home decor
Jamais– Scandinavian home decor, and where I wanted to buy a chair but instead got a cute Montreal-made hand mirror which will probably make an appearance soon.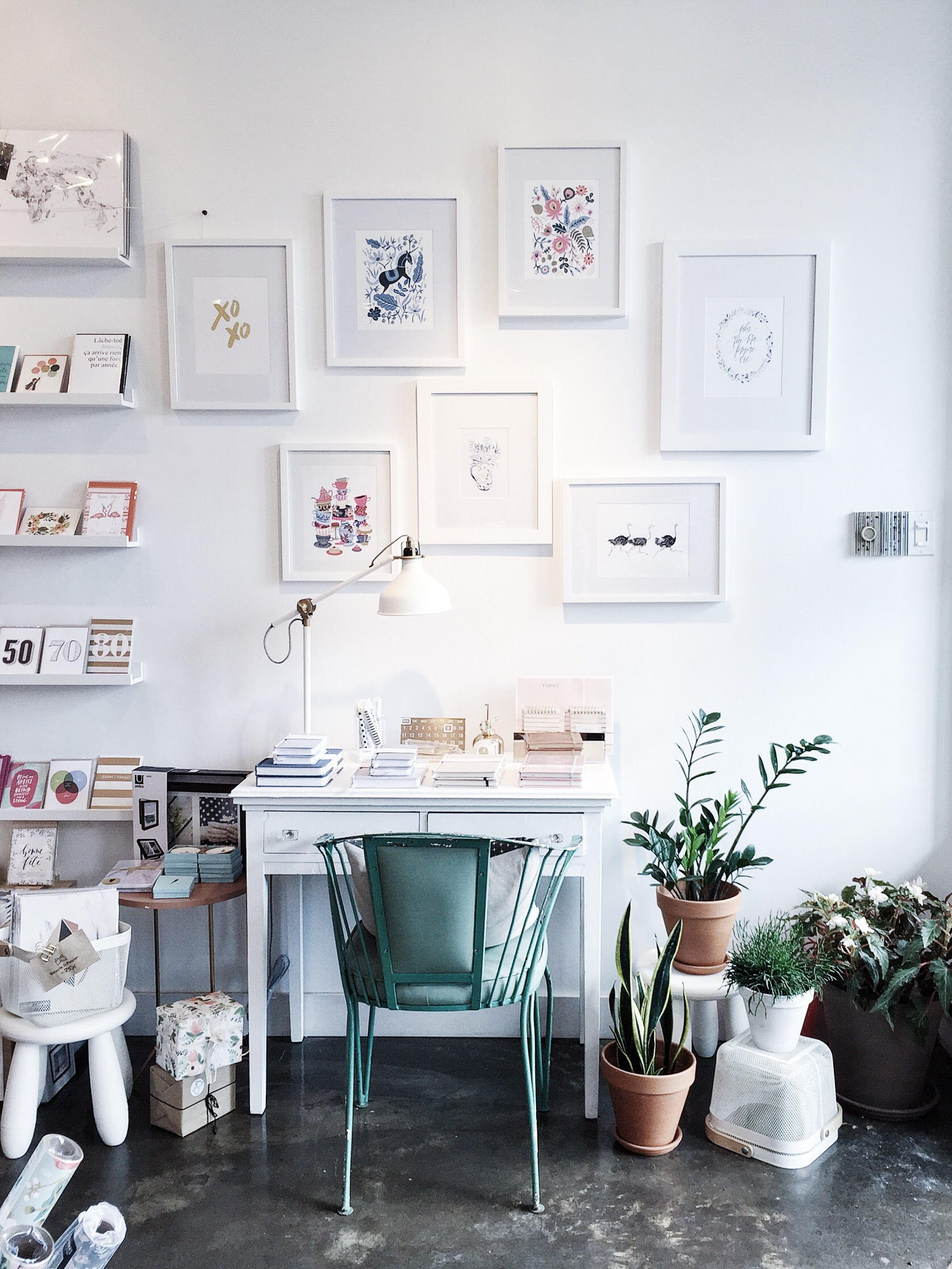 Boucle et Papier– cards and stationary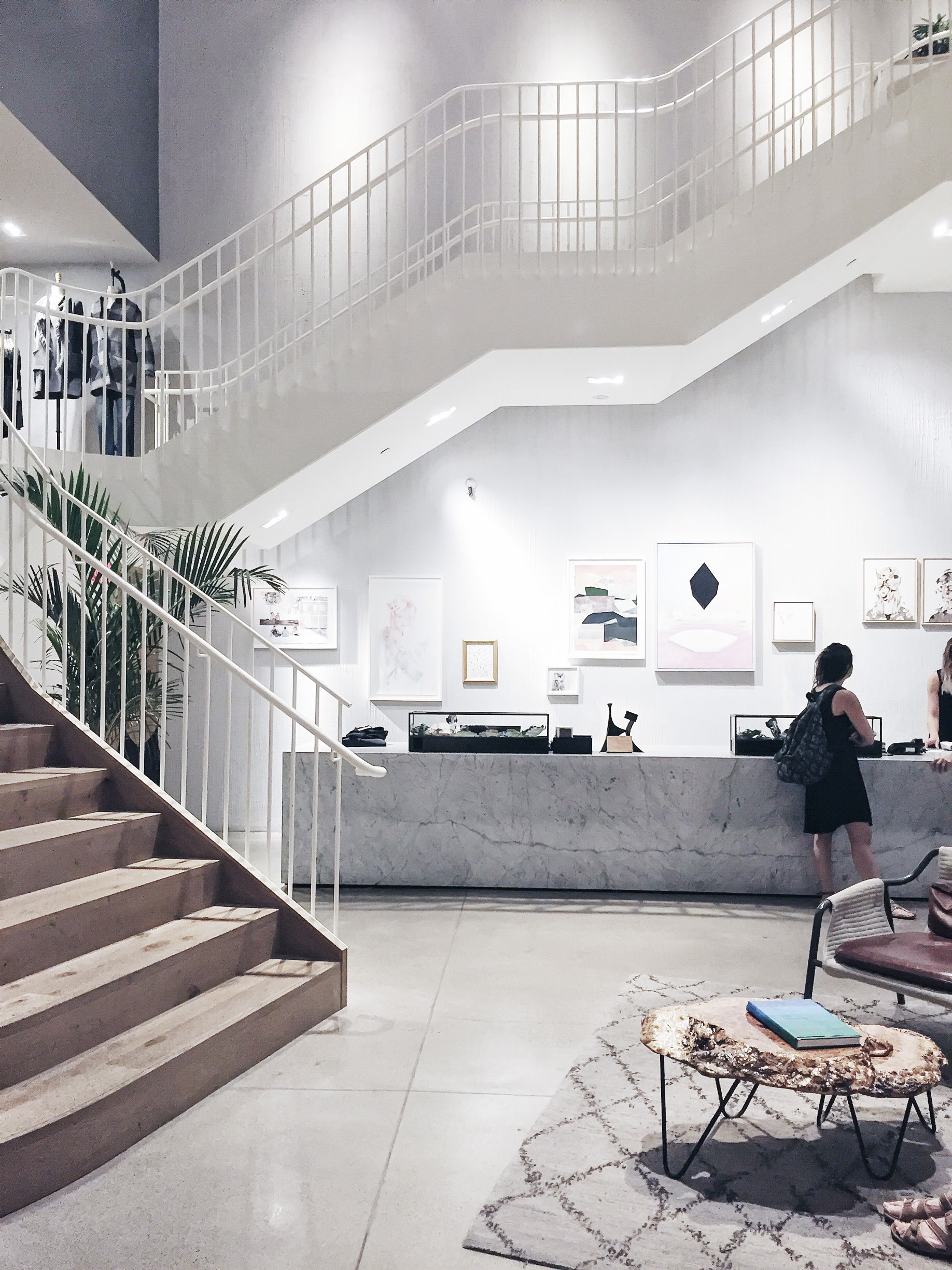 Aritzia- A very cute Canadian clothing store with multiple US locations that are not nearby me, so I made it a point to visit this one on Rue Sainte-Catherine.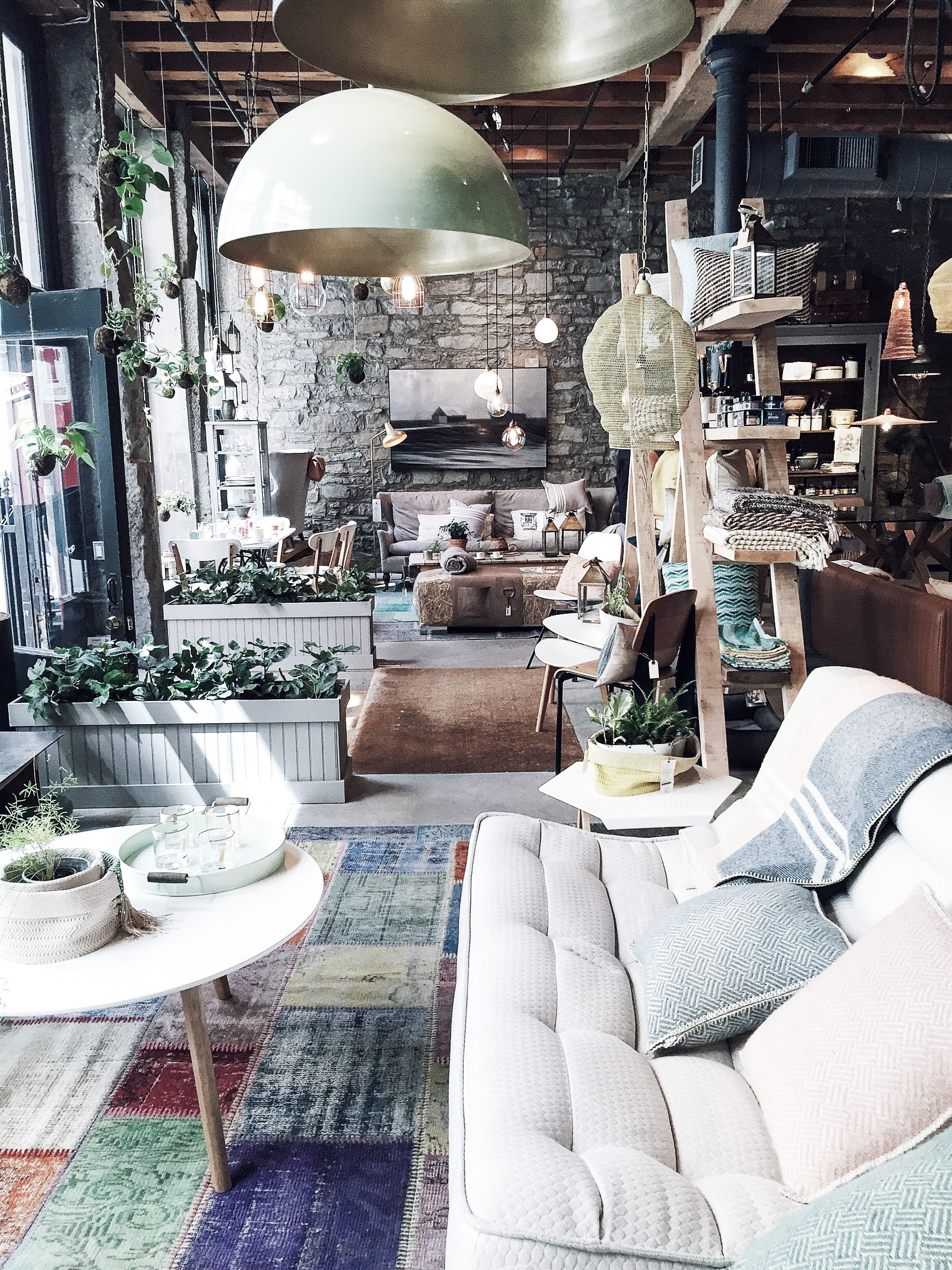 Maison Espace Pepin– home decor
---
I recorded this trip on IG stories and Snapchat and the best part about it was connecting with some of you who visited or live(d) in Montreal or were just generally intrigued by the city.  It's fun to share a familiar good experience, so feel free to leave any favorite spots I left out, comments, or general thoughts about visiting Montreal whether you have or haven't!
PS.
In theory, I should love ketchup chips, as I love both ketchup and chips and used to dip my potato chips in ketchup while I was in high school, but I did not love ketchup chips.  I really tried.