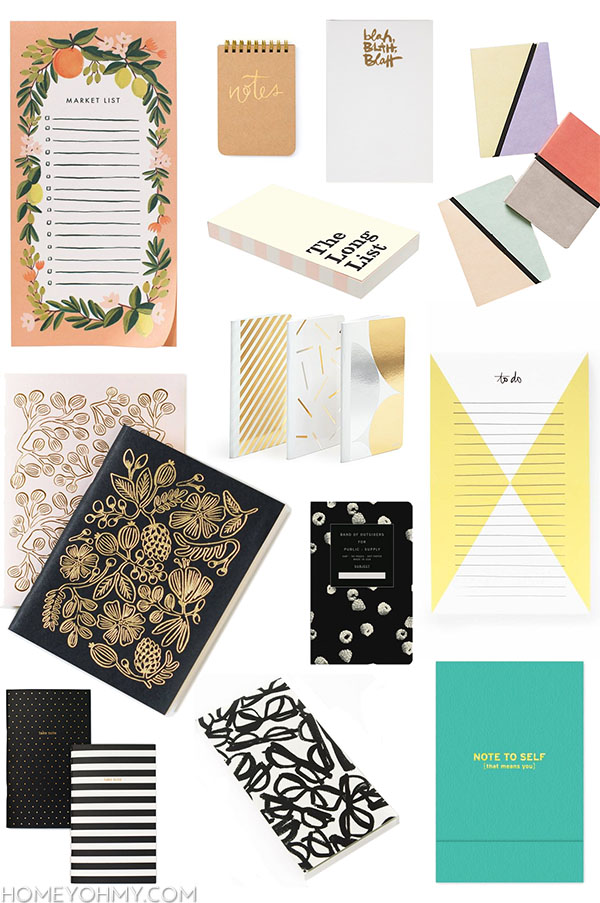 'Tis the season of planning and organizing, and to someone who loves making lists and good-looking paper, notebook browsing is always a good idea.
Whatever the new organizing and note-taking gadget or program is, I always come back to pen and paper.  I prefer the scribbles and smears that make it all seem more real, and the option to draw a doodle or two.  Plus, everyone knows that few things are more satisfying than crossing off items on a to-do list by hand.  Looking forward to that practice is a big reason why we even make lists in the first place, right??
So here are some mad cute notebooks and note pads I'd get if I didn't already have a bajillion. I actually do have that Market List, and I love that boyfriend uses it more than I do!
1) Market List
2) Petit Notes
3) Blah Blah Blah Notepad
4) Tangent Notebooks
5) The Long List
6) Gold Foil Pocket Notebooks
7) Thin Metallic Notebooks
8) Raspberries Notebook
9) To-do Notepad
10) Pocket Notebook Set
11) Glasses Notepad
12) Note-to-Self Pocket Notes