This was a pretty spontaneous idea brought on by a HomeGoods find, which is how a lot of my decorating stories start.  It was the marble Lazy Susan, and while initially I thought I'd turn it into some cool DIY, weeks went by without a light bulb going off for as to what, so instead of letting it continue collecting dust in the corner, I thought I'd put it to its intended use.  Genius!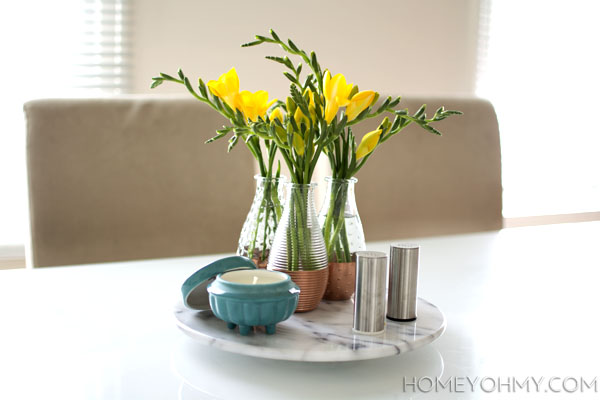 It hit me that this was the perfect opportunity to try out a trending color combo I've been really loving- copper and marble.  I added on my DIY Copper Dipped Vases and in them arranged some yellow freesia.  That little turquoise pot is a candle that not only perfectly compliments the yellow freesia and copper vases, but it smells DIVINE.  The scent is agave tulip and I got it from Anthropologie aka heaven on earth.  I was sold on its little feet.
S and P for salt and pepper.  I'm always a fan of mixing metals and I'm so glad it worked out that our silver salt and pepper shakers fit in with this little vignette.  And really, they're the only things here that would make me turn the Lazy Susan.  Yay for functionality!
Gorgeous Spring colors and perfectly suits our dining table, don't you think?  It's something a little different for me, though still incorporates all my favorite things.
What colors are you adding or removing from your home this Spring?  I'm planning on purging a lot of clutter soon and really get a better idea for how else I want to bring Spring into my apartment!