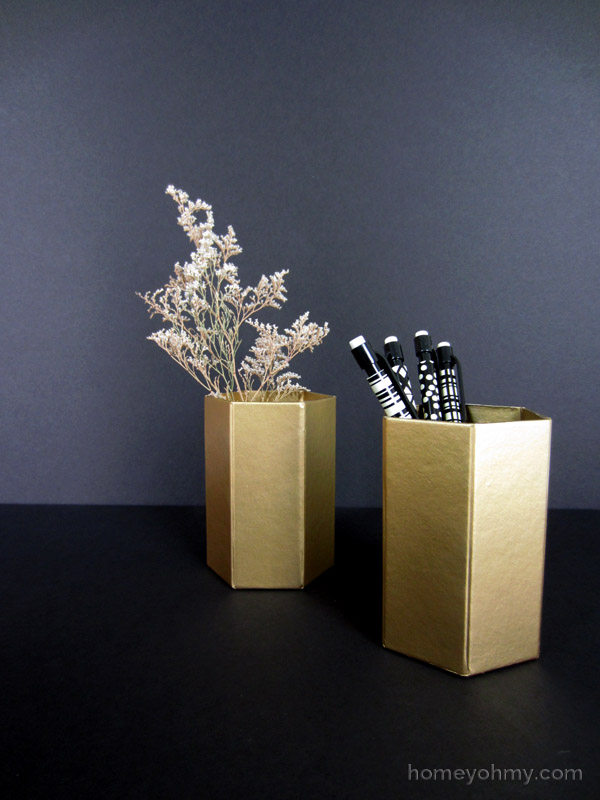 Continuing on with the gold desk accessories!  I think I've mentioned this a couple times before, but I'm re-decorating my desk area and I'm incorporating a lot of gold,  The one thing that's helping me the most with this is gold spray paint, my holy grail craft weapon.
Spray paint is seriously addicting.  The way it can entirely transform objects encourages me to see in shapes instead of colors, because most often something can be done about the color much more easily than the shape.  Take for instance these pencil cups.
I found them in the wildly exciting Target dollar spot.  The chevron pattern is alright, but what caught my eye was the geometric shape.  For a dollar each, I thought it was absolutely worth trying to turn them gold, so I used my favorite gold spray paint
(affiliate link) and applied three light coats on the outside and on the inner edges at the opening.
I've found that gold spray paint picks up fingerprints very easily.  For decorative items that I won't be touching much, I won't spray on a protective coat, but since I expect to be moving these pencil cups around a lot, I sprayed two light layers of acrylic coating
 (affiliate link).
I have an instinctual desire to turn any vessel into a vase.  These cups aren't fit to hold water, but the dried caspia turned out to be a beautiful alternative!  I can see myself regularly switching out what I put in the cups and relocating them throughout my apartment.
What do you think?  Did you like the chevron pattern better or is gold more your fancy?