Each year, I say I'm going to get a big, fat, beautiful, REAL tree and decorate the hell out of it with 10,000 lights and a bajillion ornaments.
This is not that year.
In fact, I think as long as I'm here in this apartment, I'm sticking to the smaller and simpler stuff, because even right now I have NO idea where I'm going to store these ornaments once the holidays are over, which could be a decent excuse for me to keep this tree out as long as possible for "storage" purposes.
I did consider doing a real, mini tree to at least participate in wintery, piney smells (that'll be next year FOR SURE), but my mom had this extra tree for me, and I took it in a heartbeat.  Just like that, Christmas is saved, because y'all know I'm dumping this tree back at mom's house after the holidays to free up precious space in my little apartment.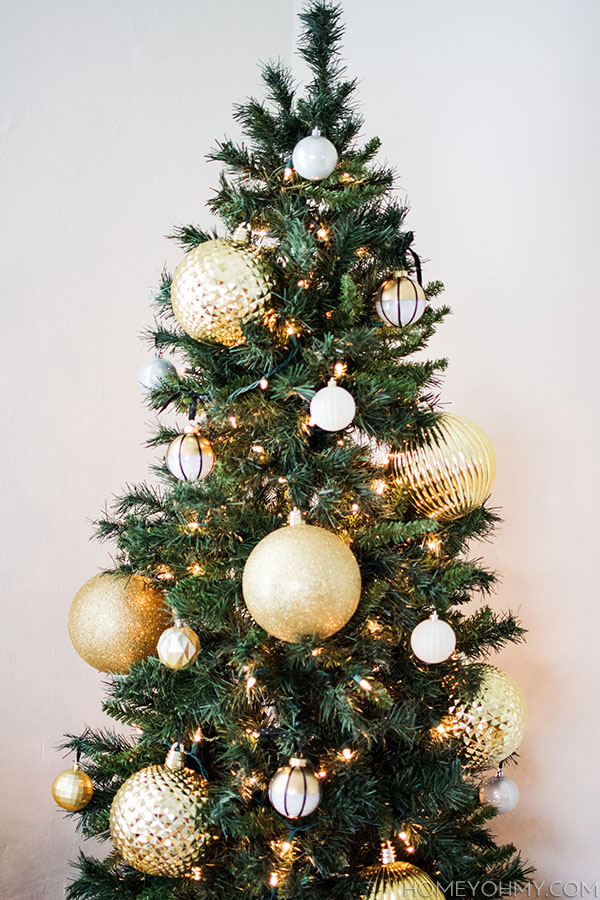 Really though, I love this tree.  It's the perfect size for my place, and reminds me of a gigantic bottle brush tree since it's on the skinnier side.  I would've loved to add some sort of tree topper, but I couldn't find one that I liked but I'm a rebel, so I'm going without one this year, and I'm really liking it.
I was going to keep things really simple and only put up the big, gold ornaments, but then I made these black, white, and gold ornaments, realized I didn't have enough of them, then pulled out some white and gold ornaments from last year to fill in more of the gaps.  It all ended up working out better than I thought while still keeping simple.  Win!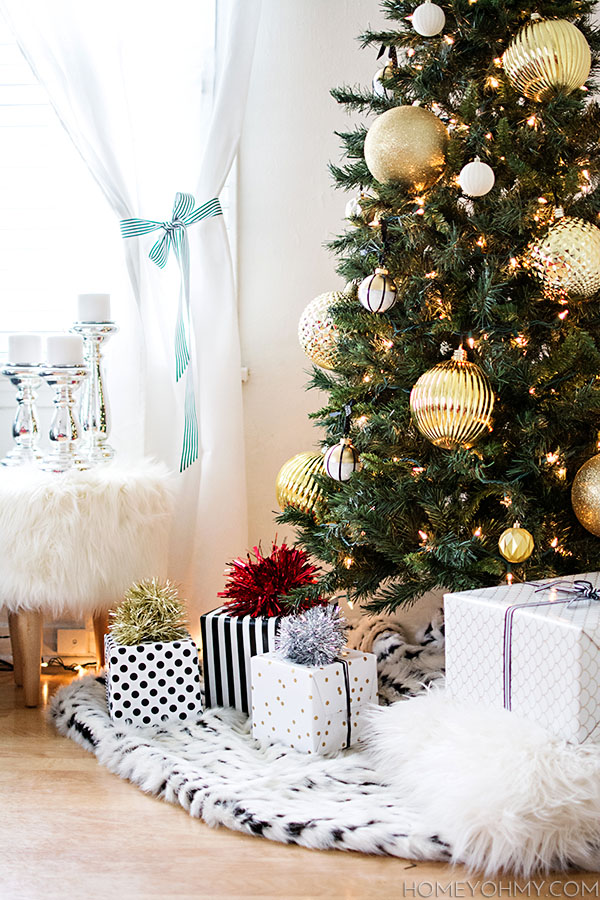 As much as the tree, I loved placing all the little details surrounding it.  The tree skirt is actually just a fur throw c/o PBteen that I bunched up around the base of the tree, and the fur pillow underneath the gift is also c/o PBteen.  I've been in a particularly furry mood lately, and I always find it to be a welcome texture in any space, so for good measure, I added in my beloved fur stool.  The candle holders on top are also from Target.  Gift wrapping is still to come!!
Did you go fake or real with your tree this year?  I seriously considered getting a second, mini tree to indulge my craving for a real tree, but thinking about the extra care, space, lights and ornaments I'd have to get for it was stressing me out.  It's already such a stressful season as it is, isn't it??  So I'm putting my foot down, keeping things simple, and making room to enjoy the holidays more than stress out over them.  Although, I really am still open to that mini tree if the moment is right…