I carried this tree in through the door and the first thing my boyfriend said was, "Why'd you buy a cabbage tree?"  I insisted that the tree is beautiful, was priced excellently ($22!), and that I couldn't live without it.  He then told me that he thought it was "uncool," but I don't care.  I love my cabbage tree.
Fiddle leaf fig trees are being talked about everywhere in the blogosphere right now.  Even as I carted it to the checkout at Home Depot, two people came up to me and asked what kind of plant I was purchasing.  The fiddle leaf is charming us all!
It's currently sitting in this corner of my living room and I always knew it would be going there.  That keyboard set up next to it is my boyfriend's, which he hasn't played ONCE since we moved in and he refuses to let me replace it with a bar cart (C'mon!  Everyone needs one of those!)  I'll keep trying to make that happen… we'll see.
I planted the tree in a copper pot which is so perfect in size that I'm thinking I should probably go with one bigger… That's with the assumption that I'll keep the tree alive long enough to where it will outgrow the pot.  Apparently the number one killer of fiddle leaf fig trees is over-watering, which is how I've killed many other plants.  I'm going to be extra EXTRA careful about that with this one, but I'm glad to see that there already seems to be a new leaf coming out!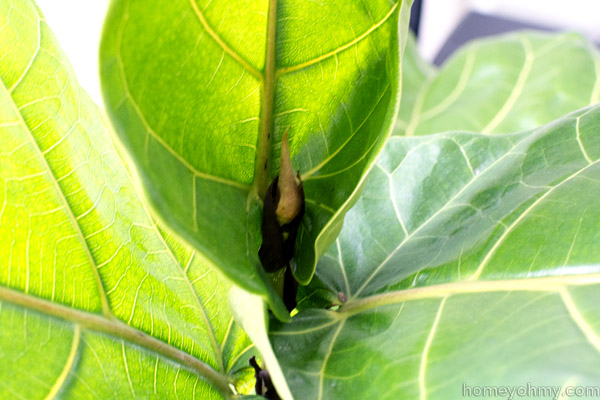 That is what's happening here, right?  Whatever it is, it's making me hopeful for the future.
If you've got any care tips, cautionary tales, or general thoughts on the fiddle leaf, I'd LOVE to hear it in the comments below!  Anything you can tell me to help mine survive or prove that my boyfriend was wrong about the tree being uncool would be greatly appreciated <3.