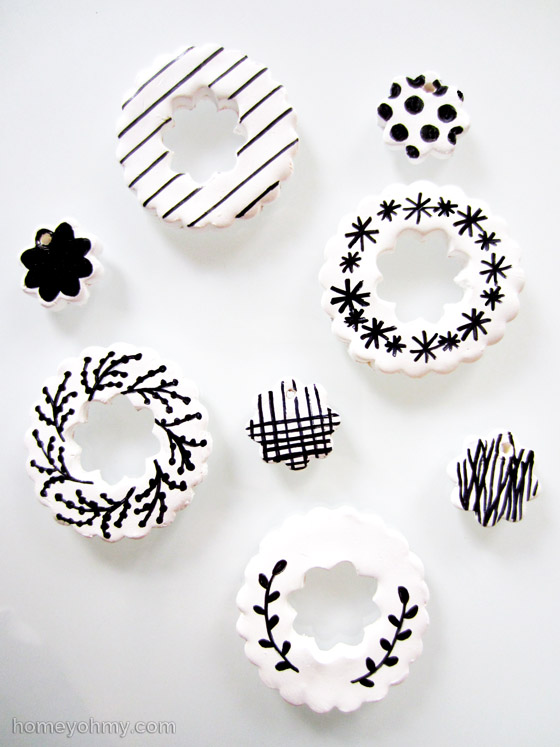 I'm really loving projects where I get to come up with multiple designs, especially if I'm free-handing them.  I originally planned on using stencils for these clay ornaments, but I couldn't resist the fun in spontaneous doodling.  I hardly consider myself a drawer though.  I'm fine with drawing patterns or shapes on small scales, but not with drawing actual things that people would be able to identify like "Oh yea, that's a cat!"
Besides the sharpie I used to draw the designs, here are the other materials.
I like how the first thing I did with my new set of cookie cutters is not make cookies.  That will be a must in the near future though.
I mashed both packs of Sculpey clay together, rolled it into a ball, then flattened it out with a rolling pin.  I wasn't concerned at all about getting the clay perfectly even in thickness all around, so I just went at it as I pleased.
I cut out four ornaments with this scalloped circle cutter.  I flipped the cutter over to cut out the hole in the center and while I hadn't planned on saving those donut holes, they were just too cute not to include in the ornament making fun.  All I needed to do with those was cut out a hole in each one for hanging, which I roughly did with a toothpick.
I baked them all in the oven at 275 degrees for about 30-40 minutes.  I can't remember exactly how long, but the key is to keep your eye on them and make sure they don't burn!
Sharpie, ribbon, string, boom.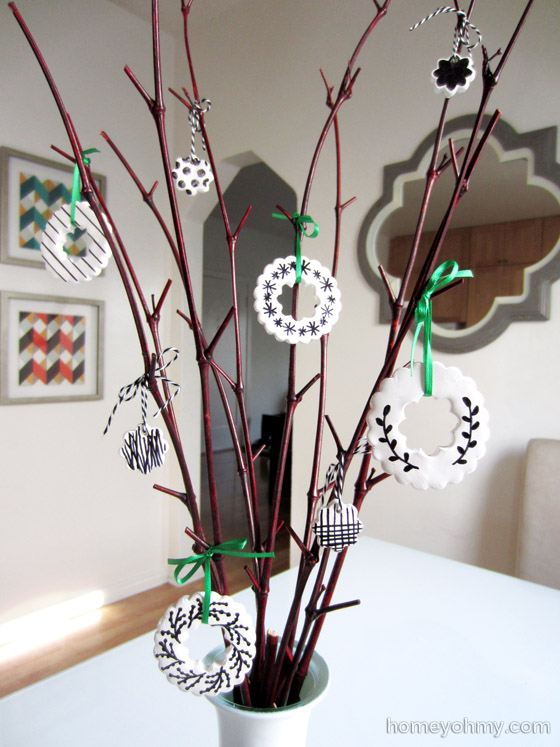 So a little oversight… I didn't think at all about how big I needed to make the holes on the little ones and the green ribbon I used on the big ones wouldn't fit through.  I went with black and white string for them but now I'm wondering… would it be better if I just used the string on all of them?  I do like the pop of green though.
Alright friends, it's time to play my favorite game.  Which one is your favorite???  I think mine is the one on the bottom with the berry branches-esque design.  That one surprised me!  It was one of those occasions where I had no idea where I was going with it until about halfway and then I was like yes, this is turning out better than expected.
Thank you for visiting me today and have a fantastic weekend!
Like what you see? Stay connected with me: