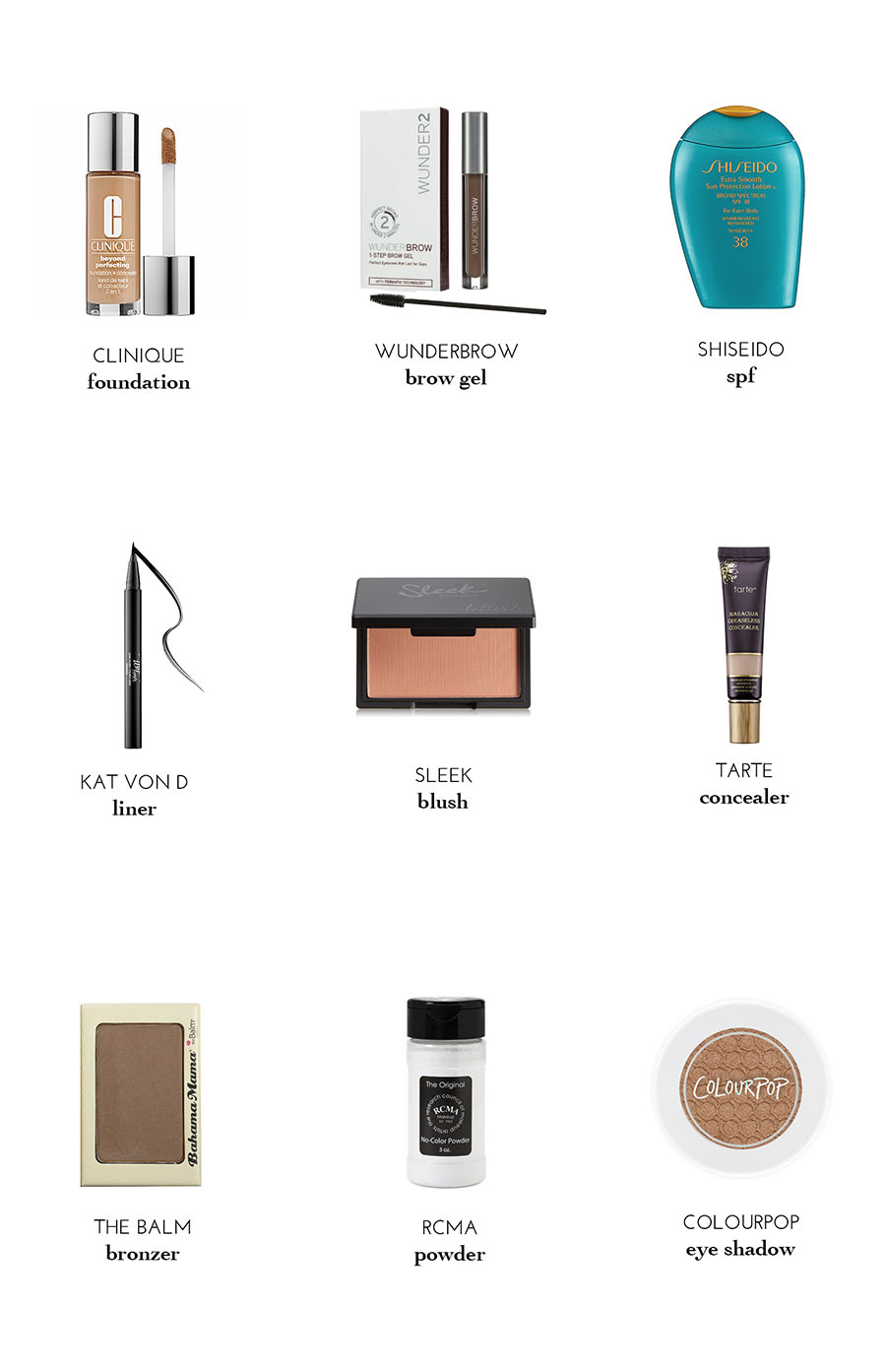 I say "summer must-haves" keeping in mind colors and staying power for those really sweaty and melty summer days, but we could also call this what I wear on my face every single day (for now!)  The idea to do this post came to me this past weekend when I was at the Renegade Craft Fair and it was a million degrees.  I was feeling extremely gross and uncomfortable from all the sweating, but somehow my face made it through looking way better than I felt and I thought yea, I need to share some of this.
Also, long time readers might remember that I shared how I'm a makeup fanatic and how I had initial plans for this blog to be about beauty.  Interesting??  Humor me as I pretend for a moment that I followed the beauty blogger route, ha!
1 | Clinique Beyond Perfecting Foundation and Concealer
I very recently got this and it has already become my favorite foundation of all time, it's amazing.  I have oily skin and while I prefer a matte finish for everything, I try for a dewier look in summer.  This one is semi-dewy and really looks like skin.  I only wear full-coverage foundations and this is also the lightest feeling one I've ever tried for such high coverage.  I blend it in with a buffer brush and it fills in my pores flawlessly, which made me notice that my previous foundation wasn't doing that.  Lasts all day, coverage so good I haven't felt the need to use concealer, doe foot applicator is convenient, is there anything I haven't said??
This was the MVP on that hot day at the craft fair.  At one point, sweat was dripping down my face so hard that I was constantly wiping at my brows, thinking screw it I don't care if they smear all over my face.  Well later I found out that my eyebrows were bullet proof.  They didn't move, smudge, or disappear AT ALL.  This might be the most impressed I've ever been with any product.   It's intimidating at first because the applicator looks like it's supposed to be lipgloss and it's not the most precise application ever, but apply with a light hand in small strokes while using the spooly and it can create a really natural look.
3 | Shiseido Extra Smooth Sun Protection Lotion
The price of this stuff physically hurts me.  It's been years of trying out alternatives, yet I always keep coming back to this one because it's the best SPF I've used for the face.  On top of the sun protection, I love it for how it smooths my skin and I also sense that it helps control my oil, which I don't know if it's meant to do that but for me it does!  I basically treat it like a primer + SPF in one.  If you know something this good or better that's not so expensive and isn't the Neutrogena one, LET ME KNOW!
Sleeping in your makeup is the biggest no-no, but sometimes it happens unintentionally, and sometimes that's when you realize how amazing some of your makeup is ha!  That's what happened with this eyeliner, and I woke up looking like I just applied it.  It's dark, dries matte, doesn't smudge, and doesn't flake.  The tip isn't as flexible as I'd prefer, but it makes drawing those sharp cat eye corners easier.  I'm using this liner forever.
I generally wear a cool-toned pink blush, but especially in the summer I love a peachy, salmon, nude color like this.  It brings a lot of warmth to the face and I'll sometimes wear this alone without any contouring/bronzer.
I've been using this for about 5 years now I think and it's my favorite.  The coverage is crazy good and I use it for my under-eye circles.  I find that it applies best with a damp beauty blender sponge for that creaseless non-cakey finish.
7 | The Balm Bahama Mama Bronzer
I've been using this one for almost 8 years!  Haven't found a bronzer that I love more.  Zero orange under-tones and I mostly use it to contour.  It's extremely pigmented and can look muddy if too much is used, but I prefer going lighter on application than having to use something that I have to build up in layers.  My only peeve is the packaging, which feels a bit too kitschy and flimsy, but it won't make me stop using it.
This is the best translucent setting powder in the world.  No white-cast, no flash back, it's seriously "no color."  Whatever I've put on my face, this turns it matte and keeps it matte with zero cake.  Most of the times I use it to set my under eyes and the center of my face, which is where I'm most oily.  It's long-lasting, affordable, and works really well for that "baking" trend that's been so popular.
9 | Colourpop Eye Shadow in Deux
I've been wearing this color everyday lately. It's such a pretty warm brown that comes off peachy/orangey on the eyes. I'll either use it as my transition/crease color for everything or apply it alone all over the lids on my "lazy" days. I'm a fan of how it feels like it's bringing color while still remaining neutral.
I love these kinds of posts and think they can be so fun, so let me know if you feel the same!  And OF COURSE share with me your favs and any suggestions you think I might like.  I keep a growing list of products to try whenever I run out of anything that I'm always down to add on to.