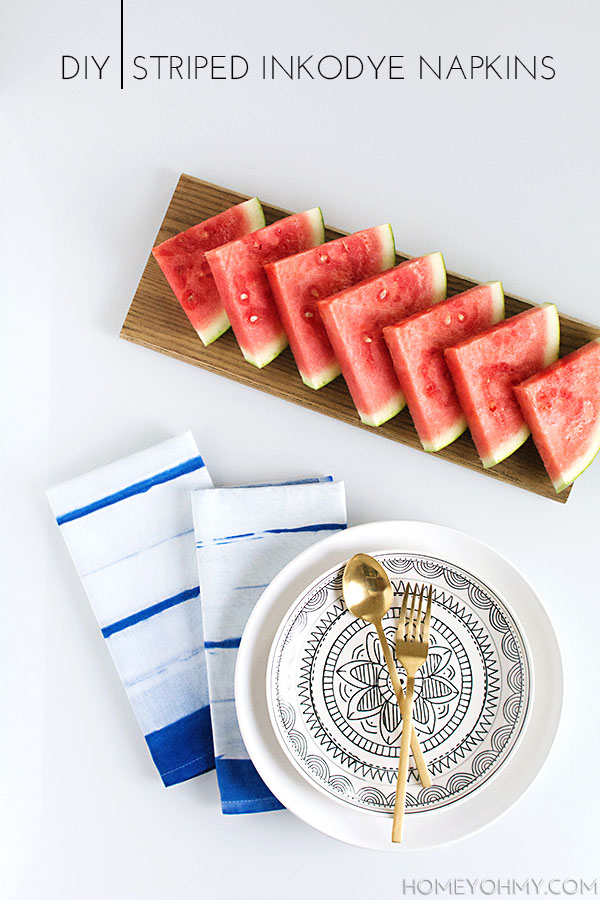 You guys!  A couple exciting announcements with this one.  First, I've never done a napkin DIY nor have used the star material of this project before, so we're entering new territory on both fronts.  Second, this DIY is part of the second issue of Merry Mag- Summer Edition!!
Merry Mag is an online lifestyle magazine full of handmade ideas by a group of talented bloggers that I'm so honored to have collaborated with on.  After how successful Merry Mag Holiday was, Melissa from The Sweet Escape brought us all together for a summer edition and guys… it is really, really good.  We're talking flowers, ice cream (already my two favorite things right there), decor,  DIY, entertaining, recipes, fashion, there really is something for everyone and it is guaranteed to start summer NOW.  You MUST check it all out right here at merrymag.com
Ok but also don't leave and forget about me.  Stay a second to see what I DIY'ed!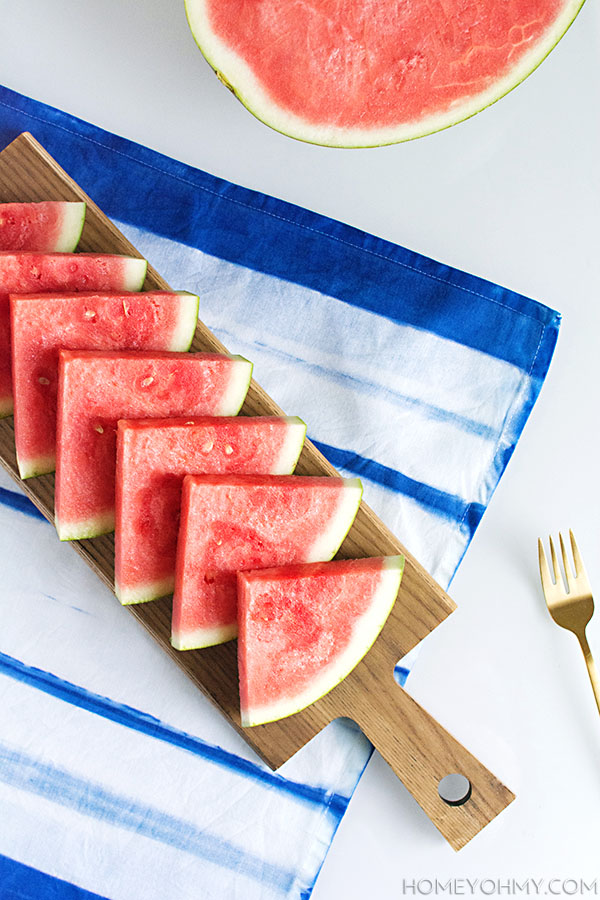 Here's how it went down.  I knew I wanted to do something with dying textiles, because I immediately associate that ritual with summer, but then also add on using the sun to dye the fabric and we've got ourselves a pretty darn summery project here. I've also been meaning to witness the magic of Inkodye for a long time now, so let's go.
Materials:
–white cotton napkins (or any natural fiber will work)
–Inkodye (got mine from JoAnn)
-mini paint roller
–Inkowash detergent
-rubber gloves
-tray/aluminum foil (depending on your available setup. I'll explain that soon.)
This is a very very easy and simple DIY, so much that there are only two photos of the process, but that also had to do with how I had some fails and how photos including these ones didn't turn out so pretty, which means I have tales of warning.  First one- do all prep indoors away from a window.  On my first attempt, I did everything outside and it was a frantic mess because the indirect sunlight started dying the napkin even when in the shade, so start inside and then bring the napkins outside.
Second one- shake the Inkodye bottle vigorously before using.  I didn't do this the first time, and the color came out very faded (duh, how did I overlook this), which is cool I guess if that's the desired look, but I wanted the blue to be bold.
I laid down sheets of aluminum foil to work on top of, then used a roller dipped in Inkodye to fully saturate every inch of the napkin.  I had the Inkodye in a small tray that I dipped from whenever the roller needed a refill.  Also (especially for those who have been following the blog for a while), is it weird that I use aluminum foil so much??  I don't see it used in DIY land the way that I use it, but it's probably my most used material HA.
Once the napkin was fully covered with Inkodye, I accordian-folded it and propped it up on a tray covered in yup, aluminum foil.  Third warning- wear gloves.  The rubber gloves I had were so big that it made folding really difficult, so I figured I'd just use my bare hands and wash off the Inkodye immediately after.  My hands and nails were blue for a week.  Don't do it.
I then carried this tray outside and left it in direct sunlight for 20 minutes.  Immediately after, I threw it into the laundry machine for two back-to-back cycles with Inkowash and out came this.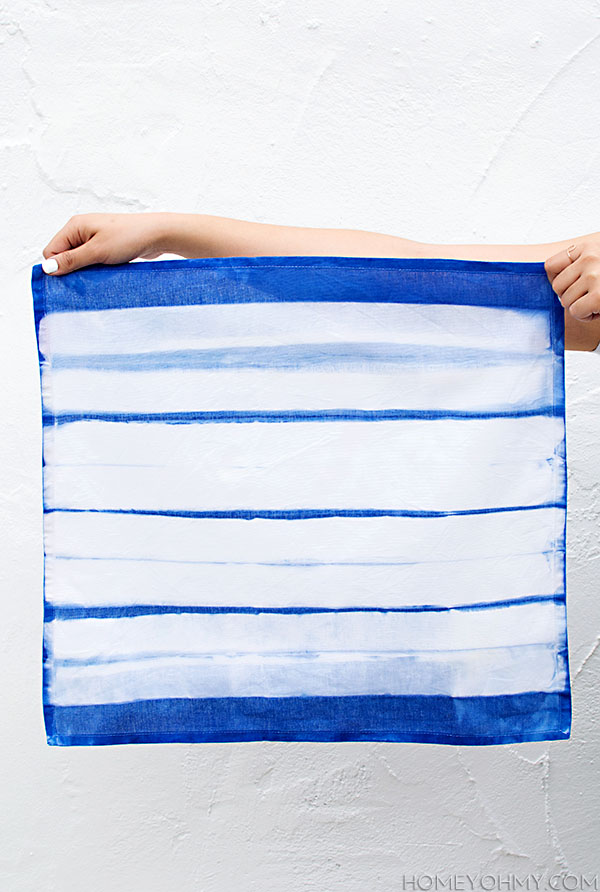 Because the edges of the folds were facing upright, the sunlight dyed these little sections and created this organic stripe-like pattern.  Pretty neat yea?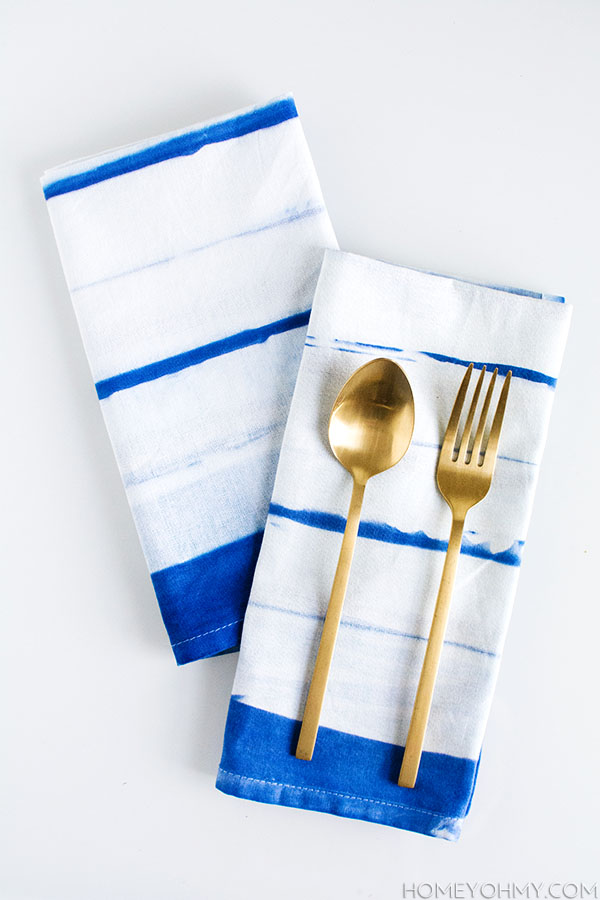 I love the imperfect lines and the faded ones in between.  Feels like a tie dye effect, only this way is much much simpler.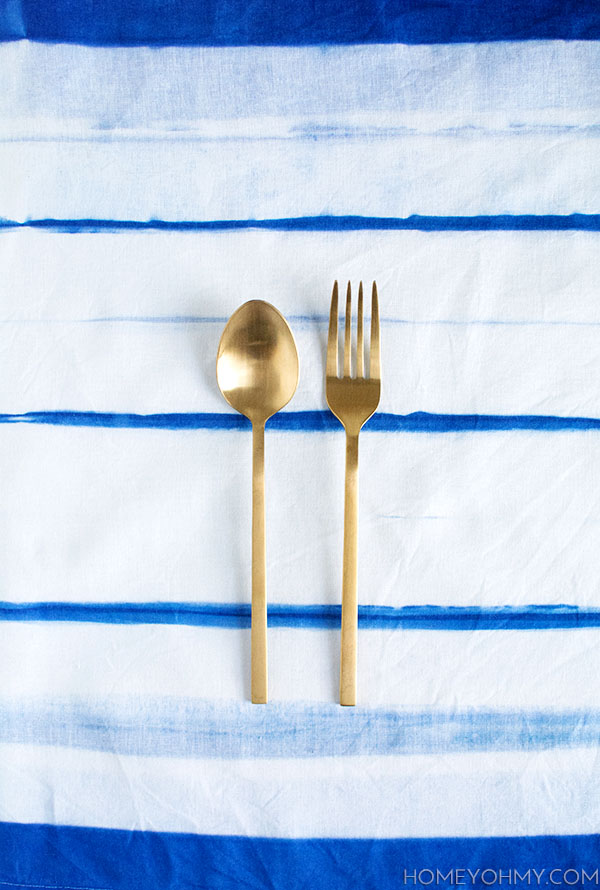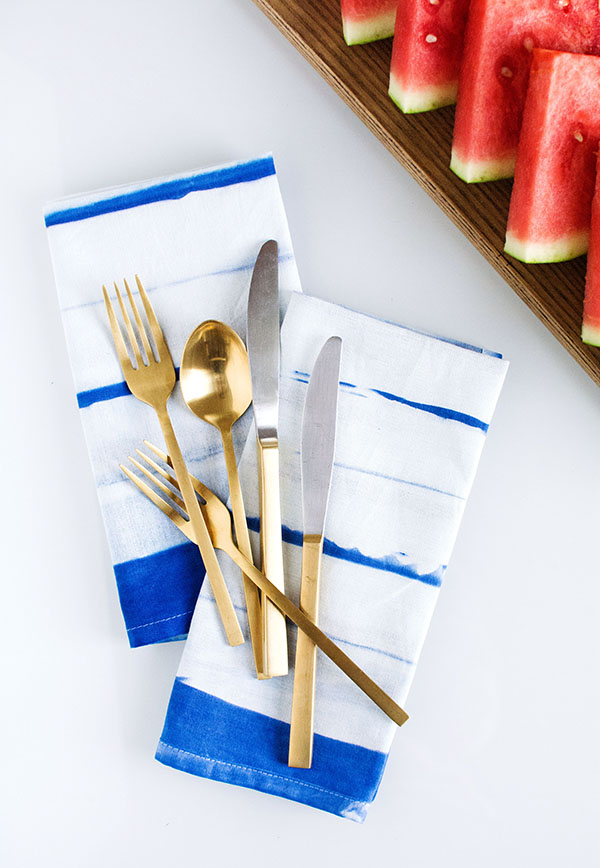 This striped pattern actually wasn't my initial plan.  I had first laid mini palm leaves on top of the napkin to create a palm leaf pattern, but because the leaves didn't lie flat, the imprints weren't sharp and it just looked blurry in a not cute way.  Using foliage to dye patterns with Inkodye however is a popular option, and if I were to do it again I'd make sure whatever I used lays flat.
Have you used Inkodye before?  Also having a thing for blue?  I'm on the blue train these days, and with the watermelon in these photos it's looking pretty patriotic, which was completely unplanned, but still appropriate with that important holiday coming up!