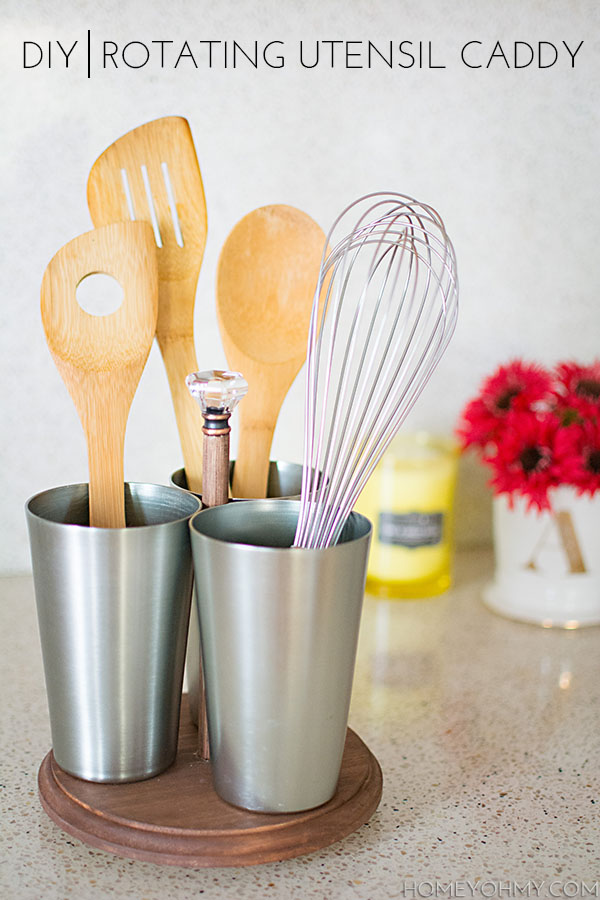 I get a lot of inspiration from window shopping for home decor and accessories.  During this activity, I very often find myself saying hey I could make that, and then another voice in my head says "You should."  Then it becomes the thrill of the challenge.  Sometimes it isn't only about the thriftiest and easiest way to make something.  Sometimes it's about seeing if I can do it myself, and with that comes the addictive power to make my own customizations, which can make all that extra work worth it.
That's what happened with this utensil caddy.  I was looking at one at Target and was mentally picking apart all the things I wanted to change about it- I wish the wood was darker, I wish the compartments weren't mesh, I wish there was some metal or shine, I wish it could rotate.  Instead of trying to look for one that fit all my criteria, I accepted the challenge to make it myself!
Materials:
-6 in. wood circle
-drill
-wood stain
-staining brush
-3/4″ wood dowel, 7″ long
–E6000
–ball bearing lazy susan
-3 in. wood square
–decorative knob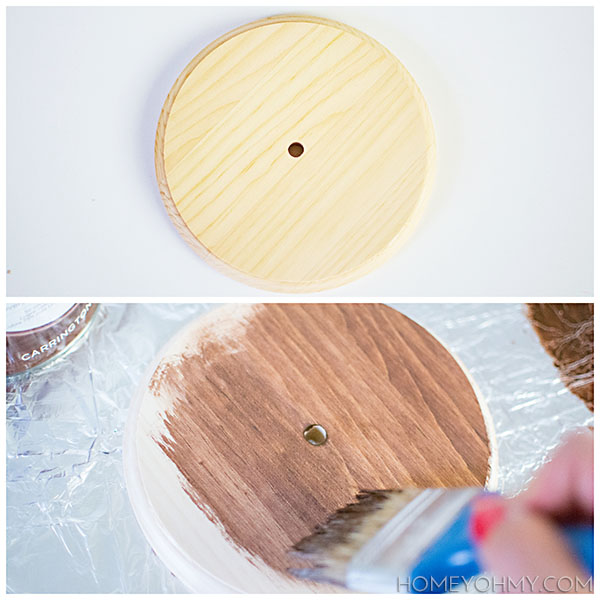 I got the wood circle from JoAnn's, and it's supposed to be for crafting a clock.  I thought it would be helpful that it already had a hole in the middle, but I'll show you in just a bit what happened with that.  First, I stained the wood and the dowel and let them dry.
So I thought I could just stick the dowel in the hole, but turns out the dowel, which was 3/4″ in diameter, was bigger than the hole, something that I absolutely could have figured out in advance and don't know why I didn't.  I should know better!  Since I had stained everything already and didn't want to repurchase correctly sized materials, I went to plan B and used my drill to make the hole big enough for the dowel.  I drilled the hole through the top, about half way down into the wood circle, stuck in the dowel, then from the under side I poured in some E6000 into the hole to secure the dowel in place.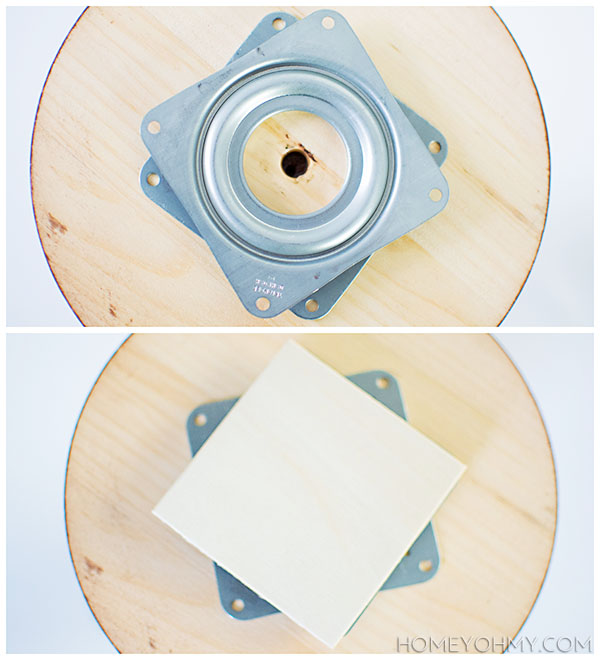 Next, I glued on the lazy susan to the bottom of the wood, then glued a 3in square piece of wood to the bottom part of the lazy susan to provide an even base for the caddy.  There are holes for drilling in screws, but if I have a choice between drilling and gluing, I always go with gluing if the connecting surfaces aren't going to endure opposing forces, which in this case there would be none.    Plus, E6000 has amazing holding power.  Gluing is just easier too, right?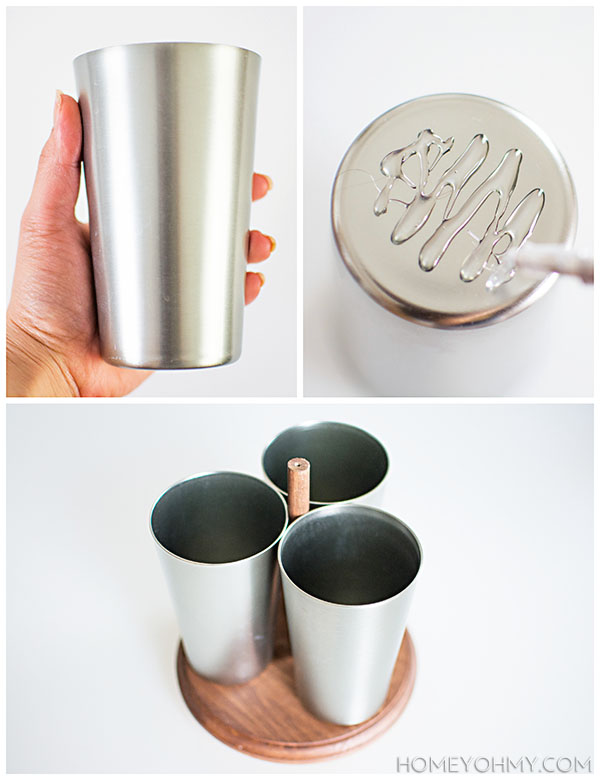 I found these aluminum cups on clearance at JoAnn's (I go there a lot, guys.  There's one very close to me that opened up this year and it has saved me so much time!) and simply glued them onto the wood, making sure they set so that all the rims of the cups were touching each other and the dowel.
Does the knob look familiar at all?  It's the same one I used for my mirror jewelry wall hangers and I looooove it.  The lucite, the copper details, the hexagon shape, love, and I knew it would look perfect on this caddy.  All I did was, yup, glue it to the top of the dowel.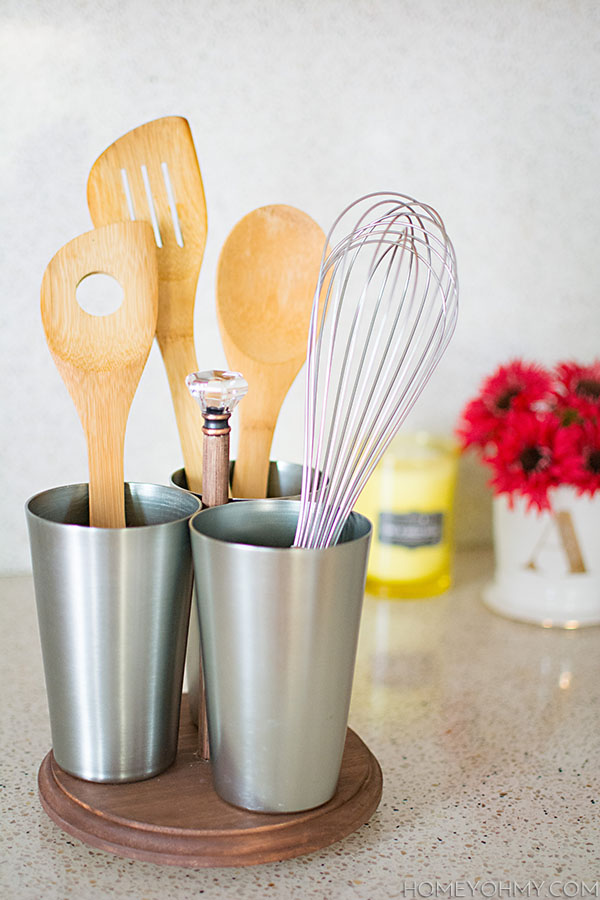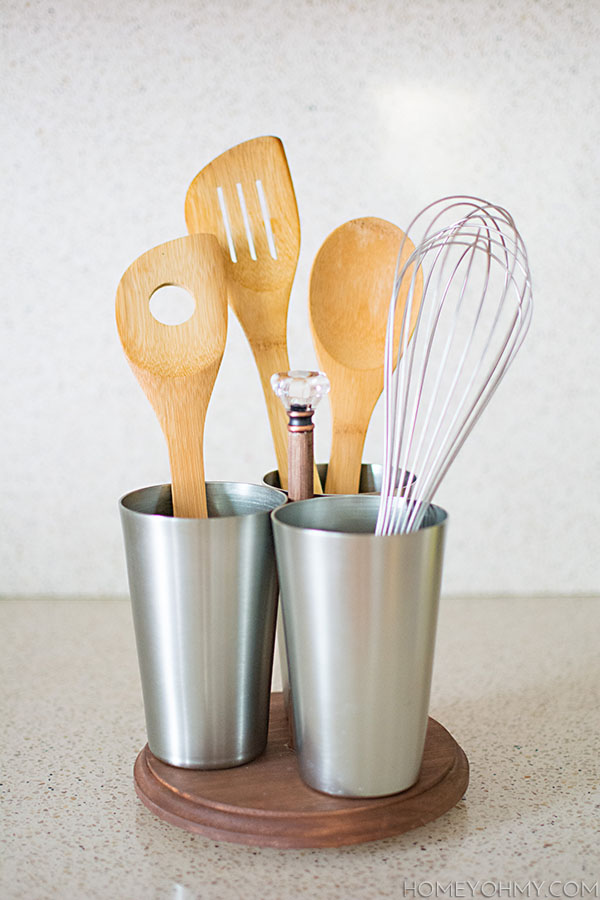 I really, really love it guys, but I'm going to be honest- this one took some time, mostly from trying to find the right materials and also compensating for my mistake with the hole in the wood.  I would rate the difficulty as moderate, though overall still pretty simple because of all the gluing, but if you're someone that knows exactly what you want, then I wholeheartedly believe you should go for it, whatever your criteria or customizations might be!