It's here, guys- my first, fall decor DIY of this year!  It's also another very easy, very simple copper tape craft.  After completing my previous copper art project, I needed to dive deeper into this new world of copper tape.  I was itching to do something else with the stuff, but was wishing the tape was thinner, so in came this guy.
This 1/4″ copper tape is fantastic.  It isn't as delicate as the one I used for my wall art, and I like that the thinner size allows for creating more intricate designs, although I still kept it pretty darn simple this time around, too.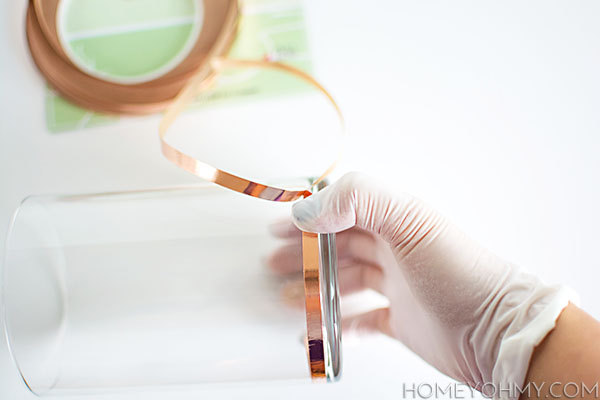 All I did was wrap horizontal rings of copper tape around my glass candle holders, smoothing my finger over the tape while removing the backing at the same time.  It wasn't the easiest thing in the world trying to keep the tape straight and make sure the ends matched perfectly, and I didn't fully succeed at this either, but to that I say, "It's all good."  I went slowly and did the best I could *pat on the back*.
Why am I wearing gloves?  I had mentioned with my copper wall art that I didn't realize I was making fingerprints on the tape and wished I had worn gloves, so I wore them this time around.  This tape is a lot sturdier and much more fingerprint resistant though, which is awesome, but I still wanted to take the precaution of not leaving behind more finger grease than was necessary.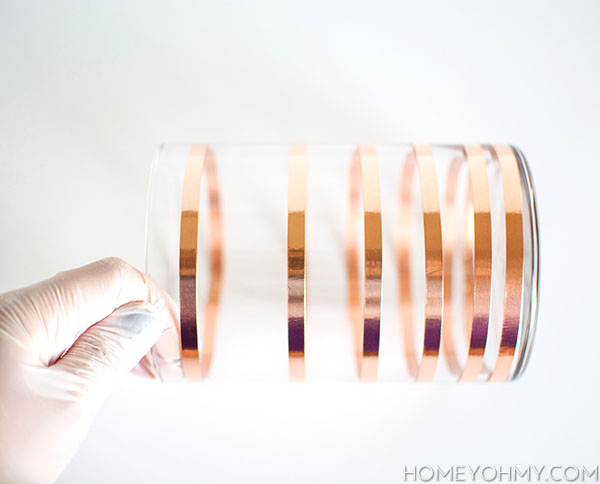 I started the copper stripes off closer together at the base and then spread them further apart towards the top.  I thought this would be a unique but still minor variation on a regular stripes pattern that would keep the design very simple and modern.
These birchwood slices were a score last Spring at Michaels when they were on clearance for $1 each, which was the right price for me to be convinced that I should hoard them until fall.  I think that was a good decision, wouldn't you agree??  They worked out so perfectly for my candle holders to sit on!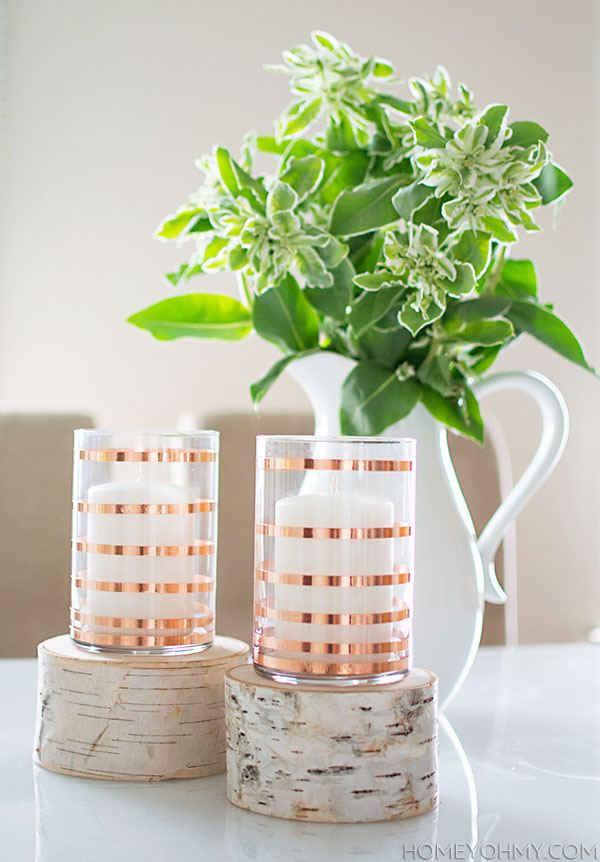 That white pitcher made appearances on this blog last year, and after seeing Emily Henderson recently use it in one of her designed spaces, I'm more than convinced to bring mine back out again this year.  I'll spare you my Emily Henderson adoration-rant this time.
Those greens in the pitcher complement the copper SO beautifully, don't you think?  They're called Snow on the Mountain.  Yea.  Cute.  I'm thinking copper and green will be my go to colors this fall, which is so appropriate given that they're two of my favorite colors ever.
You will probably be seeing more of this tape on the blog.  If not, then forgot that I said that, but seriously, probably.