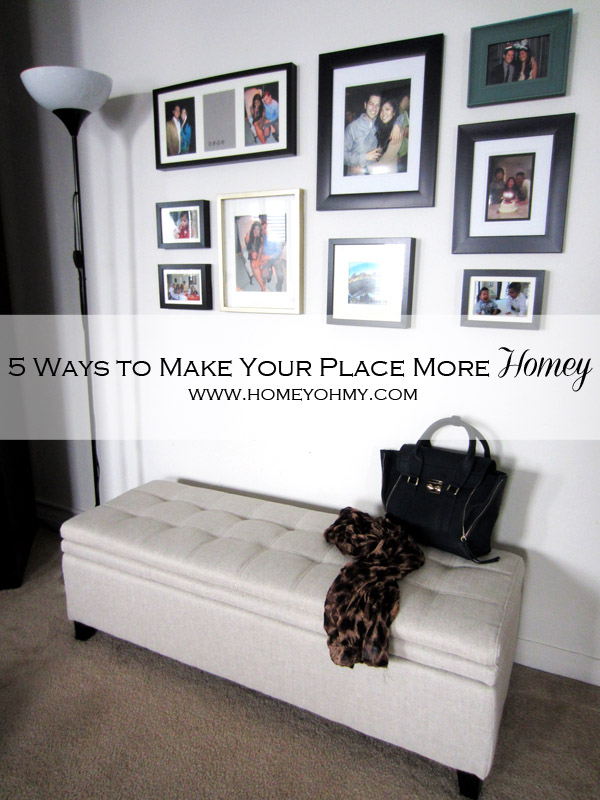 2014!  What?!
I was vacationing in Chicago last week and let me tell ya… I'm SO thankful to be back in LA.  I do think Chicago is one of the greatest cities, but there's just no way I could ever get used to the cold again.  I much prefer sitting here, writing this post, wearing a t-shirt and shorts in this most excellent LA weather.
So I'm a tad bit behind… but in the spirit of the new year, I wanted to do something that would involve looking back at some of the blog posts I've put up last year (well, last year from September since that's when I started this blog!) and I thought a fun way to do it would be to recap some of the ways I've made my apartment more homey.  "Homey" is, after all, in the name of my blog ;).
The only new photo in this post is the one in the title, which starts us off with the first point.
1) Hang up pictures and art.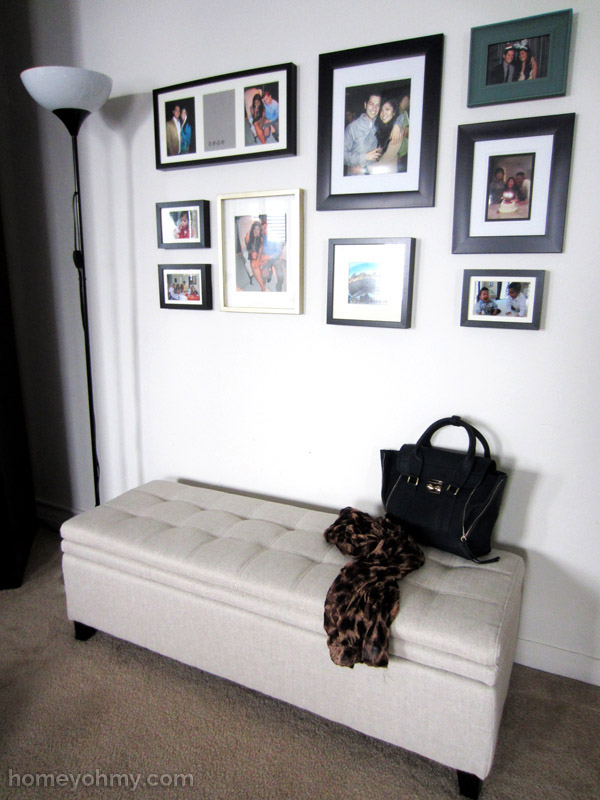 Hanging up pictures in my apartment was the last thing I did after moving in, though I think it is the best way to make a place feel like home.  I also think the act of drilling holes and hammering nails brings a greater sense of permanence, like staking down a sign that says "Hey, we live here!"
My boyfriend and I jokingly call this wall our "relationship shrine", though a few of the photos are of our families (oops!).  We have a hallway that is yet to be filled with more photos and art, and I anticipate that will be something I share on the blog in the future :).
2)  Have flowers and plants.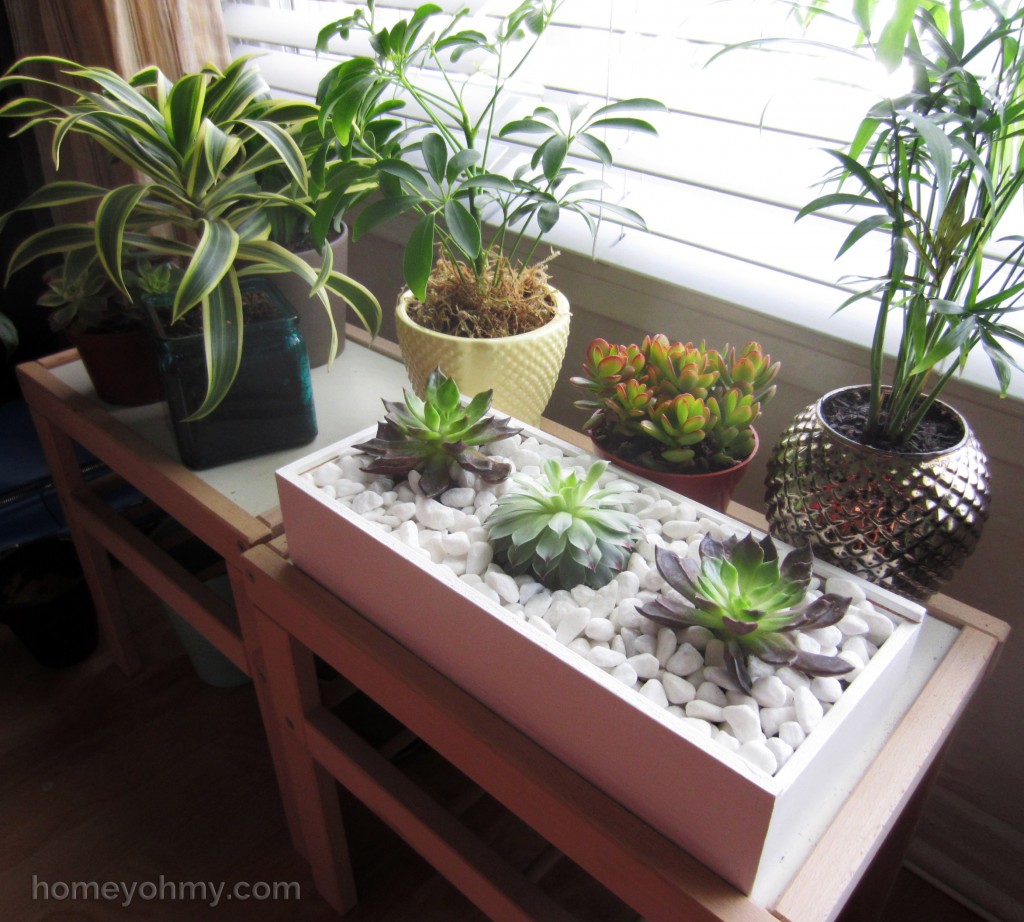 [From DIY Succulent Box]
I refer to this little area near the living room window as our mini garden.  We've had a lot of losses since this photo was taken (succulents CAN die, guys), but also many additions to our family of green friends.  I think especially with apartment living, it can feel really disconnected from the outdoors, so plants and flowers bring in some much needed life, literally.
3) Decorate for seasons and holidays.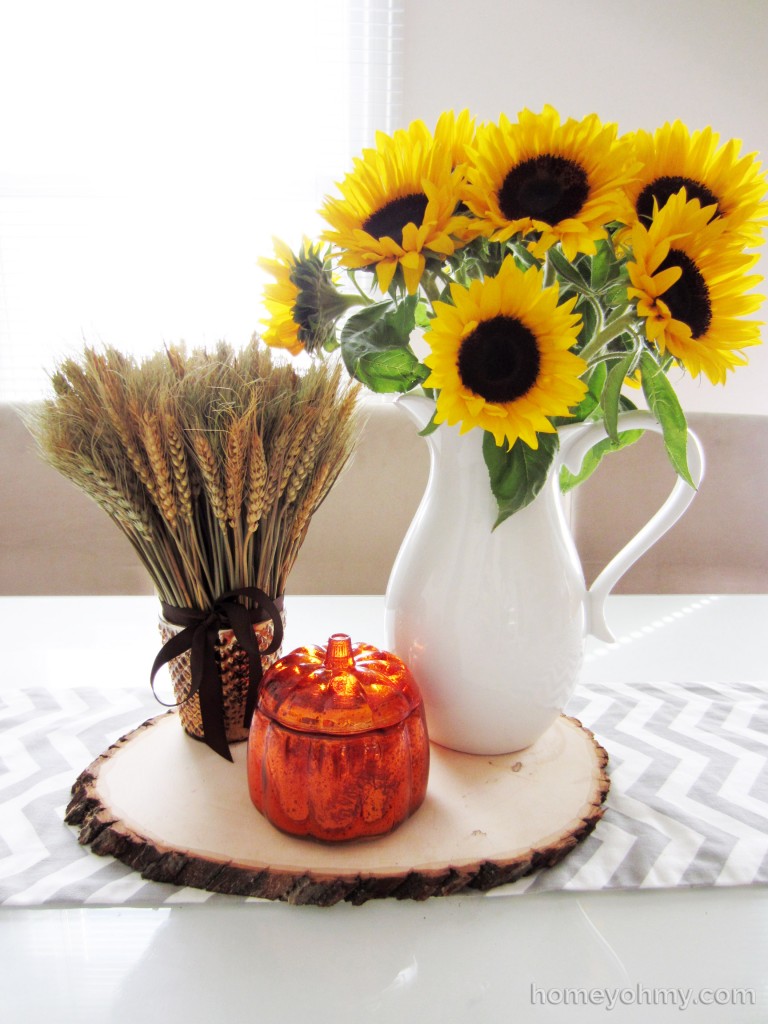 [From Fall Centerpiece]
I used to have this misconception that decorating for holidays is more elaborate and expensive than it's worth, but that is not true at ALL.  Being festive can be as simple as bringing in the season's colors, like with the warm yellow sunflowers that got me excited for last fall.  I've learned that whatever makes you feel spirited or look forward to the season and holidays ahead is always worth spending some time embracing in your home.
4) Display books.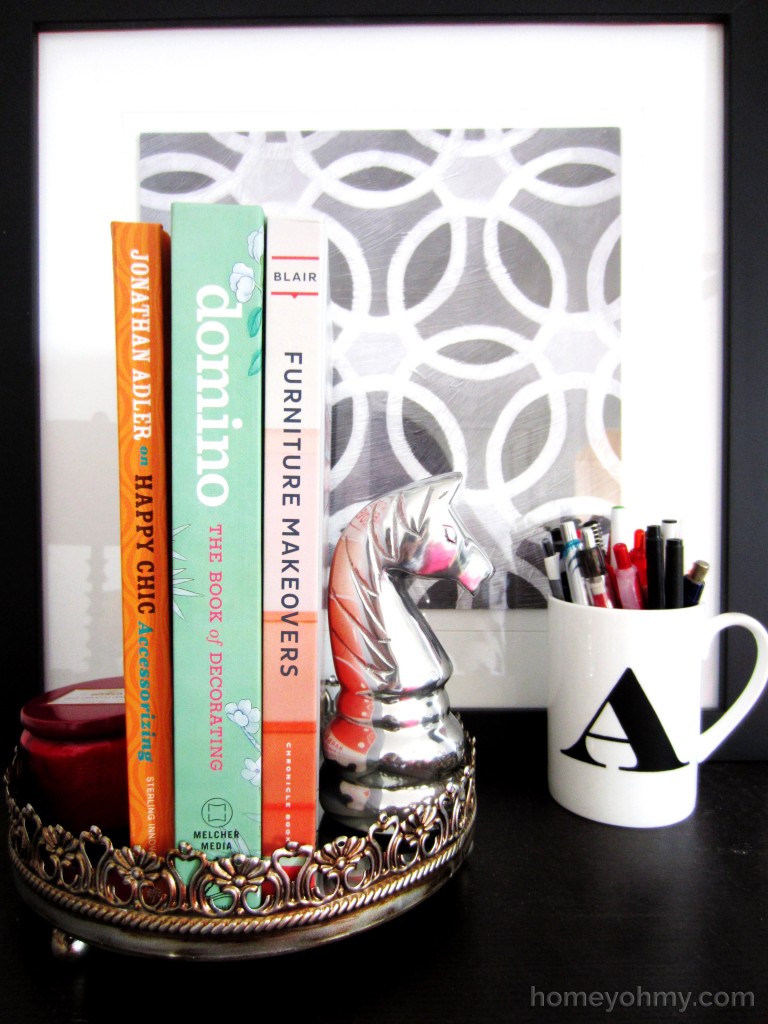 [From Mirrored Vanity Trays]
I'm new to seeing how books add a lot of personality to the home, and as I've mentioned before, this has encouraged me to ditch the e-books and go back to good old-fashioned paper books.  This isn't to say you should only get books just to display them (though I'll be real… I'm tempted a lot to buy a book because it's pretty), but display the ones you have and play around with arranging them, like I did with the vanity tray above.   Infusing your place with your interests will always help you feel more at home.
5) Play with lighting.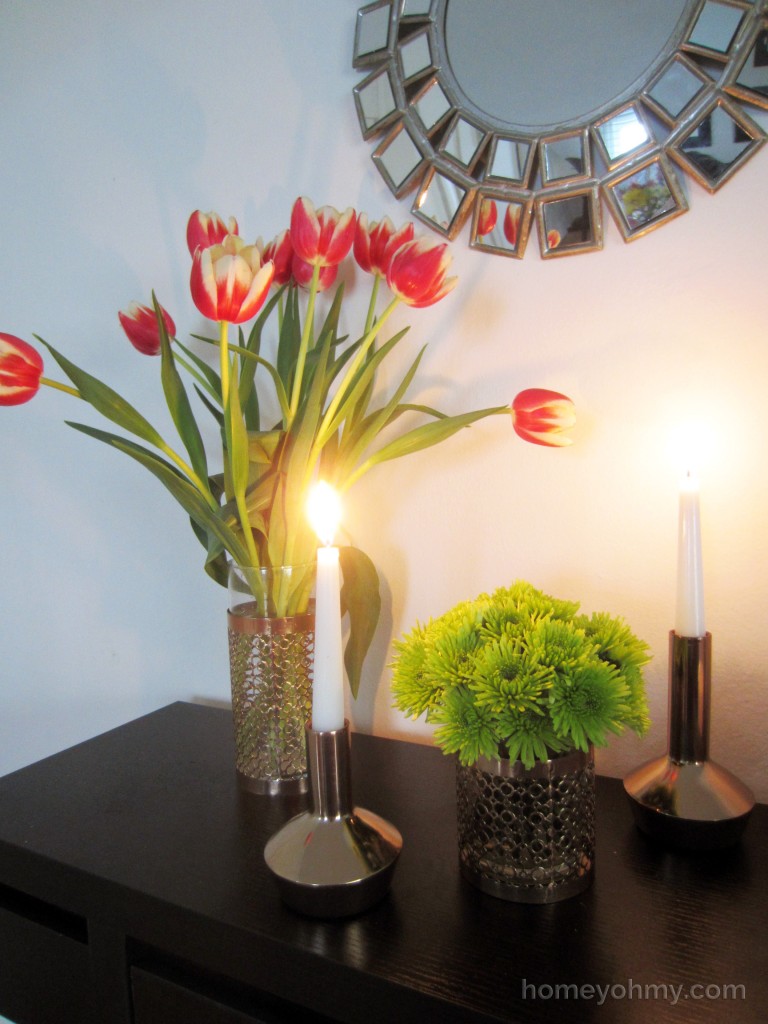 [From H&M Candle Holders]
Ok, so I'm still working on this one.  The lighting in my apartment is, simply put, bad, and with fixture changes not being an option, I've found that the easiest and most economical way to change up lighting in terms of setting a mood is with candles.  We all know how cozy it feels to be sitting by candlelight, right?  I love how something so little can make such a big difference on the way I feel.  I'm maybe addicted to candles.
It's fun to look back on little bits of what I've done so far and see the progress I've made not only with my apartment, but with this blog!  I'm looking forward to stepping up the homey this year, and maybe even add more tips to this series as I learn them myself.
What do you do to make your place more homey, whether it's something I have or haven't mentioned?  I'd love to know and pick up some tips from you guys!
Like what you see? Stay connected with me: