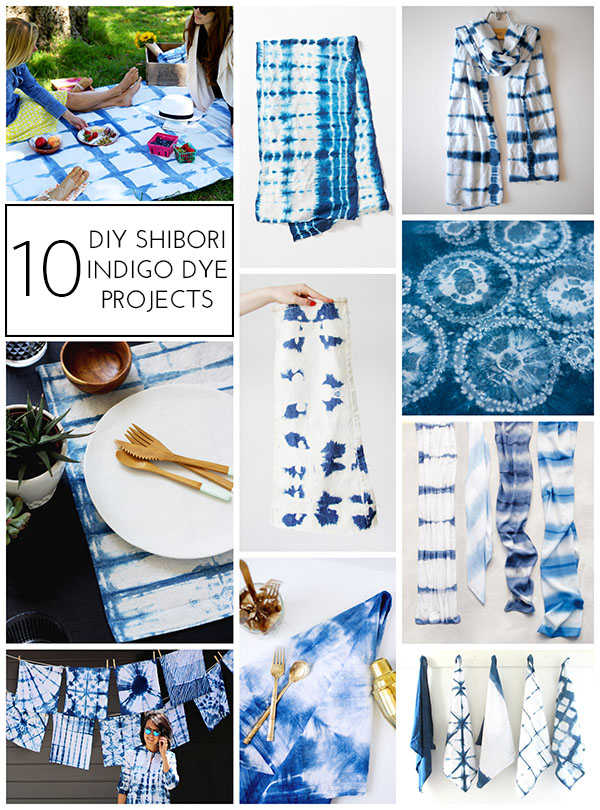 Tie dying is usually a big summer trend, but shibori dying in particular made its way into the spotlight this summer.  I've never considered myself a big fan of tie dying in general, but the gorgeous indigo hues largely used in shibori dying was all it took to change my mind.
Shibori is a Japanese style of dying that involves different techniques of twisting, folding, binding, or stitching fabric that result in infinitely varying patterns.  While I haven't tried it myself yet, I can imagine there's an addictive excitement of not knowing how the pattern will turn out until the grand unfolding of the fabric at the very end.  From what I've seen, it can be pretty simple to make some seemingly complicated designs and patterns.
I've gathered 10 shibori indigo dye projects to share with you guys and get you inspired to try it out yourself!  Some of these are DIY projects while others focus more on showing the different techniques.  Either way, there's lots of inspiration to be found at these links!
1 | Picnic Blanket from Say Yes
2 | Itajime Shibori: Pleated Effect from Common Thread
3 | Scarf from Alice and Lois
4 | Placemat from Lovely Indeed
5 | Reverse shibori dye from Fall For DIY
6 | Stitched bandana from Likes to Smile
7 | Binding and clamping variations from HonestlyWTF
8 | Kitchen towel from Lovely Indeed
9 | Scarves from Martha Stewart
10 | Tea towels from Francois et Moi
What do you think of Shibori dying?  Have you tried it before?  If you have a Shibori project or know of one I didn't mention, link it in the comments below.  I'd love to see it!