On to my workspace for the next part in this mini series I'm doing for the sources for everything in my home!  This space is my favorite, where I spend most of my time working, and also houses some of my favorite things, a lot of which are props for styling blog content as well as storage for supplies and tools.
I've had a few people comment that it looks like a shop and I'm totally not going to deny I took inspiration from some favorite stores.  Because this is a corner of my living room, I prioritized making it decorative to fit in with the rest of the room without sacrificing function.  I really had to declutter and purge what was here before to make it all fit and it was for sure one of the most satisfying things I've accomplished in this home (second to decluttering the bedroom!)  Did I really need to keep notes from my college Chemistry Lab?  Why were they still in my old desk??
No, it doesn't always look this clean, like with anything.  On any given day you'll see notes and papers sprawled all over the top of the desk, but the drawers in the desk make it really easy for me to clear things off and organize them inside when I get around to it.  I'm working on making that more regular, ha!
Starting with the main pieces of furniture: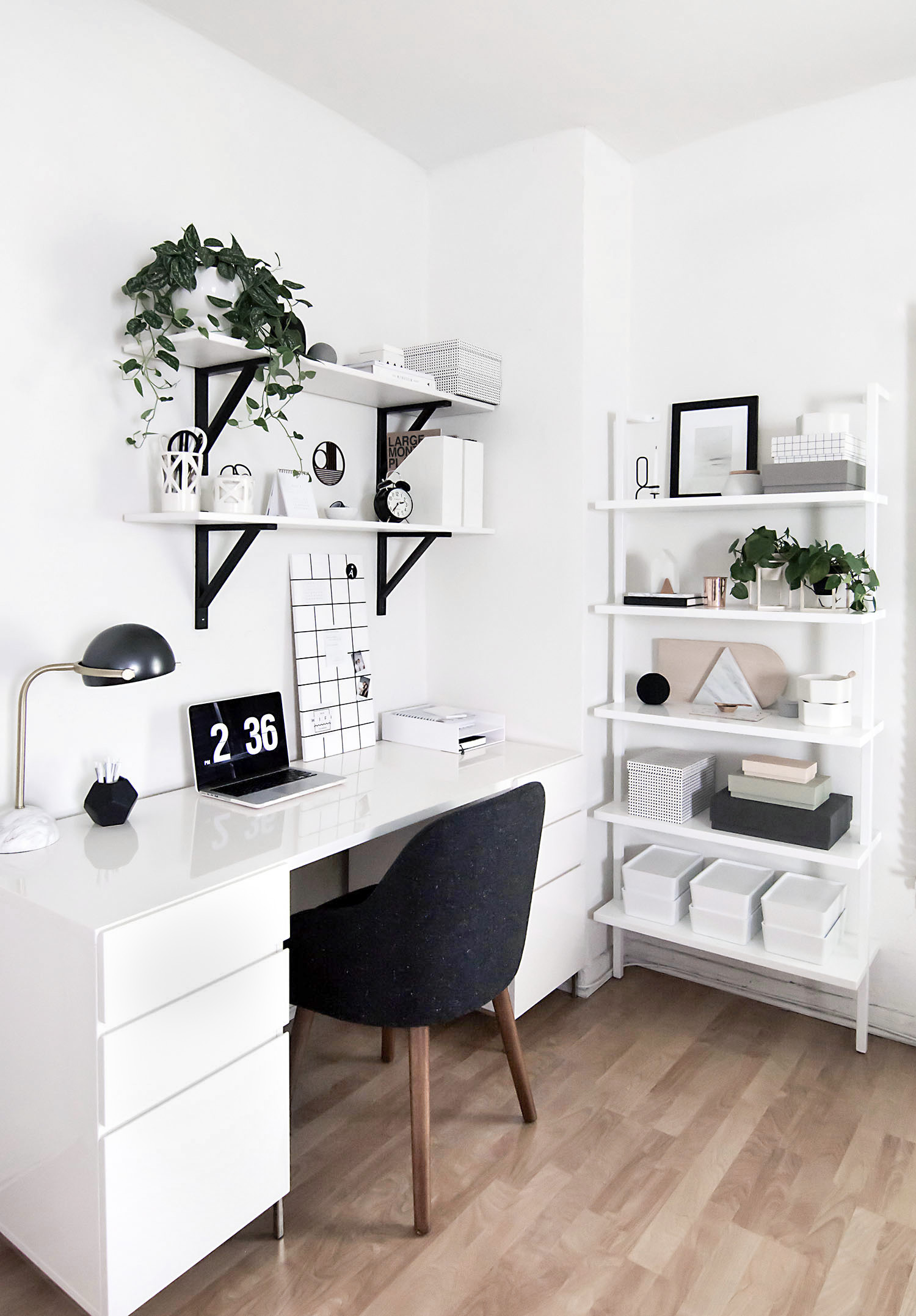 shelves | brackets | desk | chair | bookcase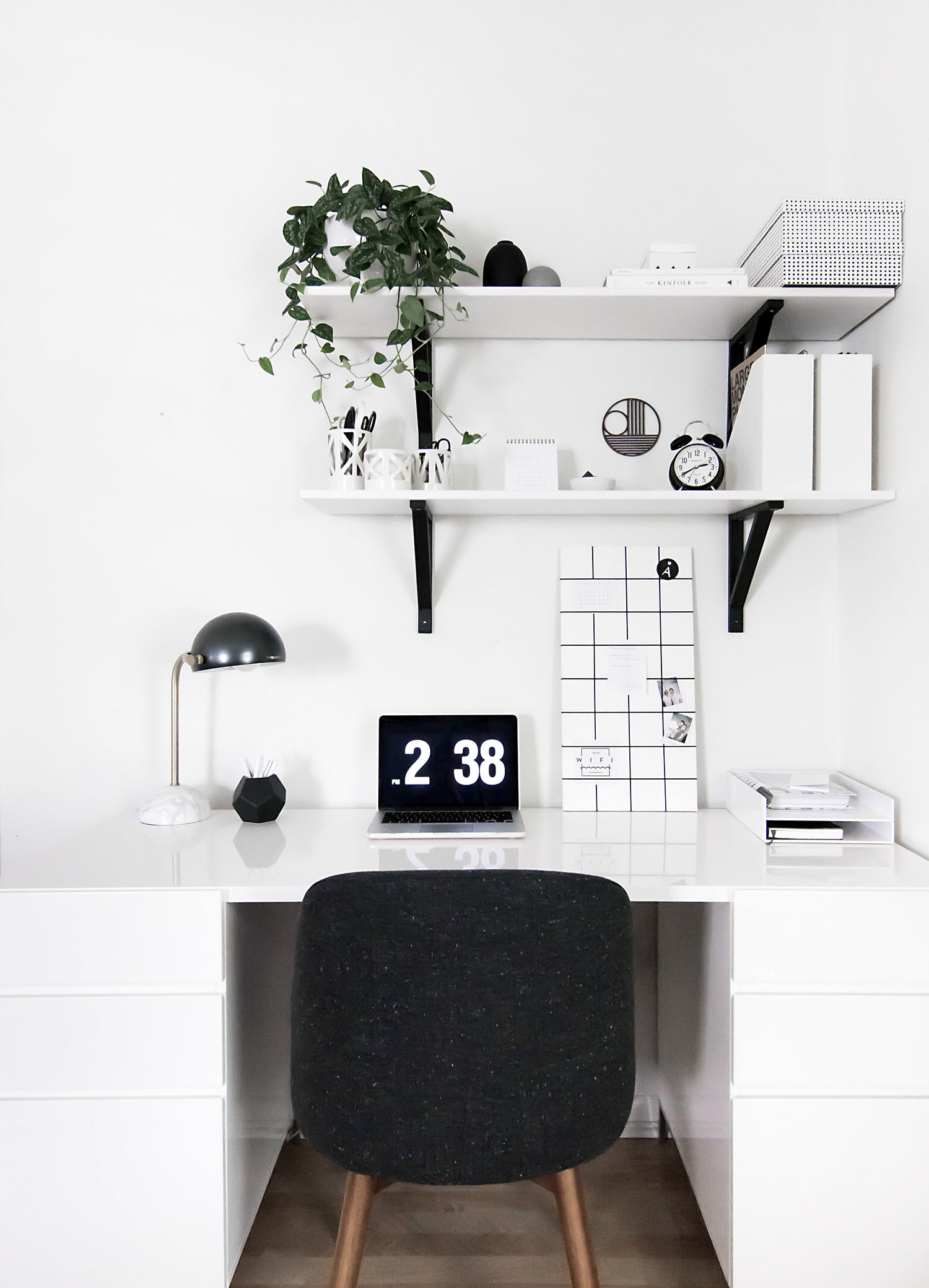 planter | black vase | gray vase | ceramic box from J.Crew (no longer available) | Minimalissimo | Kinfolk Home | boxes from Target (no longer available) | candle pillars | calendar | mini marble bowl | trivet | clock | magazine butlers | lamp no longer available, but I'm currently using this one |
faceted vase | memo board DIY | letter trays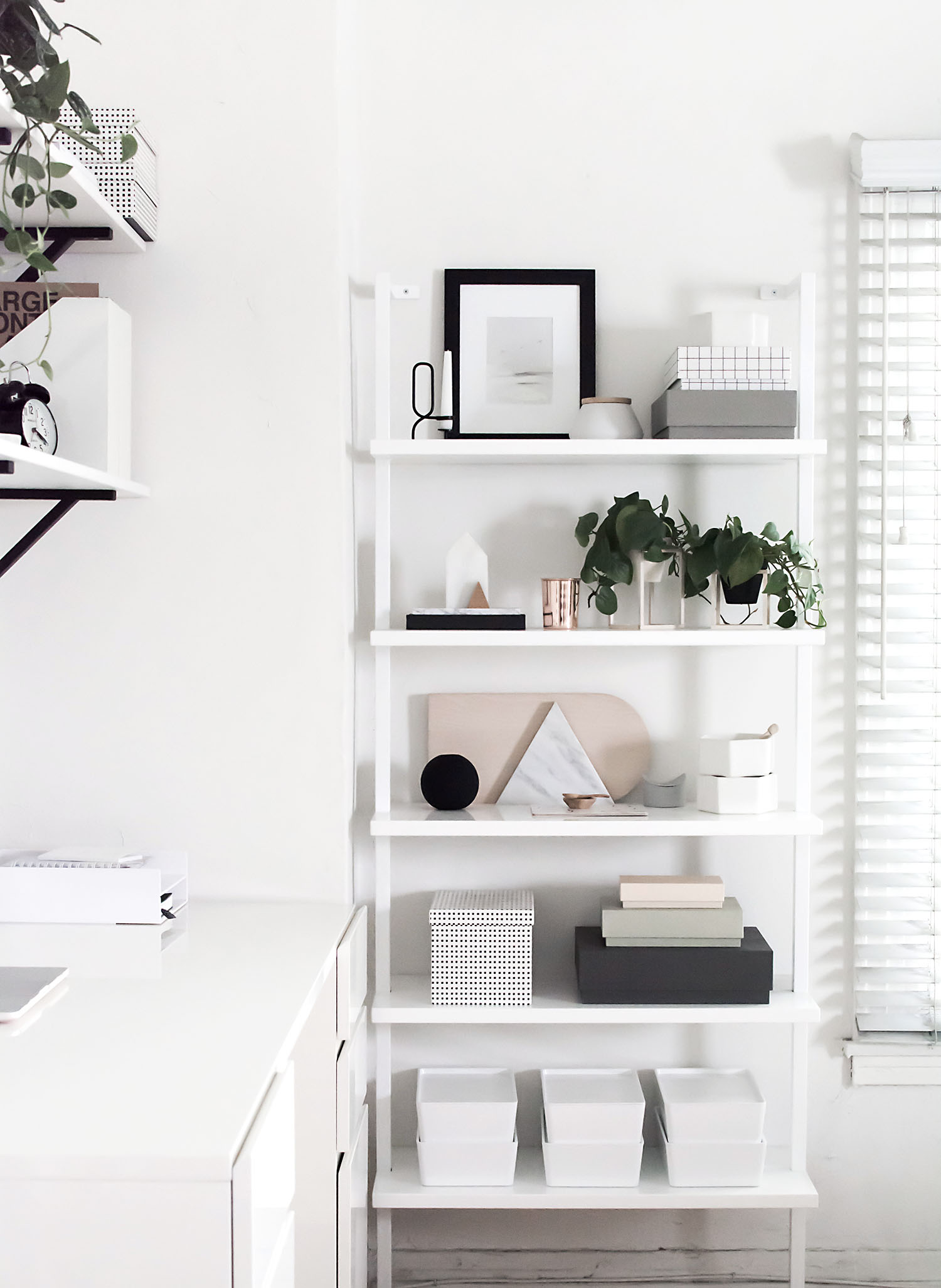 candle holder | art w/ frame from Michaels | white canister | hexagon bowl | grid and colored boxes from the HAY female set which is being discontinued | marble bookend from Target (no longer available) | mini photo holder | marble notebook | copper cup | mini plant stands DIY | black vase | wood cutting board | marble triangle trivet | mini wood bowl | mini wood spoon | mini cutting board | gray container | white box with mini black squares from Target (no longer available) | IKEA KUGGIS white stackable boxes (not online)
I regularly switch this space up mostly with what's on top of the desk.  The way I styled it below also gives a little glimpse at how I organize inside the top drawers.
large tray with tray lid | stapler | tape dispenser | mini tray | gold binder clips | gold paper clips | marble cup from H&M (no longer available) | scissors | card case |
black notebook | confetti notebook from Poppin (no longer available) | black marble coaster DIY |
black cord light | planner | two sets of double trays | small tray | calligraphy kit | ruler
Happy to answer any questions if you leave them below!  If you missed my post on the sources for everything in my living room, you can see that here.