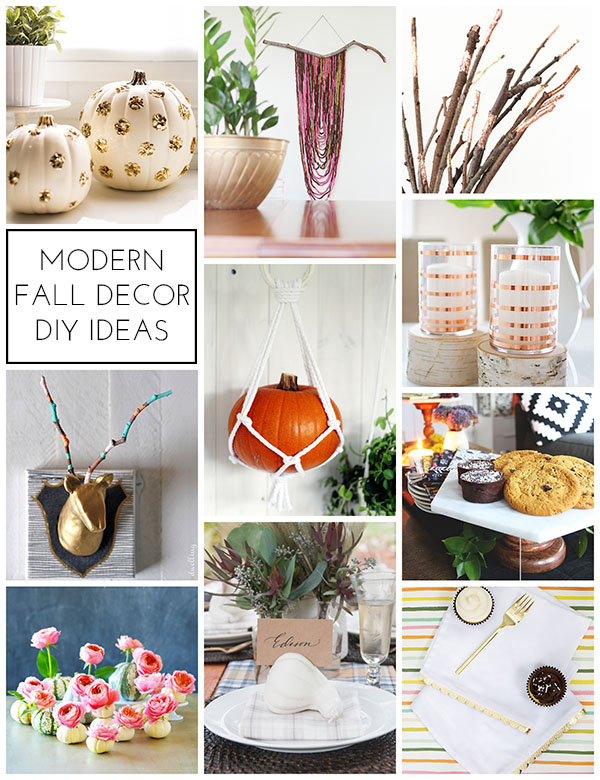 You guys know by now that I love fall, one of many reasons being that I consider it the funnest season to decorate for.  There are so many ways to go about it, and while Halloween is a big occasion that calls for a lot of those ways, I won't be decorating specifically for that holiday this year.  You might consider my reason astoundingly lame, but it's true- I'm a wuss.  I cannot have anything in my home that resembles a creepy crawler or anything spooky.  I do think it's fun seeing those things in other people's homes, but I just can't live with it (or be touching fake spiders, I know, I'm weak).  Anyone else not into scary Halloween?  Who knows, maybe that might change for me in the future!
Decorating the home and entertaining with fall vibes is more my speed, meaning bringing the outdoors in with organic textures and adding warmth with metallics.  Here are some of my favorite modern fall decor DIYs from around blogland that you might enjoy trying out yourself:
1) Sequin Polka Dot Pumpkins
2) Fall Yarn Art
3) Copper and Gold Leaf Branches
4) Clay Animal Heads
5) Macrame Pumpkin
6) Copper Striped Candle Holders (in case you missed this one by yours truly!)
7) Floral Pumpkin Centerpiece
8) Gourd Place Card Holder
9) Hexagon Cake Stand
10) Scalloped Edge Napkins
How have you been decorating for fall (or Halloween?) so far?