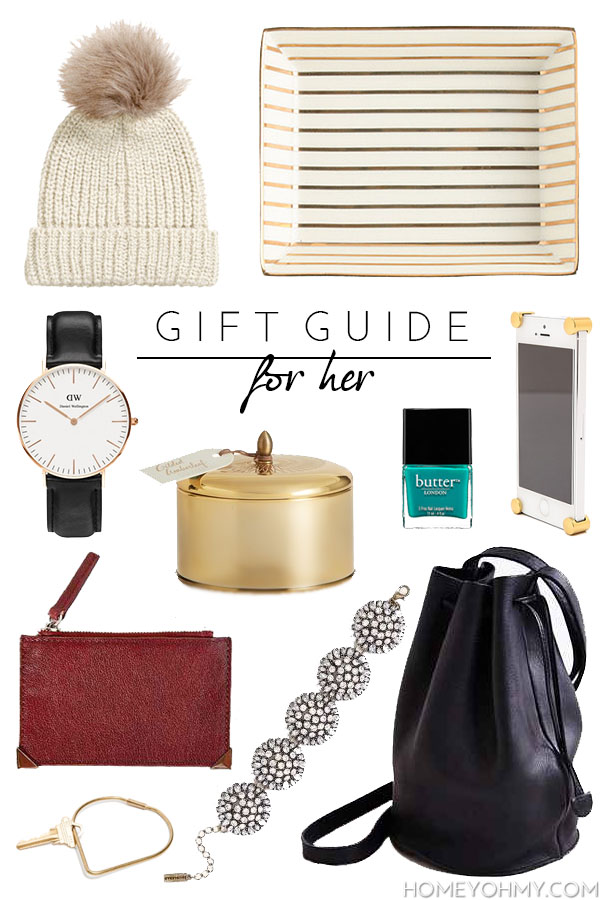 By "for her," we could really say "for me."  I don't know how else to shop for a sister other than to get her something I'd want for myself (granted that she likes the same kind of stuff, of course).  That's also why I end up shopping for myself while shopping for gifts.  I know that happens to you, too!  Unless you have self-control, which I immensely commend you for.
With the biggest shopping weekend coming up ahead of us, I thought it would be fun and helpful to share a gift guide.  Even with Black Friday being my least favorite "holiday" ever (congested parking lots + long lines + big crowds = I'll stay at home in my PJ's thanks), the buzz of this weekend is a good reminder to get started on gifts for the holidays.
Ranging from big to small, here are a few things the ladies in your life might love:
1) Faux fur pom hat– I've been seeing these everywhere, and I love that they can be both cute and chic.
2) Jewelry tray- agh, after I put this all together I saw that it sold out, but there's a similar one here OR you can DIY one like I did here.
3) Daniel Wellington Watch– Sweet Thing blog shared that the code "sweetthingblog" will take 15% off through the end of November!  I definitely will be doing that, because this one has been on my wish-list forever.
4) Gilded Amberleaf candle– What's better than a candle is a candle in a gorgeous gold container that can be repurposed once the candle is used up.
5) Butter London nail polish– One of, if not the best nail polish brand I've used, but a bit pricier than what I'd like to spend on nail polish, so I find that gifting this would make a lovely treat for any nail polish lover.
6) Gold iPhone corners– For the girl that doesn't like bulky cases, and loves gold.
7) Cornered zip pouch– A pouch for traveling light is a must.  The color is perfect for this season, and the corner details really make it special.
8) Contour key ring– Useful, unique shape, brass: sold.
9) Crystal Dandelion bracelet– I'm a long time fan of BaubleBar because they do not disappoint.  I imagine this bracelet being worn to a holiday party for that extra glam.
10) Bucket bag– I adore this bag style, and it's very on trend right now.
Alright guys, I'm heading out early for the week to be with family for Thanksgiving, so I want to wish you all a very Happy Thanksgiving!  Every single one of you and the time we spend together on this blog is something I'm very grateful for this year <3.  Have a restful weekend, and see you all back here on Monday!