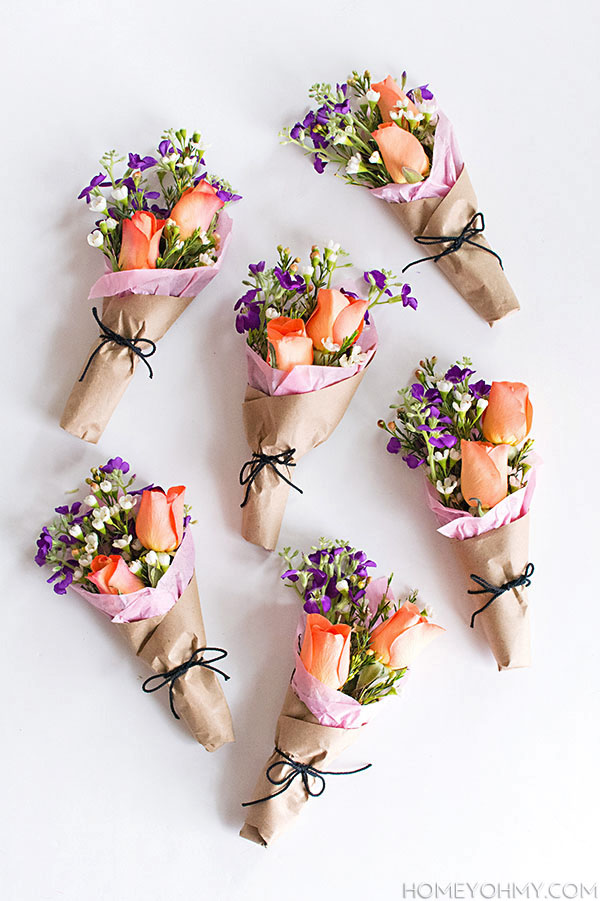 I don't have anything against handing out candies and chocolates for Valentine's Day, or any day, but I still wanted to try a different idea for spreading the love in a really special and simple way (which could definitely be done in addition to those chocolates.)  Flowers are that other big thing to give this holiday, but I can't be spending a million dollars on large arrangements for everyone I know.  So, a few simple details and going on a mini scale can stretch out and make a couple bunches of flowers from Trader Joe a lot more memorable and cute, making it possible to show more of the flower-loving people you know that you think they're pretty cool.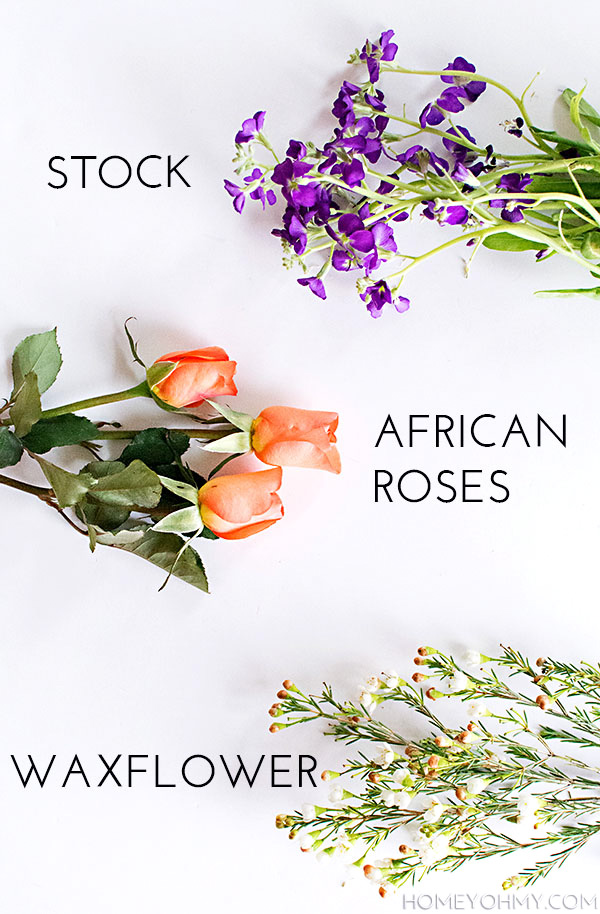 The flowers I used are purple stock, orangey-peach African roses, and white waxflower (I shared a glimpse of some of these on Instagram last week).  Using filler flowers, like stock and waxflower, is the way to make bouquets more full without going bankrupt, but I want to stress that "filler" does not mean they have to be added with anything else.  You can for sure make gorgeous mini bouquets with just filler flowers alone!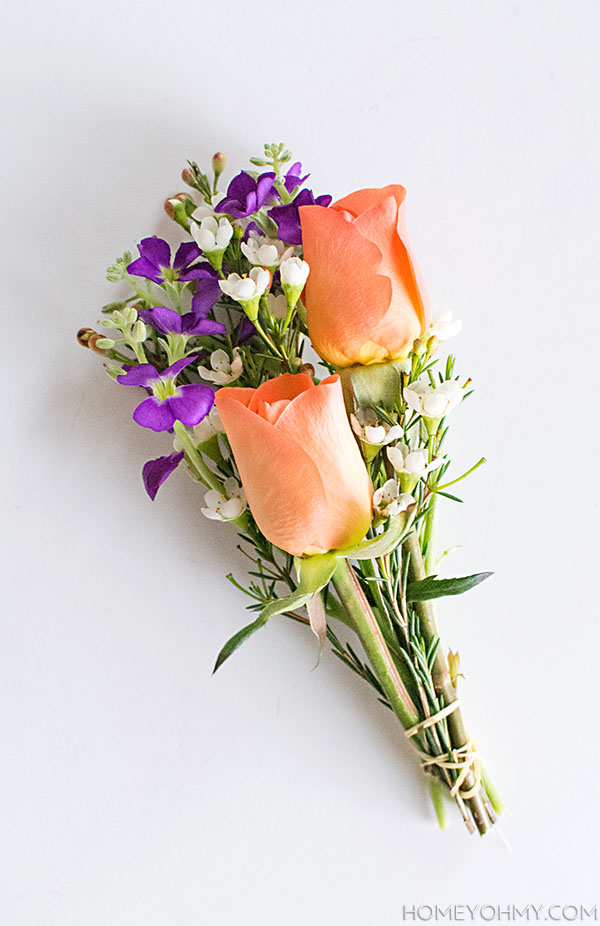 Bunch a few of your flowers together, cut them down to desired mini length, and tie them all together with a rubber band or floral tape.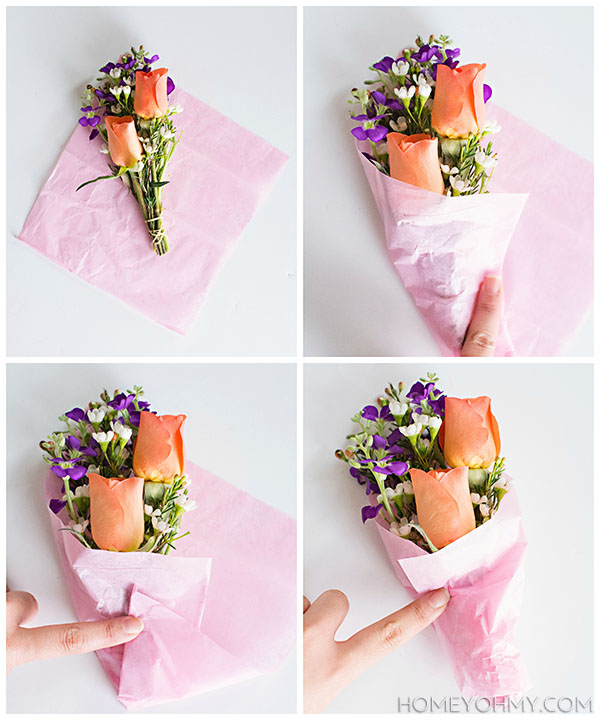 Cut a square piece of tissue paper and place the mini bouquet at one corner of the tissue paper.  Wrap the left side of the paper over to the right, the bottom portion up over that, and the right side over on top.  Repeat with a square piece of kraft paper, wrapping a little lower than where the tissue paper is so that the tissue peaks over the top of the kraft paper.
Tie with a string and it's officially really, really cute.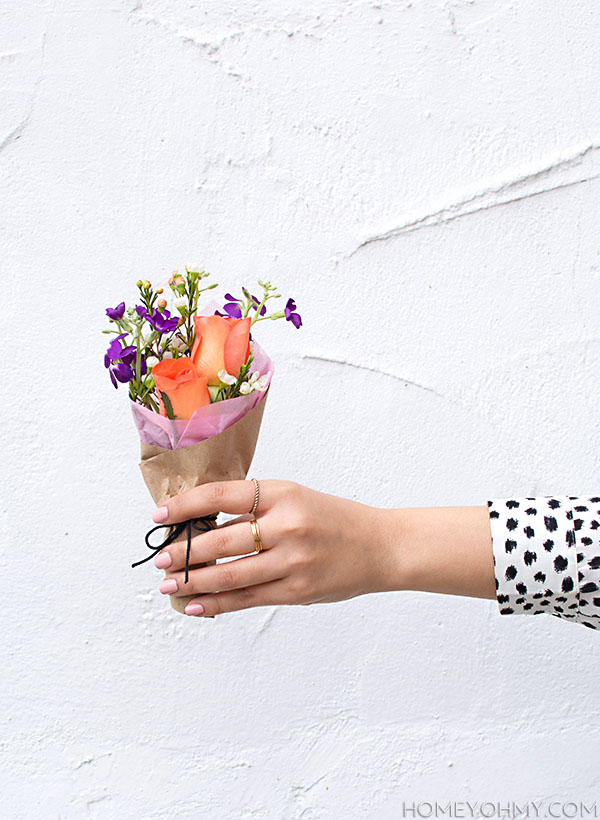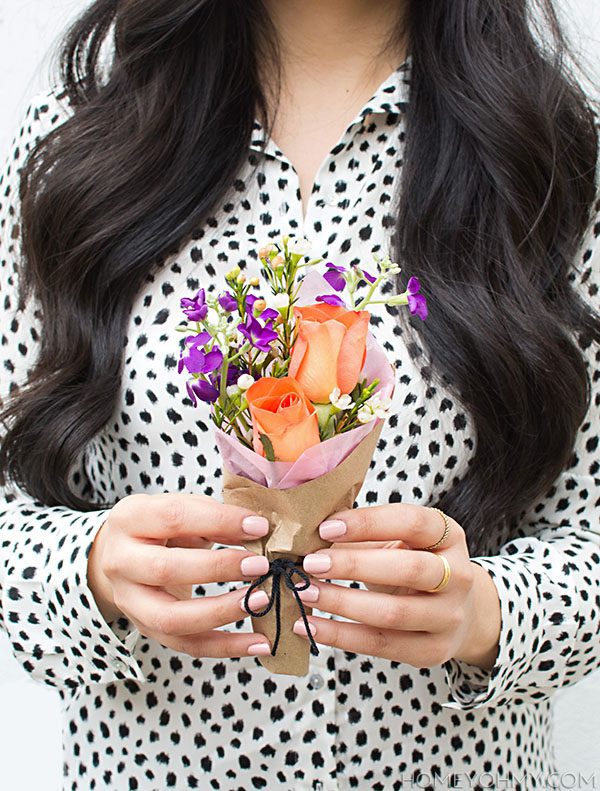 Simple, adorable, and exciting to see how small details can make all the difference, yea?  This definitely doesn't have to be a  strictly V-day thing either and could just be a favor for an event, or just because.  Not exactly sure in what other occasion I'd receive one of these for, but I know that I'd love getting one.  Would you?
Still won't be doing any V-Day decorating, so this is the last before you love birds or galentines celebrate the holiday, or not!  I'm curious to hear any thoughts you have about V-Day.  It's not my most favorite or the most important day to me, but with me and boyfriend not having any sort of anniversary, we celebrate V-day like a replacement for that.  Aside from that, I'm seeing it more and more as a day to just show appreciation to anyone you love or respect and make cute things like mini flower bouquets.  How do you feel about the holiday?