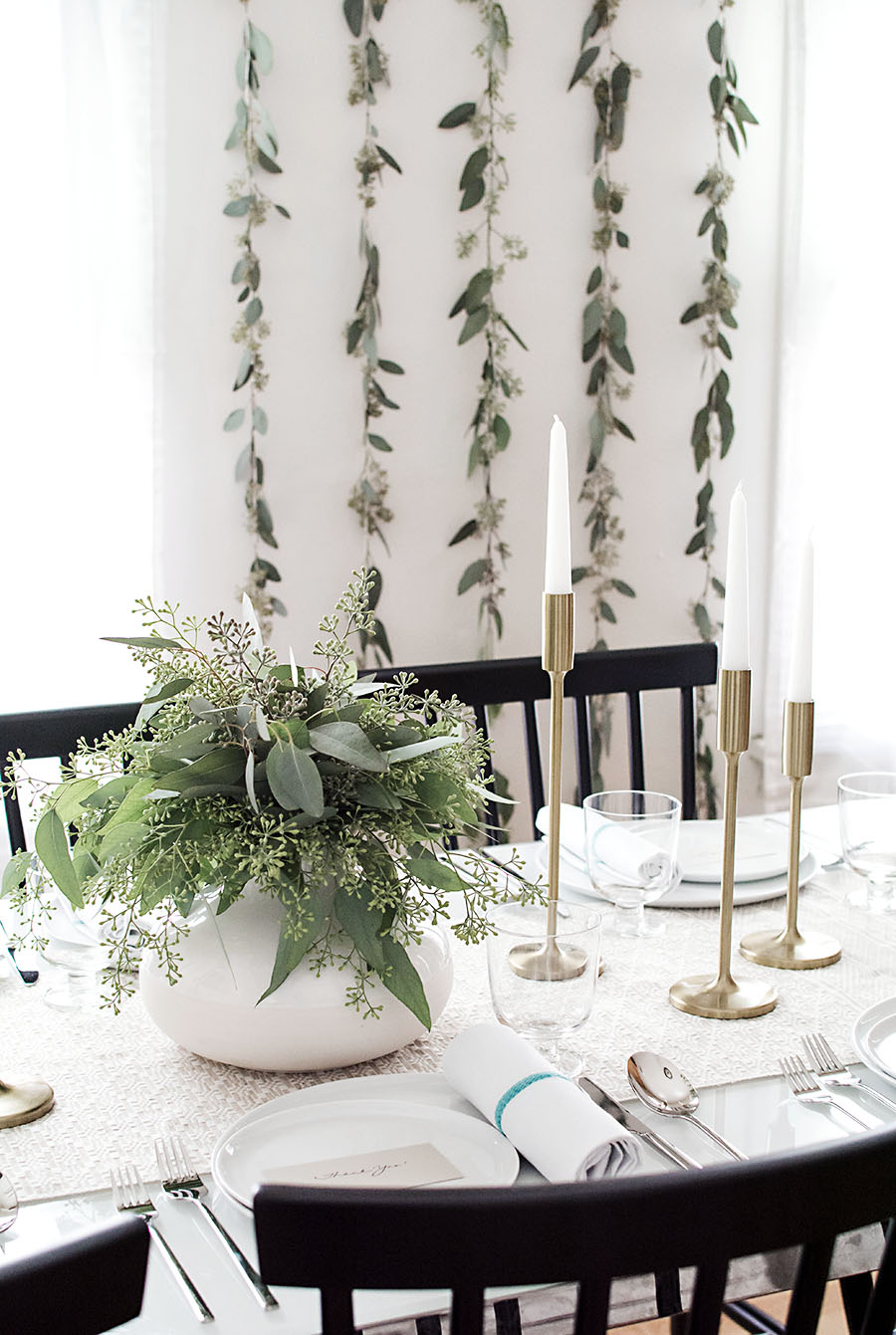 Let's take a step back from how we jumped straight into Christmas earlier this week and remember what season we're in.  Thanksgiving is up next and it's maybe my second favorite holiday (after Christmas, duh) because it's the ultimate celebration of good people and good food, all the very best things.
I've always kept a casual approach for a Thanksgiving tablescape but this year, thanks to All Modern, I'll be making it a bit more formal in ways like oh I don't know, matching silverware (YES, WE HAVE THAT NOW), napkins, glassware, other adult status things, still keeping it all pretty simple per usual.
We also typically entertain in buffet style, especially in a situation like this where we're trying to seat eight people because even without the decor on the runner, there's no way all the food would fit on the table.  So all the food goes on a nearby counter, which leaves room for a few, simple decor items to make the occasion feel that much more special.
My one, 'gotta have it' thing for a tablescape is candles, and these gold candlestick holders are essentially my dream.  They're timeless and can go beyond the table to be styled around the home.  That kind of versatility is most appreciated.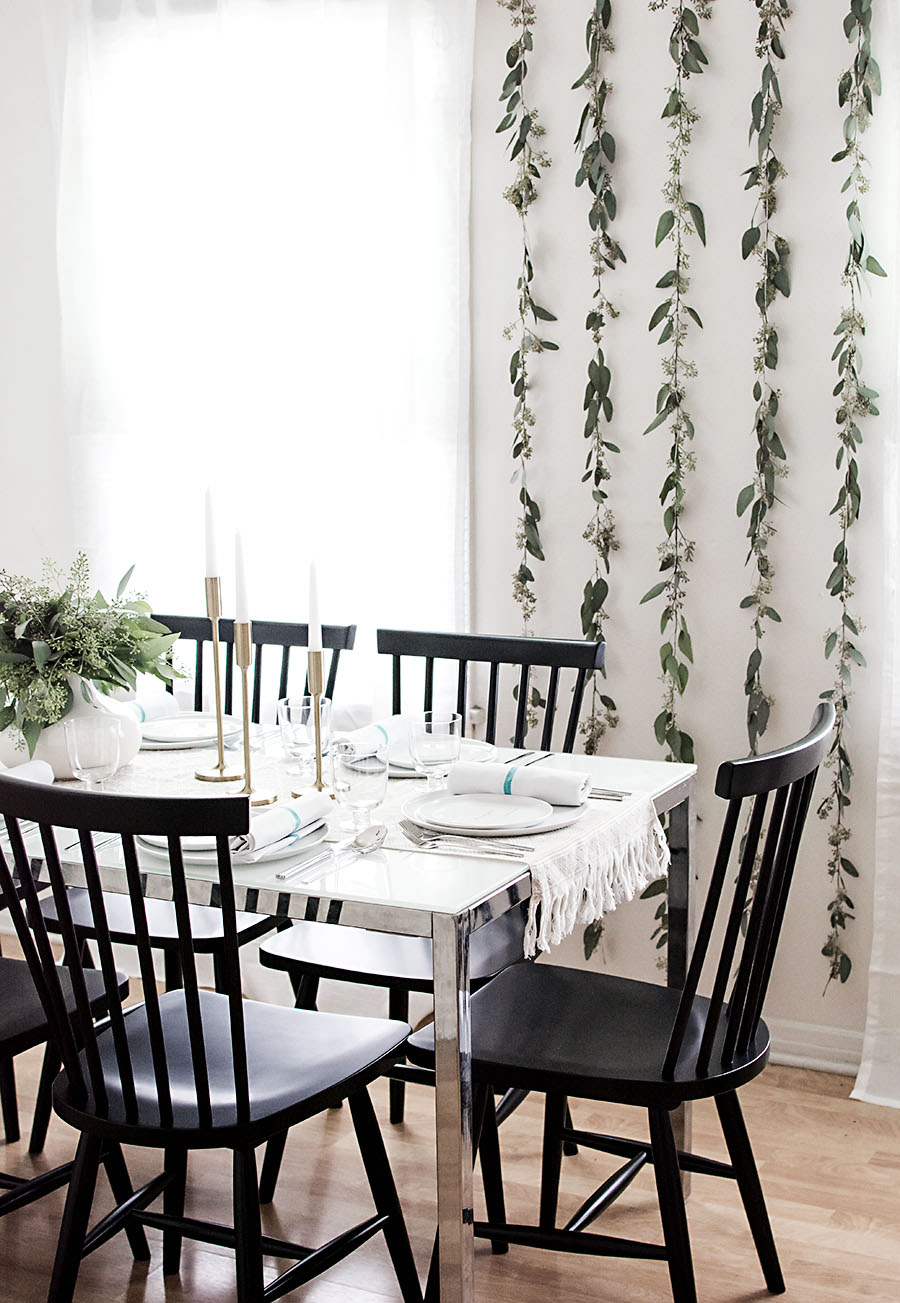 Those eucalyptus garlands on the wall probably look familiar to you because I shared that DIY here!  I made five of them and hung them from a wood dowel, which is balancing between the curtain rods above the windows.  Easiest, prettiest backdrop, guaranteed.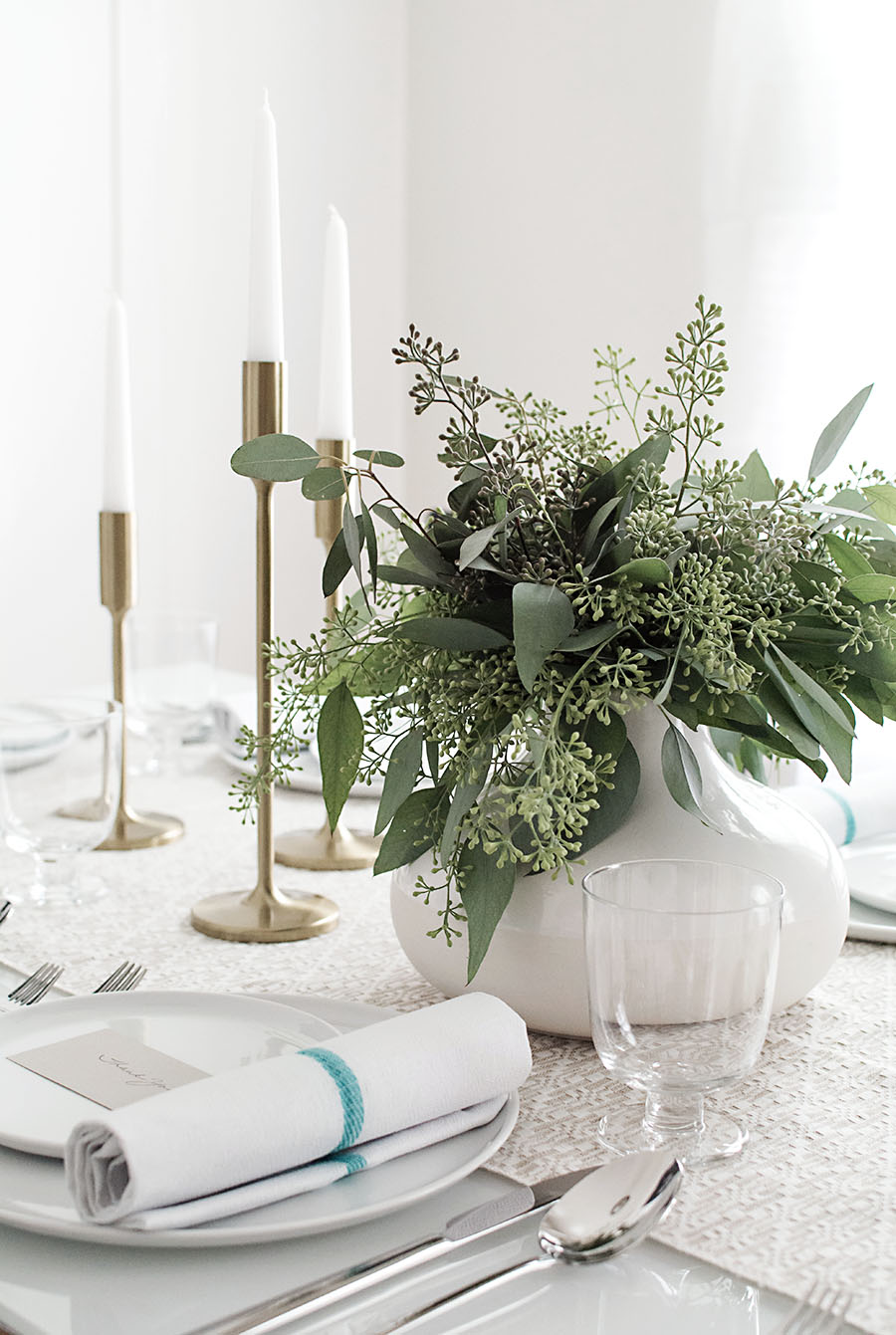 I also used the seeded eucalyptus for the centerpiece, which is just a vase filled with them.  Simple, easy, and simple, and it still looks gorgeous so we're doing good.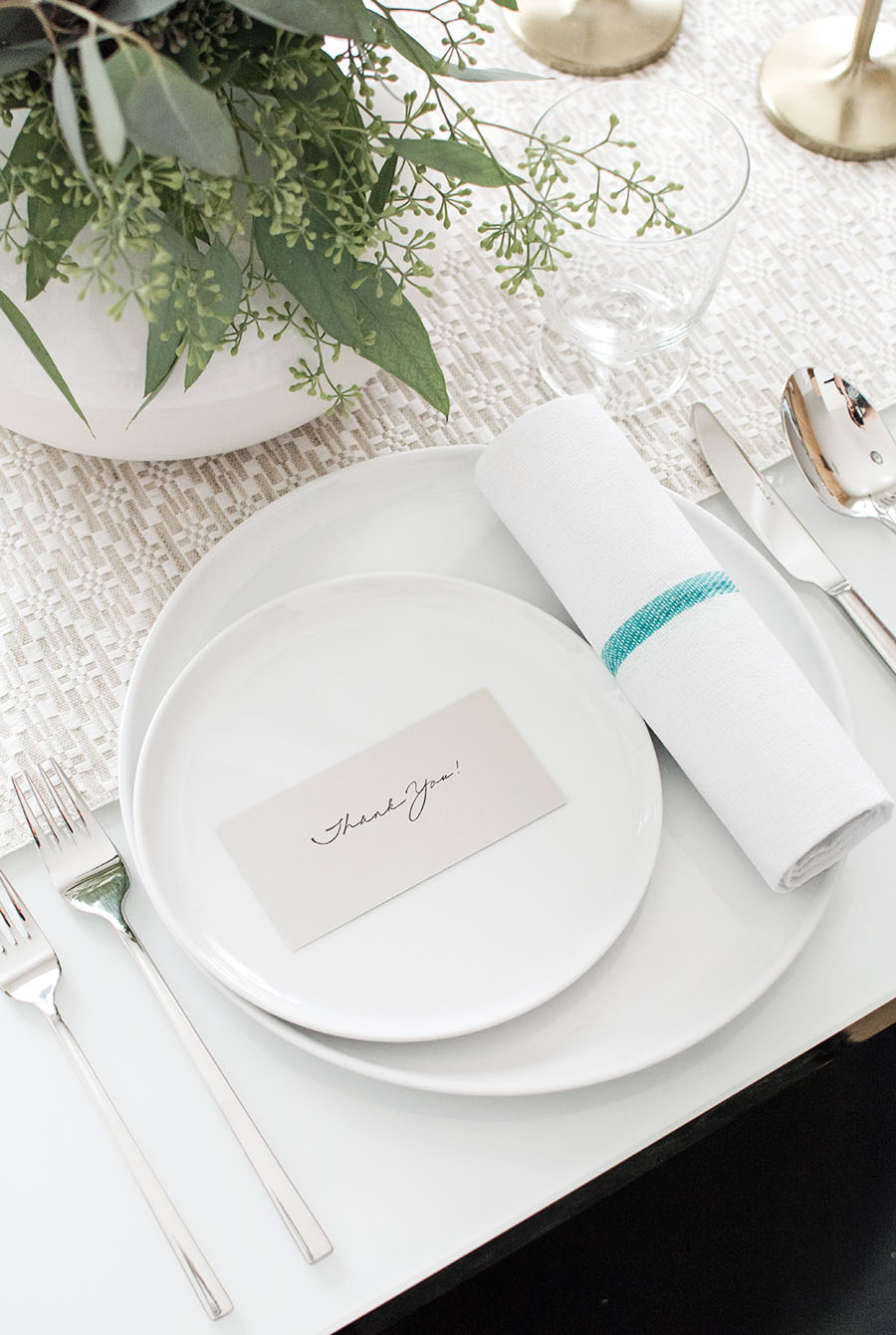 Still riding the simple train, I'm adding in this DIY for two second place cards that you can totally write guest's names on too, but I kept them *cough* simple with just the "thank you."
I cut 4.5×6.5″ linen-colored card stock into three roughly equal pieces using a rotary cutter.
Next, I stamped each card with this pretty "Thank You!" stamp.  Two seconds I tell ya.  Perfect for those of us that don't want to rely on handwriting.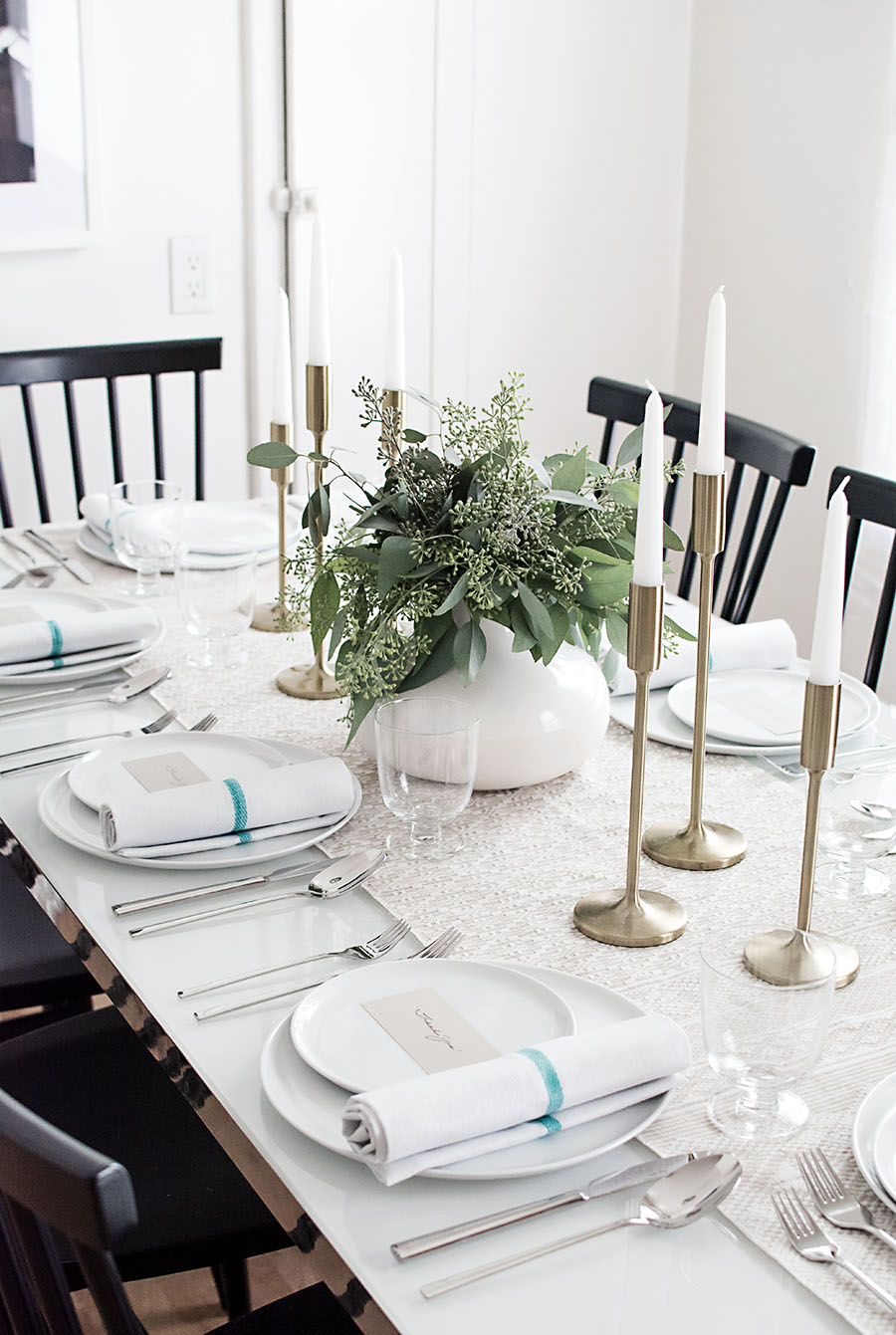 I placed the cards in the center of the salad plates, which I placed off-center to the left of the dinner plates to make room for the rolled up napkins on the right.  I love the modern feel of this orientation, and as a bonus, my guy went nuts (a little exaggeration) about it saying "it looks really cool."  Like with any rare, positive comments he willingly shares about design and decor, that's very notable.
If there were ever a time I was madly in love with drinking glasses, it would be now.  Light, simple lines, universal, and made by one of my favorite brands.  Would you like whiskey or wine?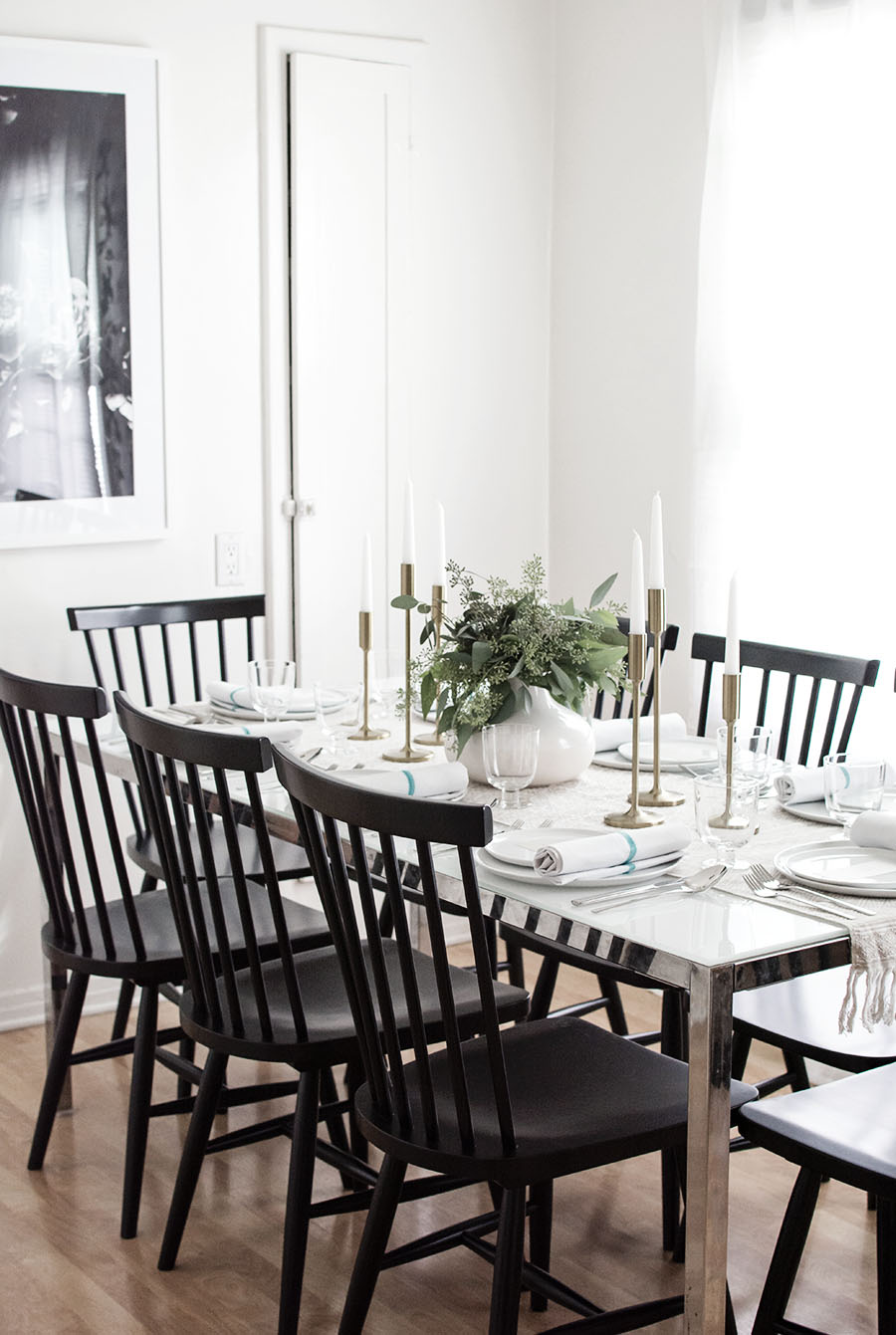 Lastly, we gotta talk about the chairs.  I adore the clean lines and Scandinavian vibes these classic shakers bring to our dining room.  They also seat comfortably, which is the complete opposite of the chairs we had before.  I'm very excited to no longer feel bad about guests having to sit on our dining chairs- this is major after two years of feeling that way.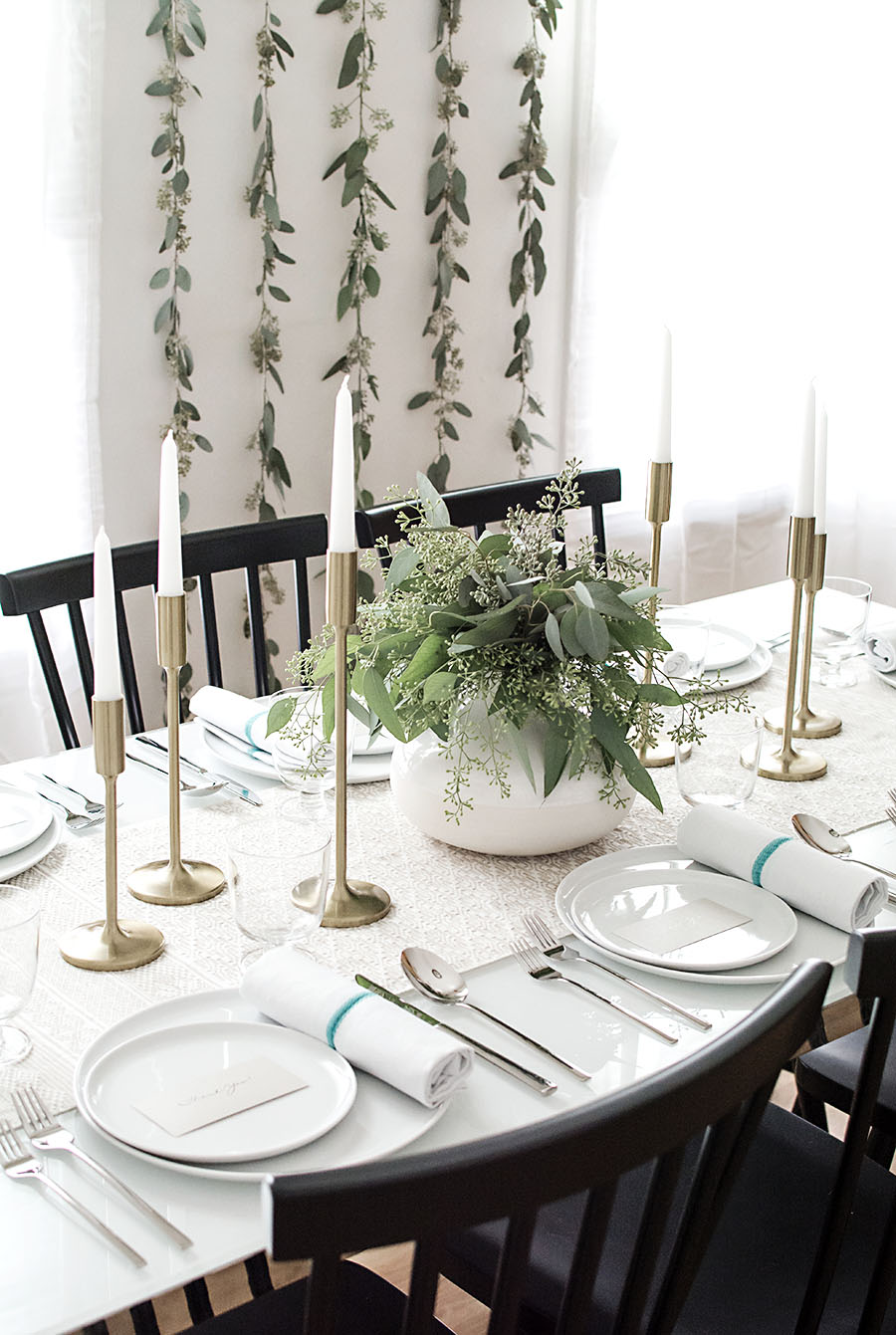 Keeping everything neutral is also a first time thing I'm doing this year, which I'm ridiculously into, you guys already knew that would be the case.  I had mentioned in a previous post that my fall florals would only involve greens, and I'm sticking to it.  They're so easy to arrange and look good with everything.  Regular eucalyptus would've worked here as well, or even whatever greens you can find outside (a favorite "trick" of mine).
Are you already planning out your T-Day celebration?  Any special traditions or activities for the holiday?  My only consistent tradition is to host a Friendsgiving dinner about a week before, which is maybe my third favorite holiday.
Product for this post generously provided by All Modern.