Maybe you remember how I was hyping up a bedroom makeover earlier this year and shared with you the plans and progress and then never talked about it again.  What happened with that?
Long story short, I didn't like how it was coming along and gave up.
Long story, I got that blue tufted wingback headboard I was obsessed with and after two months of living with it, realized it wasn't me and got rid of it (thank goodness for good return policies, and an important example of actually trying things out in the home).  In my mind it looked awesome but in the bedroom it just wasn't making sense, and that's always upsetting.  A lot of you have shared similar stories with me so I want you to know: I feel you.
After that fail, I went back to ignoring the bedroom, though if we look at this in a positive light, what I was really doing was taking the time to figure out what I wanted.  We could also call this 'lots of time spent on Pinterest.'
We're going minimal and neutral.
This answer has always been there, for everything, lurking around every corner as I'd insist with myself to go big and out of my comfort zone, but this time it didn't work out.  We're sticking with the heart.
[Source]
This bedroom is everything.  It's interesting because there are individual pieces I'm not completely in love with, but the room as a whole is just so darn perfect.  It feels light and airy while still having bold contrasts.  I want exactly this.  And I need that art.  Also, if you're not familiar with Amber Interiors, I'll just go ahead and say bye to you now because once you click over to there you'll get lost in the most amazing interiors and never come back.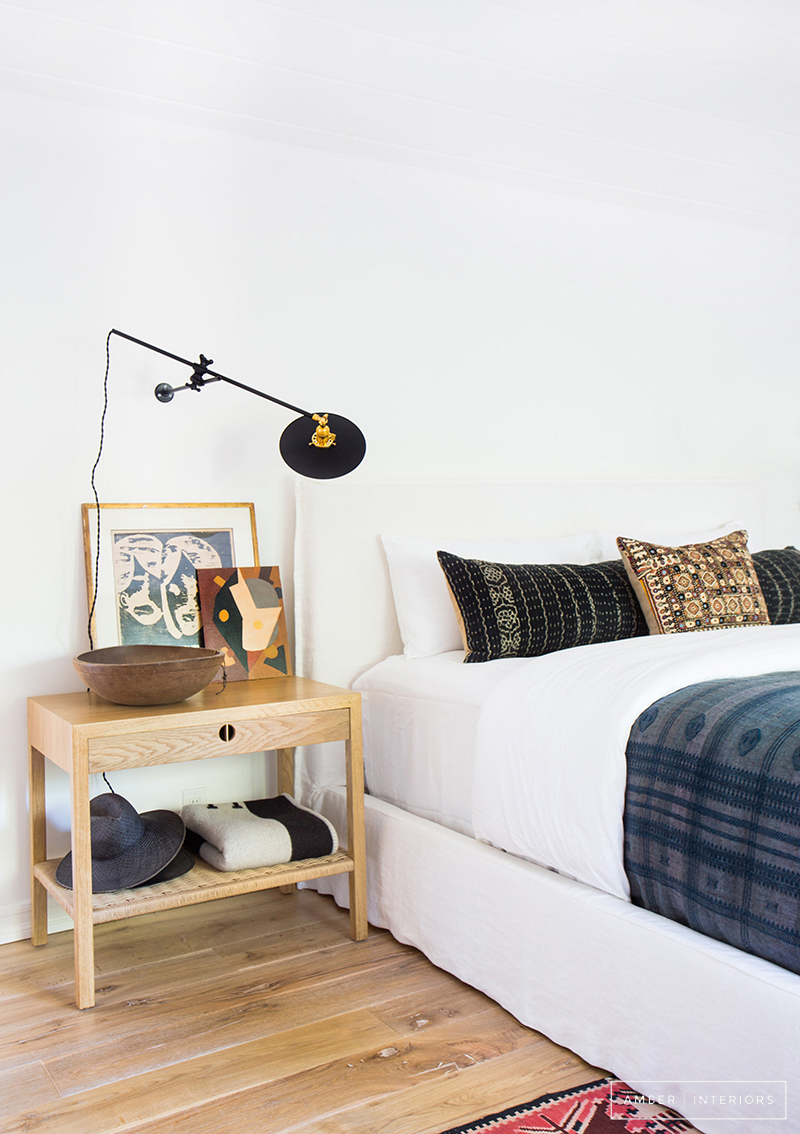 [Source]
In case you haven't left yet, here's another one from Amber Interiors that I love.  While not quintessentially minimal, it has that feel because of all the white space.  A short white upholstered headboard like this one is a front contender for my bedroom plans.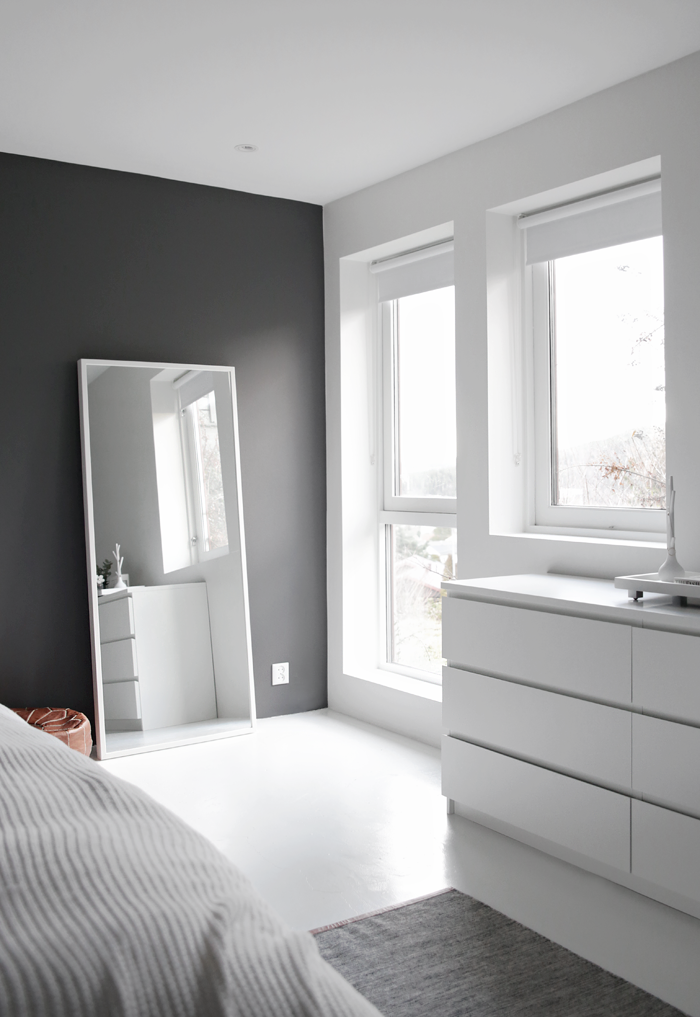 [Source]
I still have love for the IKEA Malm.  I actually already have these in black that I gave a makeover to and would be down to trade them for all white ones because just that color change gives them a completely different look.  Looks amazing for a minimal space, and they look awesome here, too.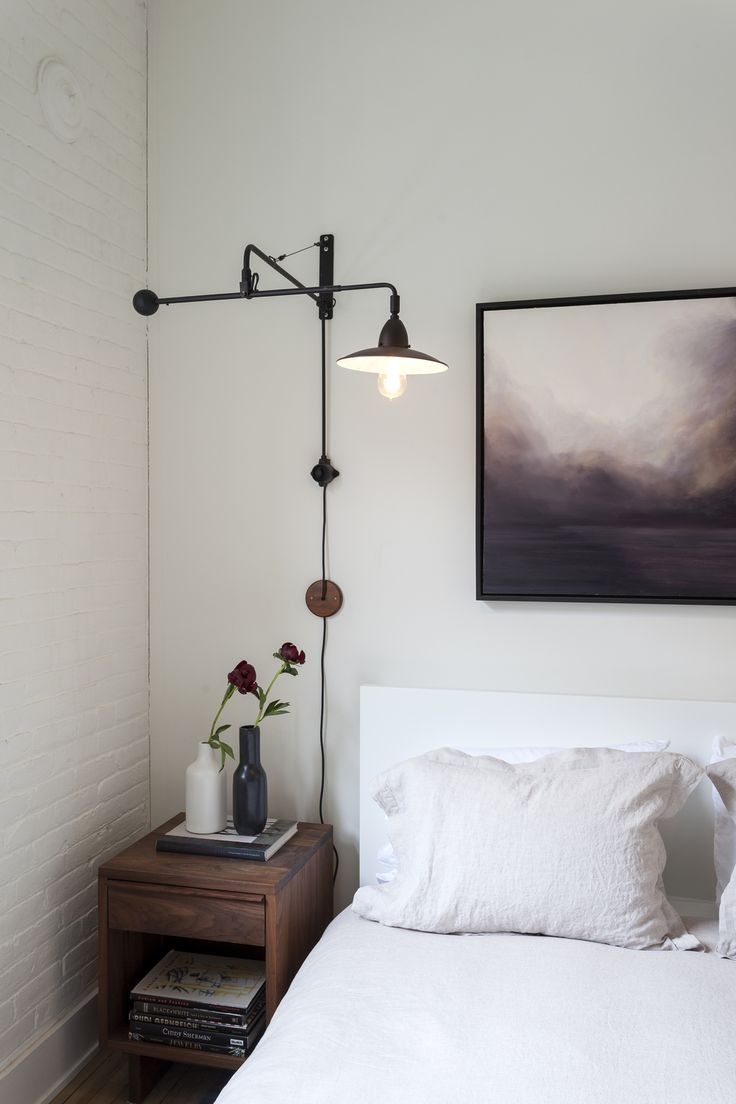 [Source]
I'm pretty sure on going with this setup: sconces, white headboard, and large art above it.  I can also tell I'm digging that smoke cloud kinda deal.
[Source]
It appears as though I am down with dusty pink, which feels weird because pink is not my favorite, but I like the way it looks thrown into a monochrome palette.  I'd be down with a lumbar pillow like this one, and hello copper sconce you look cute.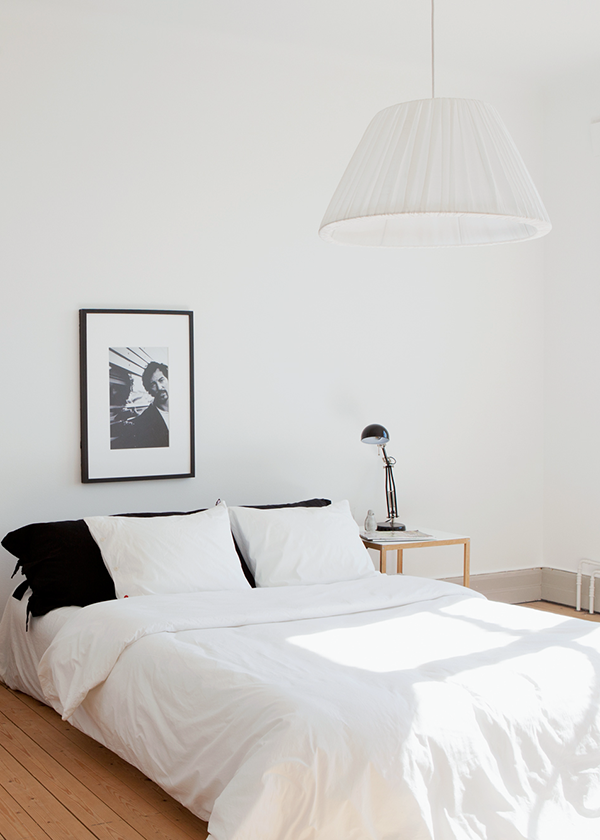 [Source]
This one grabs and holds my attention because of how simple it is.  I would love so much to be this minimal but I like too many things, sorry.  I still dream of what it would be like to live so clutter-free, though.  For now I'm just going to copy what they did with the black pillow cases- love that.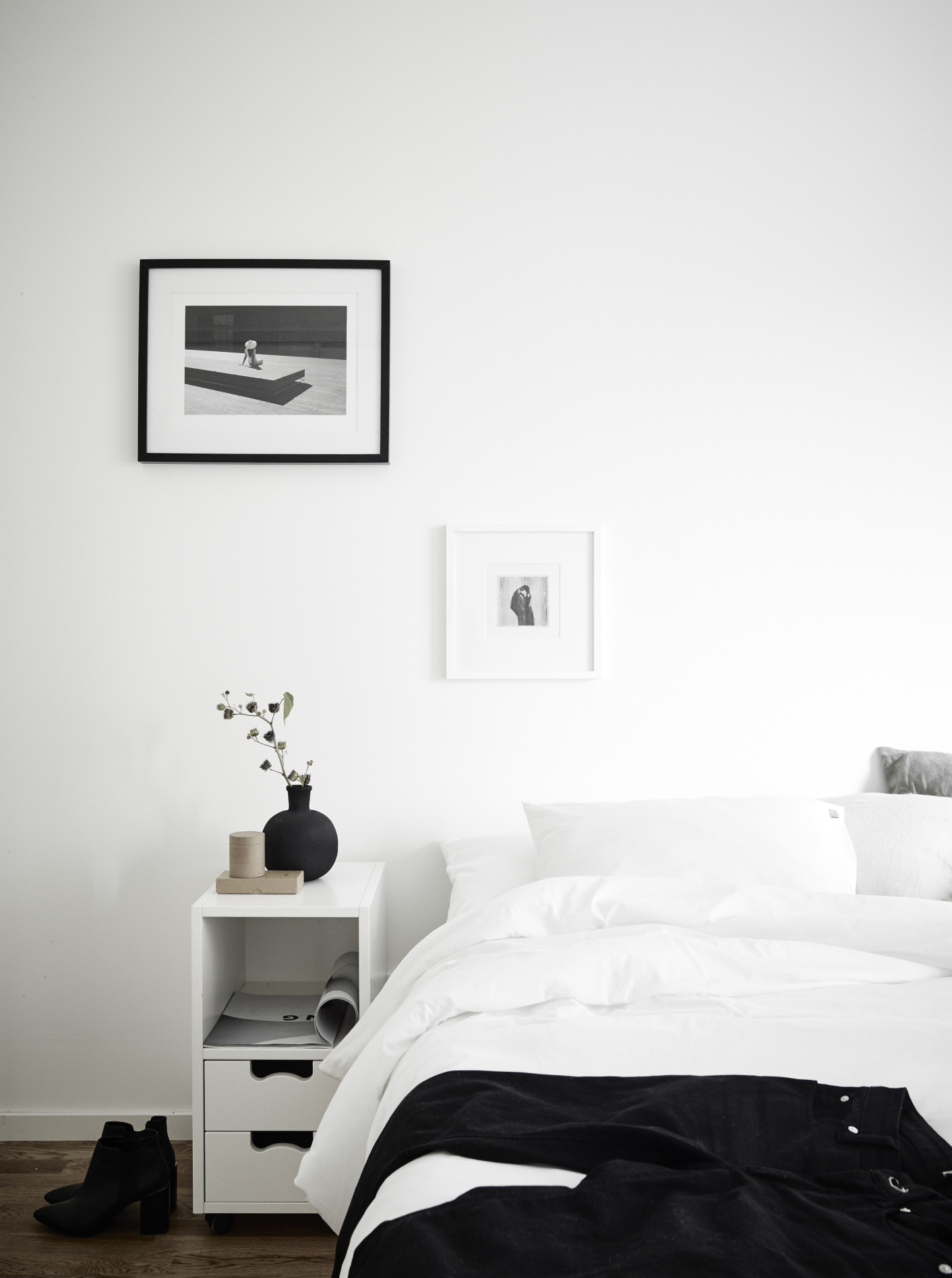 [Source]
I also dream of committing to completely black and white, and the idea of sticking to no headboard is looking better than before.  Alert: that bedside table styling is mad cute.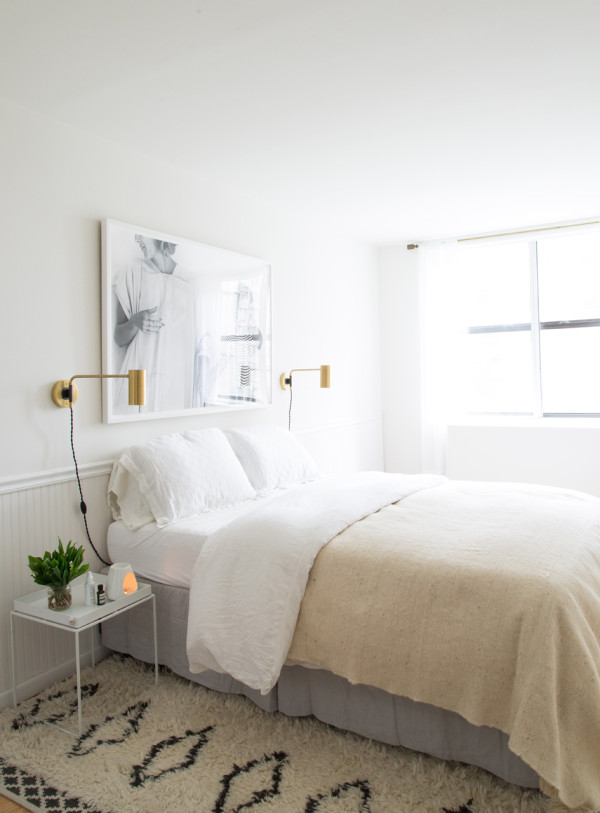 [Source]
Again, we've got sconces and large art above the bed.  This is happening.  I'm really into those swing arm sconces, too.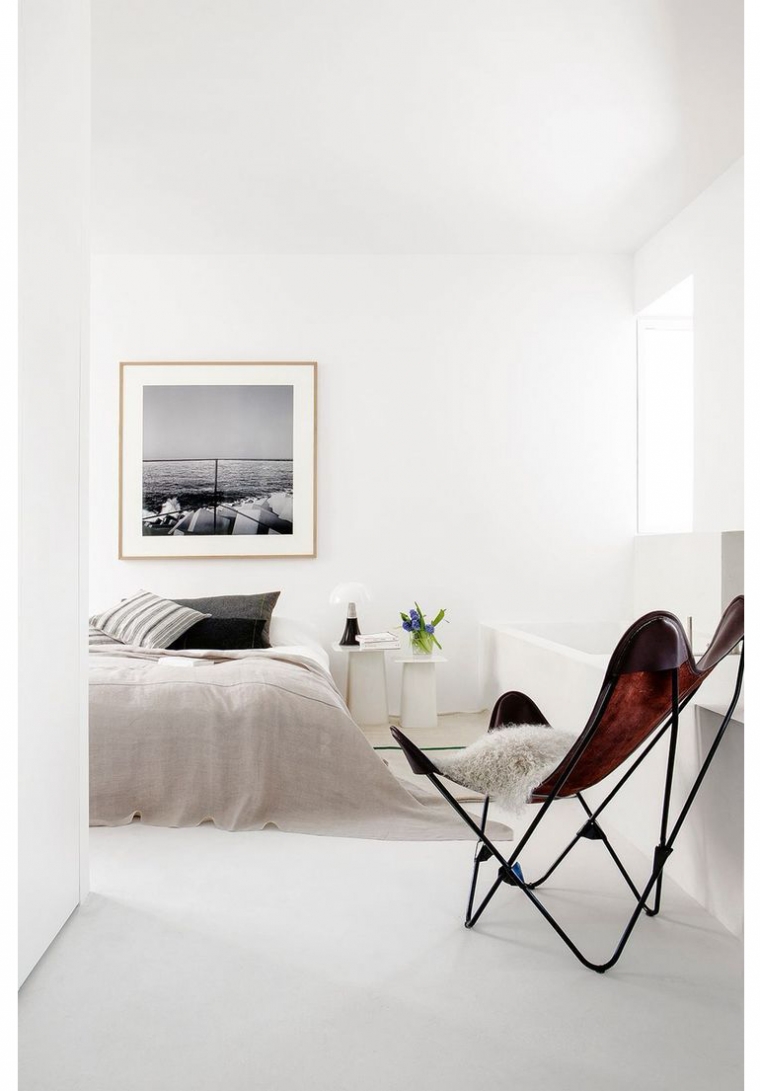 [Source]
If we could make room for a chair or some kind of seating that would be fantastic.  Probably unlikely because our closet can only fit a broom and we need an external wardrobe, but it's still on my mind.
I get asked a lot how to figure out decorating style/plans and this is essentially what I do at first.  I gather spaces I love a lot and point out common details and themes to figure out a starting point.  So here we are: sconces, large art above the bed, lots and lots of white, black accents, clean lines, minimal style.
The hunt for the perfect pieces begins, and as I've always learned, taking my sweet ass time to get it right is worth it.  It's both fun and excruciating :).
Liking any of these spaces?  Do you use a similar method for determining design plans for your home?