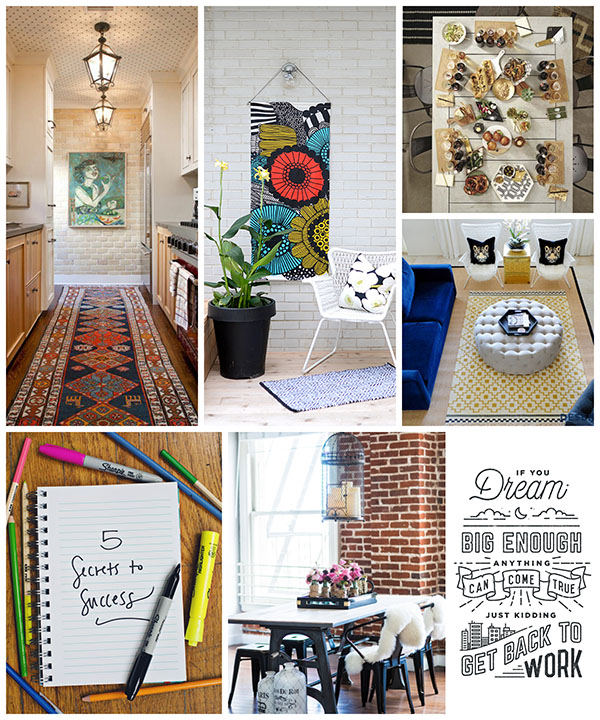 It's been a while since I last did one of these, and I just so happened to be feeling like doing something casual, so this works out quite nicely!  This also gives me a chance to just chat with you and say things like dang, we are already soon entering SEPTEMBER.
I'm sure you guys can relate when I say I'm guilty of chasing Fridays, crawling along all week with the impression that all will be at peace if I can just make it to Friday.  It's a bad habit of almost wishing away the days, no?  So now it's September, and I'm feeling like I should have been a lot nicer to all the past Mondays, Tuesdays, Wednesdays, and Thursdays…  I'm feeling the pressure to savor every day that's left of 2014.
I'll never stop looking forward to Fridays though, especially with it usually marking the start of a crafty, bloggy weekend for me, which is my favorite <3 so here's a little weekend send-off of inspiration and fun stuff for us to enjoy together.
Ok, check out this ceiling, wall, and rug combo.  What??  Isn't it so amazingly unexpected?  From Tommy Chambers' house tour.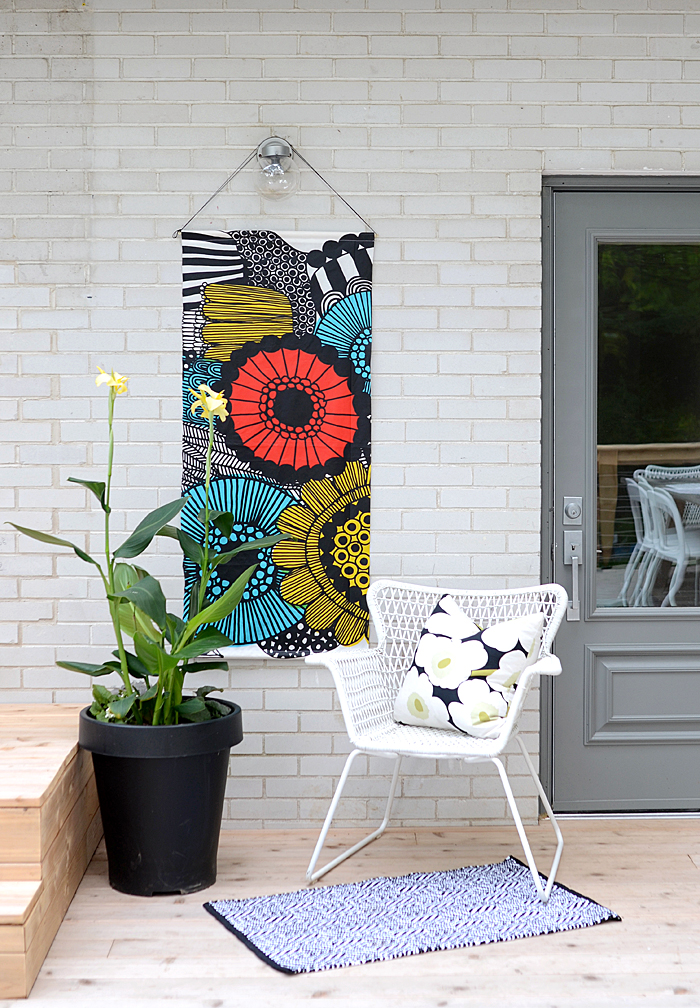 A lot of the things Anu from Nalle's House creates are so amazing in their simplicity that it's mind blowing.  Who knew something like hanging up fabric could look this beautiful?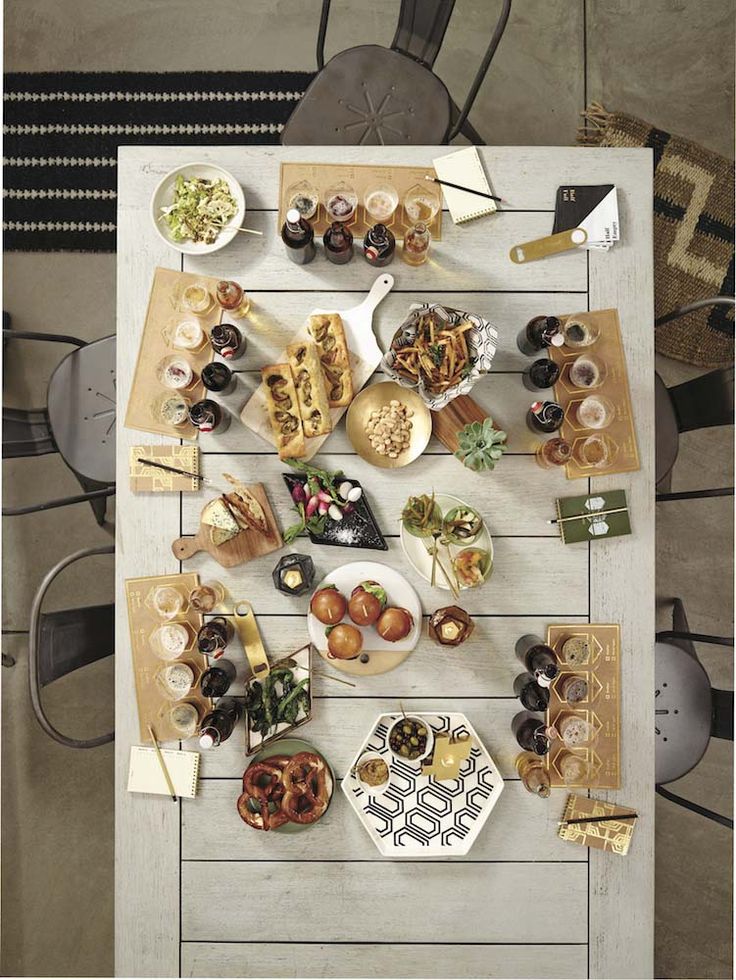 These Target collabs are major and always so fun to look forward to.  Wit and Delight for Target launches September 14th!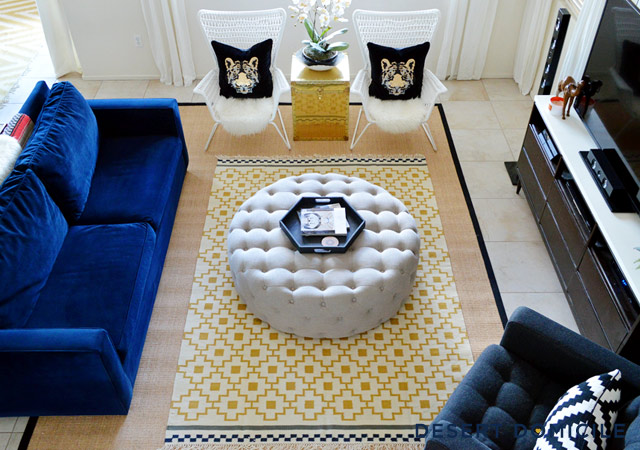 Caitlin from Desert Domicile layered rugs in her living room, and they are FANTASTIC.  If you aren't familiar with this space, you can already tell she has killer style, right?  And you also see that blue velvet couch, which you already know how I feel about, right?  <3 <3 <3
I pretty much love every single thing that A Beautiful Mess puts out there, and one of the many great things they do is share advice derived from their own stories of success with their blog and brand.  Out of these 5 secrets to success, #5 has probably been the biggest thing I've started to learn so far.  Equally as important as knowing what works is knowing what doesn't work, identifying that quickly, and changing it stat.  I will always be striving to master this.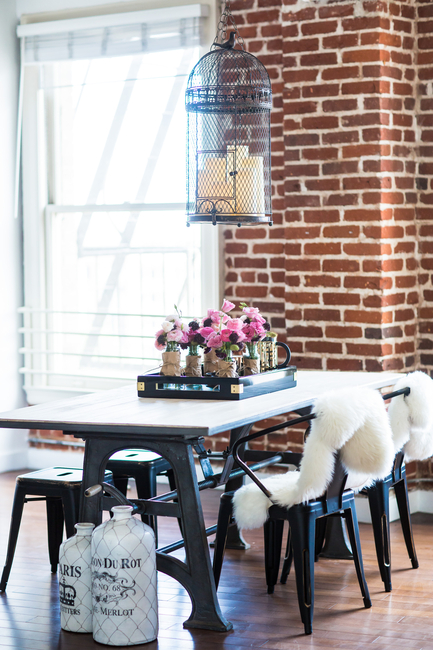 Wendy's Lookbook is one of the first blogs I ever started following, and Wendy just so happens to be one of my favorite fashion bloggers ever.  She shared a tour of her loft and it is just as gorgeous as she is.  I'm in LOVE with the exposed brick walls, and you've got to see her glam bed frame.
Just a fun little quote that I adore and already printed and put up on the magnet board on my desk.   By Drew Ellis.  Dreams can only get you so far- you have to WORK for them!
You know what's better than Fridays?  Three day weekends!  I've got a birthday party to go to and a friend in town, but other than that it should be a pretty relaxing weekend.  Have an amazing labor day weekend, everyone!  I've got something fun posting up here on Monday so see you then if you aren't partying too hard that day.