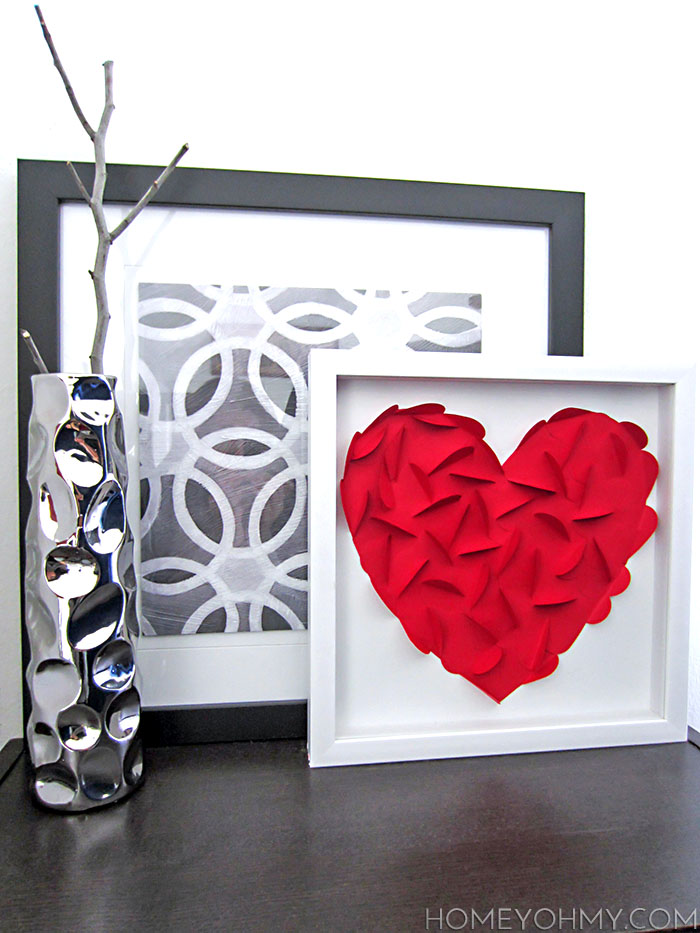 I don't think I've said this before, but I'll say it now.  I like hearts.  Phew!  Glad we got that out of the way.
Oh yeah, so Valentine's day is coming up soon.  I don't typically decorate for this holiday, so I wanted to create something that could still stick around after the holiday is over.  You might be thinking I probably could have gone with something more subtle than a big red heart, but I really think it can be a chic decorative piece because of how it's both bold and simple.
I kept to the traditional red heart and made things a bit interesting by composing the heart out of smaller hearts.  I'm about to show you how!
I traced the 12×12 insert from the shadow box frame onto some poster board.  I then took that insert and cut it into a heart, using the standard method of folding it in half and drawing half a heart to cut a along the lines of.  I traced this heart onto red card stock to cut, then glued the red heart with Mod Podge onto the previously cut poster board.  I ended up with this:
Next, I used a heart lever punch to cut out a bunch of smaller red hearts.  I went with a lever punch simply because of ease and would highly recommend using one to save yourself from the inevitable hand cramps that would result from cutting out each heart individually.  I folded up about 1/3 of each heart before gluing them on with Mod Podge.
I folded up either the right or the left side of the  hearts since I only wanted the curved edges to be sticking out.  There's only one heart where I folded up the top third of it.  I wonder if you can find it…
I'm loving the interesting texture created by the folded up heart edges.  And I'm also REALLY loving with how well this layers with the black and white art in the back.  Shout out to the great outdoors for providing the stick in the vase.
What do you think?  Is this strictly Valentine's day decor or could you see it continuing to sit pretty somewhere in the home?