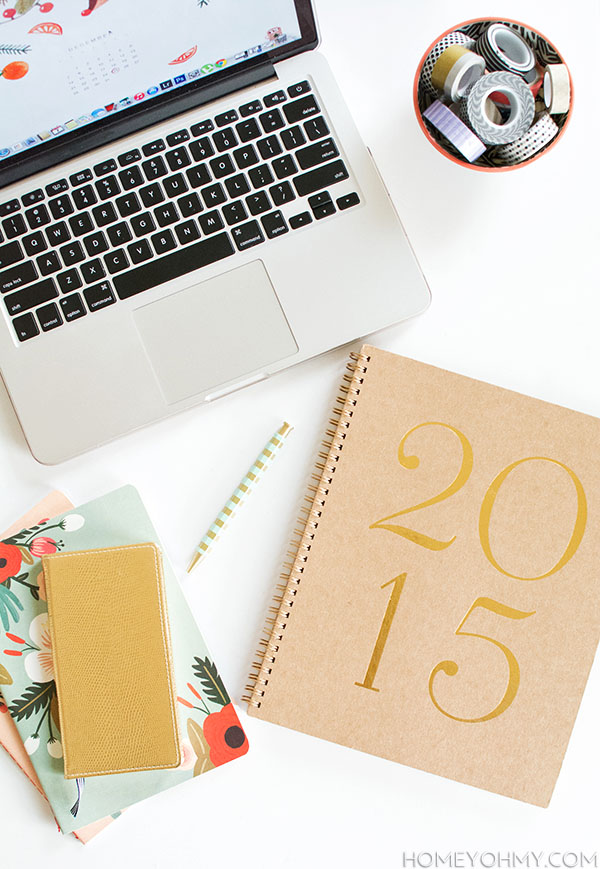 Well guys, I had this New Year post drafted for a month, but tossed around on what I wanted to say and it started getting stressful, to the point where I had thrown the idea out all together, until now.
Something that was meant to be positive quickly turned burdensome, and that's why we all hate making resolutions, or at least that's what the internet is telling me.
I figured out my problem this time, though.
I was coming up with goals I thought others might expect of me and this blog, and I was getting too critical of whether they were unique or ambitious enough.  I was putting pressure on myself to go really big and specific, which I couldn't do, because I simply don't know what that all is, at least not right now.  So screw it.
Glad I got that figured out!
Instead, a New Year tradition I like a lot is picking a focus word, and mine this year is enjoy.  I want to get better at focusing on the joy in everything, because that's way more fun than focusing on all the what if's for what could go wrong, which is what I do constantly, especially with this blog.  That, mixed with the frustrations I feel about my day job, my dreams for switching that job to blogging full-time, and how I want to be better for the people most important in my life, made it clear that I needed to take a more simple approach and start with myself first, with personal goals focused on enjoying the day-to-day.
So we're going to call this things I'm looking forward to enjoying in 2015.  They're basically resolutions, but it's a lot more motivating to think of these as events to look forward to.  All about those mind tricks, y'all.
TRAVEL
(I swear I didn't just copy an article on top resolutions to have this year.  I've got some more cliche things coming, but let me just explain and talk about them.)
Boyfriend and I talk about how we're fast approaching a chapter in our lives where it will be even easier to make excuses not to travel, so the urgency to travel is high right now, and I'm really excited for it.  I have no idea where my passport is.  I don't think I've seen it in over a decade.  I'm going to renew it (get a new one?), and I'm going to travel.  We've been talking about Spain towards the end of the year, maybe a cruise, and surely somewhere new in the US.
DE-CLUTTER
The clutter reached a new, maddening extreme last year.  It's the challenge of trying to work and live in the same, small space, combined with my need to leave out projects in progress because putting them away mid-progress means they won't get finished.  I'm not entirely sure how to go about that differently, but what I can do is regulate our storage space better, so I'm going to try the same thing I do with my closet- no more adding stuff, only replacing items, or getting rid of things.  If something comes in, then something needs to go out, because there is literally no room.  This is a big deal for me, because I have a hard time letting go of stuff.  It encouraged me to get this book, which is currently on its way, and I've heard nothing short of it being life-changing (it's in the title so it must be true, ha) so we'll see.  That leads to the next thing…

READ
We recently got library cards at our local public library.  I can't remember the last time I genuinely enjoyed being at a library.  I wasn't always big on reading,  but now it's one of the things I enjoy most these days, and I want to make more time for it.  Here's a shot of my unsuspecting boyfriend in awe of all the possibilities.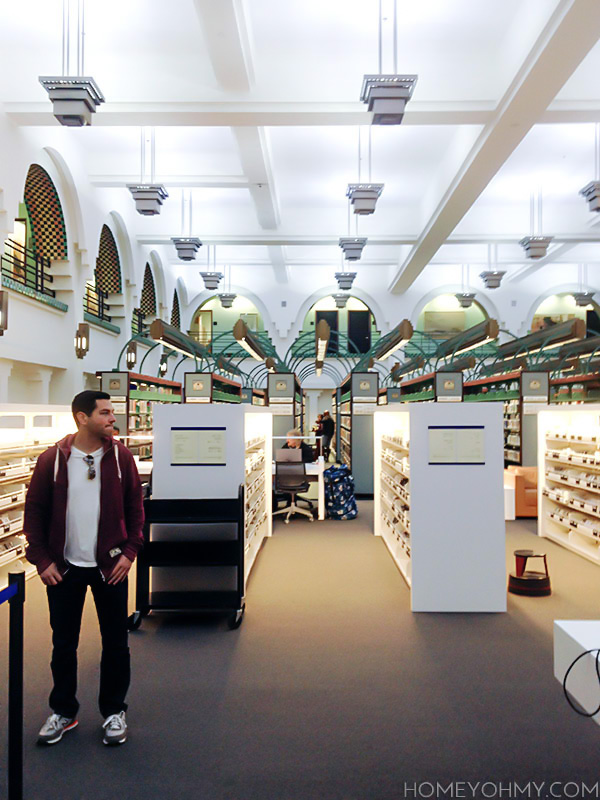 We were in sweats and sneaks because we walked here.  It's (on the longer side of) walking distance!  How did this not happen sooner?  We spent the walk there and back listening to Serial together (I think Adnan did it, but I also think he didn't.)  That also transitions nicely into the next thing.
WALK
I don't exercise.  At all.  It's awful.  We were doing P90X3 for a while, but all the intense stomping and jumping around in the workouts made us feel horrible for the people living in the unit below us, so we always felt like we couldn't go full-out (excuses excuses).  Also, I hate the gym.  I think it's the most boring place in the world and have zero motivation to get a membership.  While I look for an alternative, I want to do something that breaks up all the sitting I do in a day, and walking is something I enjoy, especially with my guy.  I'm looking forward to taking more walks together in the evenings during the week.  It also gives us quality time to just talk and catch up, which is my favorite.  Killing two birds with one stone, also my favorite.
LEARN STUFF
One of the best things about this blogging journey is how much I've learned.  I have to wear every hat for this operation and it has stretched me in ways like nothing else has.  Most of all, it makes me want to keep learning new things, and I'm starting this year with calligraphy, which I already shared on Instagram.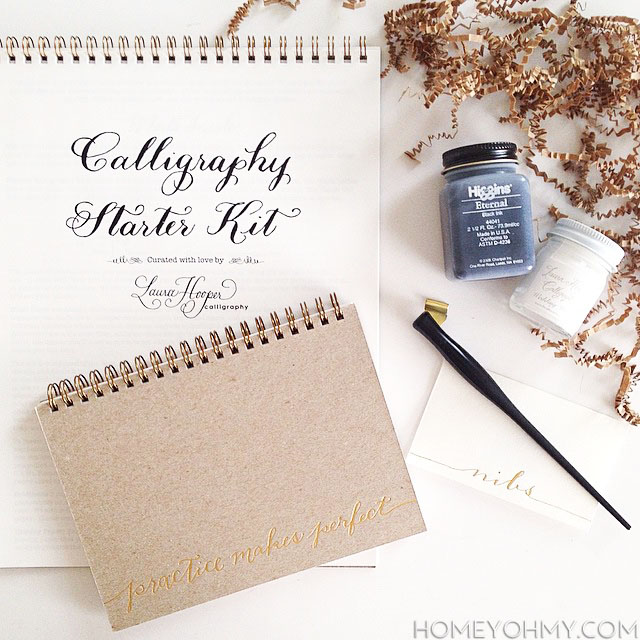 I was really surprised at the response to this.  Turns out there are so many of you wanting to learn too, so do it!!!  This is the LHCalligraphy starter kit, and I love it.  Of course, I very quickly saw that I'm going to need many more hours of practice.  Are you guys interested in seeing the progress on that?
ABOUT PAGE
Putting in one specific thing here for the blog.  My goal last year was to update my About page.  Didn't happen.  More than just taking the right photo for it (really hard, I'm the awkwardest bird in the world in front of the camera) and making it more detailed, it represents really getting my mission statement/vision down, which I feel like I'm still ironing out, or rather haven't given enough thought to.  And maybe like the sentiment of this post, I'm trying to go too big and specific with it and need to simplify and chill out.  I also see it as a step towards getting more personal on here, which I've said so many times that I'm going to do!  I see myself giving more space in this blog to documenting what's going on in my life, although guys, tell me, isn't it hard trying to both experience moments and record them at the same time??  The past few attempts I made at taking my camera around, I quickly forgot to take pictures because I just wanted to be in the moment.  Where's that robot photographer that can follow me around when I need one…
I'm feeing really good about all this, and that's an excellent start I say.  Are you looking forward to any of the same things in your 2015?  Did you make any resolutions or goals?   For those of you who stay physically active, got any tips or suggestions on how or where to get a workout other than the gym?