You know what tomorrow is?  Tomorrow is officially FALL.  Yessss.  I can feel the fall buzz in the air and it seems like most everyone says it's their favorite season.  Is it yours?  It's mine <3.
It makes sense that this time of year is so exciting since it kicks off a train of holidays, celebrations, and extended time spent with our favorite people.  Honestly though, the thing I probably love the most about fall… is pumpkin flavored everything.  I squealed when I saw the wall of pumpkin bread mix boxes at Trader Joe's last week.
Ok but yea, I also love the cooler weather, fall fashion (my fav fashion), and the rich jewel tones that typically come out during this time.  So to welcome my favorite season, I thought nothing would be more appropriate than a fall floral arrangement, yea?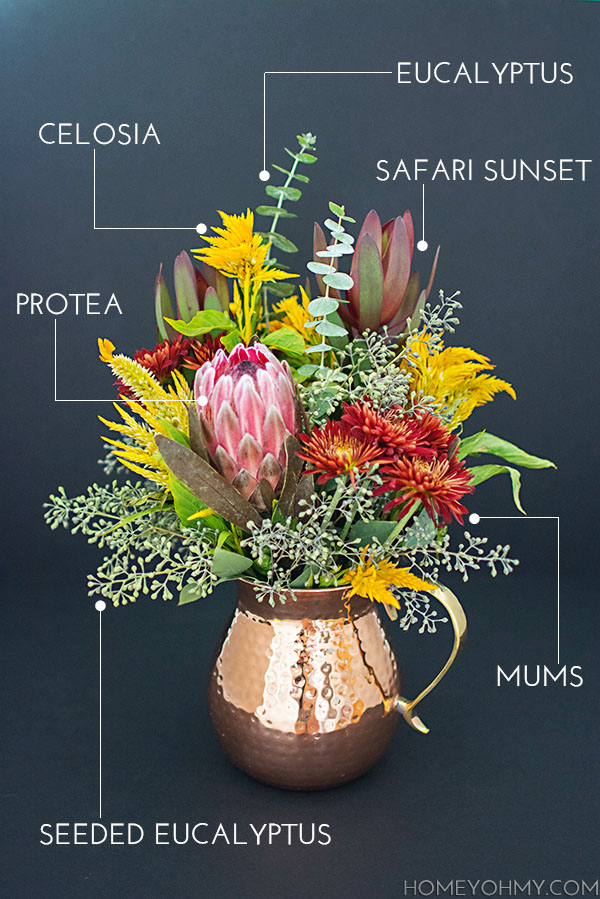 Flower Recipe:
-Eucalyptus
-Celosia
-Safari Sunset
-Protea
-Mums
-Seeded Eucalyptus
All arranged in a gorgeous copper pitcher that I shared recently on Instagram and am obsessed with.  I have multiple pitchers in my life, and I only use them for flowers.
There's also a little bonus.  Because I never throw away the extra or broken off stems of flowers, I gathered these little nuggets into a smaller arrangement… in a copper mug!
Cute!  I guess I'll make mules in my copper mugs too, maybe, I don't know, flowers are a pretty good idea for now.
The power of flowers.  Flower power.  They set the mood so good, almost like taking in a deep breath of fresh air and exhaling a gigantic smile, right?  It's fall, y'all!!